Langsett to Margery Hill, High Stones and Outer Edge
This Langsett to Margery Hill walk is a 12 mile stomp over the Peak District moorland. Starting from Langsett Reservoir, this walk heads over the Howden Moors to the Margery Hill trig point, then over Howden Edge to High Stones, then to Outer Edge trig point before heading back to Langsett via Harden Moor.
This was a very wet, boggy walk, over open moorland which is really bleak and featureless a lot of the time. Navigation is tricky, and there are lots of peat bogs. Only attempt this walk if you are confident navigating yourself on moorland because it's very easy to get lost on the moors, especially if the weather turns (as it can do quickly up here). We chose a day with good visibility, with a dry forecast.
This was Holly's longest walk to date at 12 miles. It was probably one of the toughest terrains as well!
We parked at the Flouch Yorkshire Water car park at Langsett Reservoir (S26 9FD) then set off across the road through Langsett Woods. We followed the track through the woods then down to the weir near Crookland Wood. Head through the gate, and follow the cobbled path up the hillside to the south. There is a sign warning about restricted access for dogs between 1 March and 31 July to protect nesting moorland birds, so don't take your dog on the moors between these times.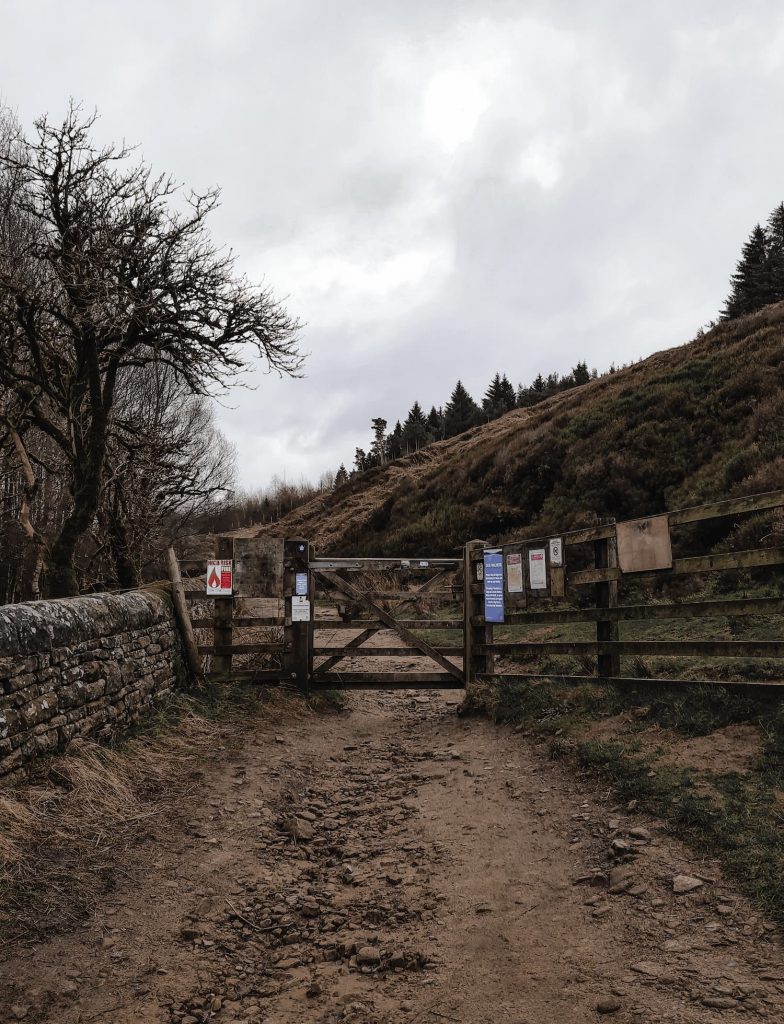 The path is really clear and easy to follow, and climbs gradually up and along Mickleden Edge. Mickleden Edge runs along the top of Mickleden Beck, which is a pretty stream surrounded by moorland.
This path eventually becomes Cut Gate, and will take you past a green signpost giving directions to Flouch, Hazlehead Station, Langsett and Penistone and Derwent and Ashop Valleys.
Continue for about a mile until you come to a cairn and a path heading off to the south-east over the moors. This is a very wet, boggy path and it's all too easy to get lost and fall in the bogs here. We had to pick our way through, using grassy tussocks to jump on, eventually coming to the stile.
The stile has a boggy puddle around it, which made climbing over "interesting"! Still, we made it over relatively dry and continued our walk over the bogs to Margery Hill trig point.
This trig point has it's own mini lake nearby, in keeping with the soaking wet theme! We had a quick snack stop in the nearby Margery Stones to shelter from the wind as it was freezing.
Snack finished, we set off along Howden Edge towards High Stones. High Stones is actually the county top of South Yorkshire but is a pretty non descript summit. There is a tiny cairn there, and a large flat stone, and that's about it, but the views are amazing down towards Howden Reservoir and across to Upper Hey. The moorland seems to go on forever!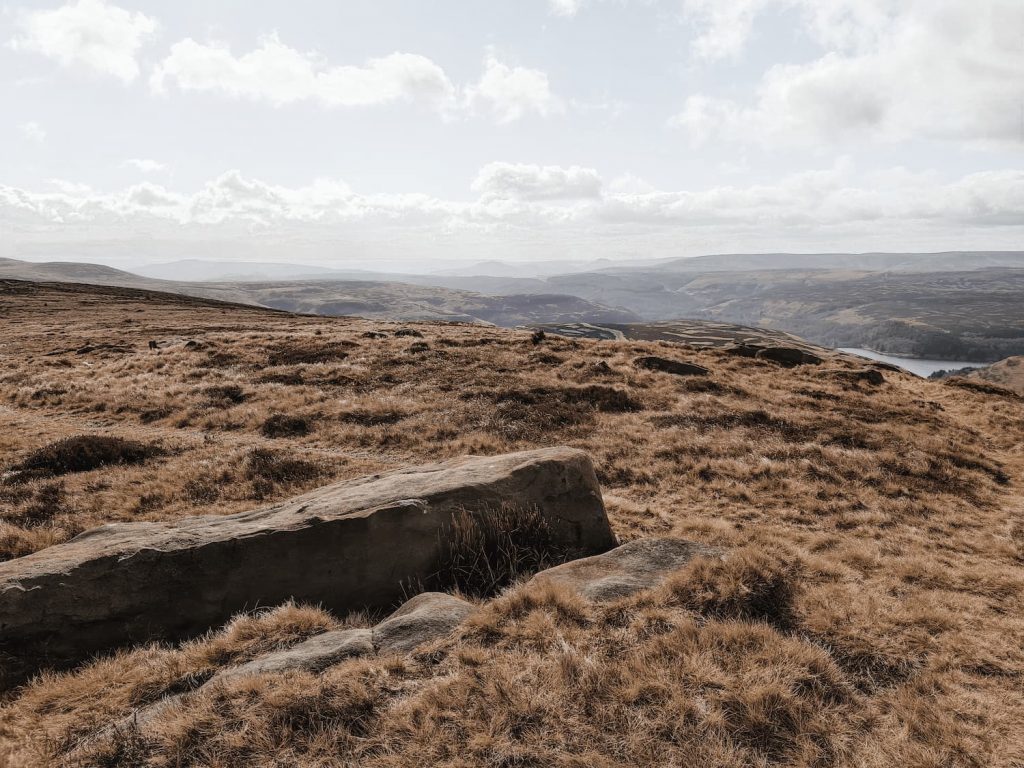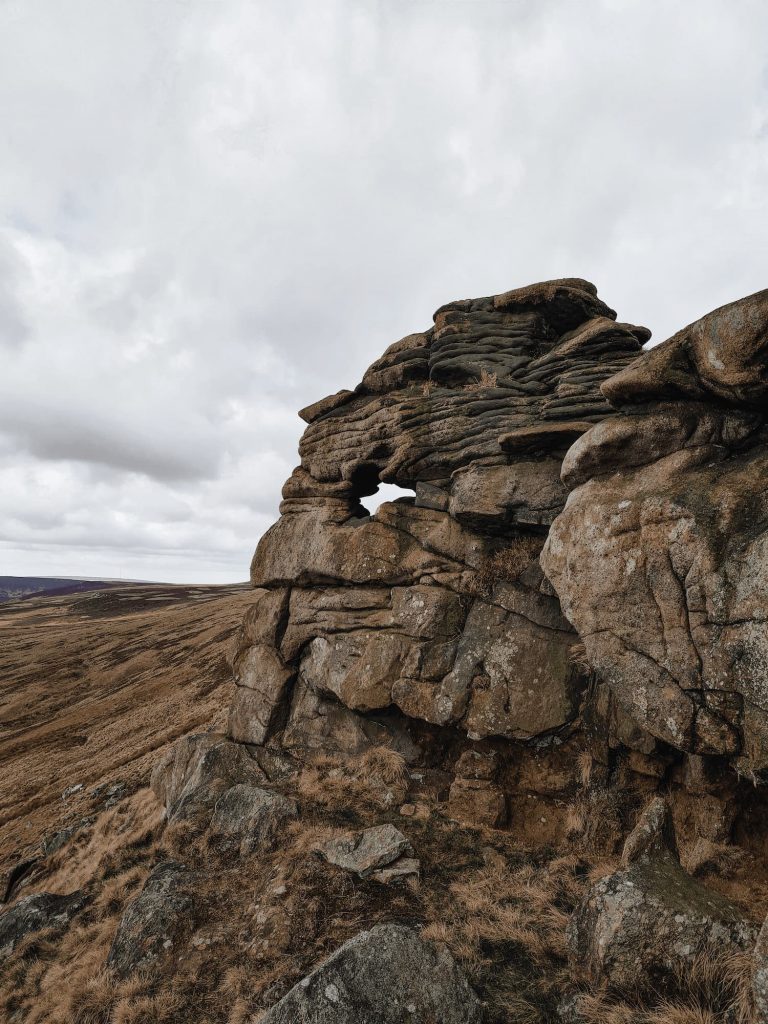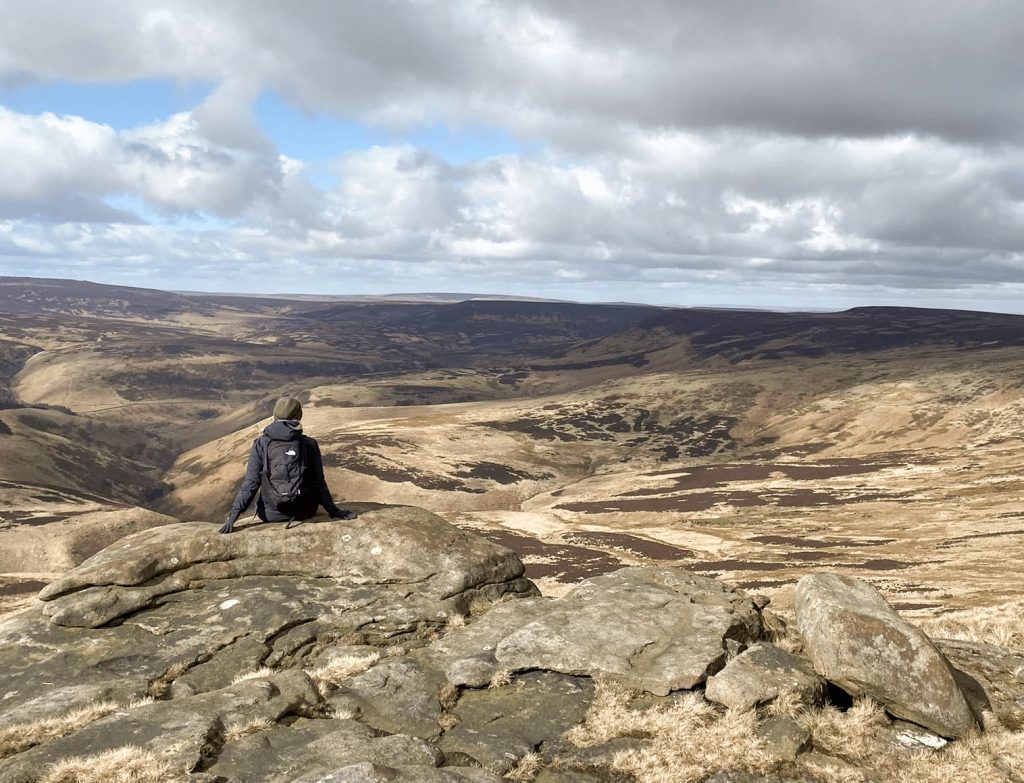 After we'd reached the summit of High Stones we set off back along Howden Edge towards the Margery Hill trig point, but instead of turning back up to Margery Hill summit we carried along Howden Edge and back onto Cut Gate. After 0.1 miles on Cut Gate, we came to another cairn and headed off to the north-west (left) over the moors.
This was the really boggy moor, and it was quite tough going to reach the trig point. There was a lot of bog jumping, weaving around the groughs and generally trying to stay as dry and clean as we could whilst traipsing through peat bogs over heather moorland. My husband put his foot on what he thought was solid but ended up knee deep in peat bog!
We walked for about a mile, passing the intriguing Crow Stones on the horizon and a plane crash site with small memorial, and then reached Outer Edge trig point, which is sat in it's own peat bog moat. Lovely. There are some stepping stones in the peat if you want to touch the trig itself!
Trig point photos duly taken, we set off north-east towards Cat Cloughs Head then followed the path down Near Cat Clough to the north, past the grouse butts. It was lovely to be able to walk on solid stone after being on the peat!
Near Cat Clough runs down into Hordron Clough, which is a pretty spot for another snack (what felt like the 15th snack stop of the day for Hols).
We followed the track up the steep side of Hordron Bank then along the flank of Little Moor, where it becomes Hordron Road. This road eventually crosses a ford then joins Swinden Lane, a track which leads back into Crooklands Wood and then back out onto the road to the car park.
As mentioned above, this was a challenging walk over peat moorland in really tough conditions. If you aren't confident navigating, I wouldn't advise this walk as it's all too easy to get lost on the moors. The weather can change quickly and it can be disorientating on moorland. It can be easy to lose a path when you are having to weave around peat bogs, and some of the paths across to Outer Edge are faint at best.
We use the OS Maps App (and have a paper back up and compass just in case). This works from GPS, so should still work if you have no phone signal. Don't rely on your mobile phone though!
Langsett to Margery Hill Walk
Parking for Langsett Reservoir: A616, Sheffield S36 9FD – free car park but spaces are limited.
Difficulty: ▲▲▲
Facilities: None on the walk.
Walk Time: 4-6 hours depending on how long it takes to cross the moorland
Distance: 12 miles (19km)
Trig Points Bagged: Margery Hill, Outer Edge
Peak District Peaks Bagged: Margery Hill
Peak District Ethels Bagged: Margery Hill, High Stones
Route Map:
A friend on Instagram, Adam, has called these the Sheffield 3 Peaks – I quite like that, because they definitely are a challenge similar to the Yorkshire 3 Peaks.
You might also like this Margery Hill, Outer Edge and Crow Stones walk via South Nab.