Blencathra via Sharp Edge
This Blencathra hike starts from Scales and heads up to Scales Tarn before traversing the Sharp Edge scramble, paying a quick visit to Atkinsons Pike before reaching the summit of Blencathra. It then descends the grade 1 scramble of Halls Fell Ridge before returning to the start. This is a classic route in the Lake District Northern Fells at just over 5 miles.
This Blencathra walk has been on our to-hike list for an age! Blencathra (868m above sea level) is one of the best known mountains in the Northern Fells of the Lake District and it's equally famous scramble, Sharp Edge, has become something of a must-do. We had planned to do this scramble a few weeks back but the weather wasn't on our side that day – Blencathra had snow on the top when we arrived so we headed off to the Langdale Pikes instead. This time we were camping in nearby Bassenthwaite and had perfect weather to tackle old Saddleback.
Here's a list of the Wainwrights by book.
We parked in a layby on the roadside near Scales Farm and followed the public footpath through a small woodland before turning right and starting to climb up the hill. The path winds around Scales Fell before reaching the glacial corrie of Scales Tarn, at almost 600m high which is surrounded by Sharp Edge, Tarn Crags and Hallsfell Top. At almost 8m deep, this is a great place for a refreshing dip.
We set off north-west to the base of Sharp Edge, the knife-edge arête on the eastern flank of Blencathra. If you're fine with exposure, you'll be fine with Sharp Edge. There are a few points along the ridge where it's very narrow in places, but all in all we didn't find it too challenging – definitely on a par with Striding Edge and nowhere near as bad as Jack's Rake! Obviously it's all relative – what one person thinks is terrifying another person is fine with, and I found the photos of adventurers on social media usually show how much of an adventurer they are without actually showing much of the scramble!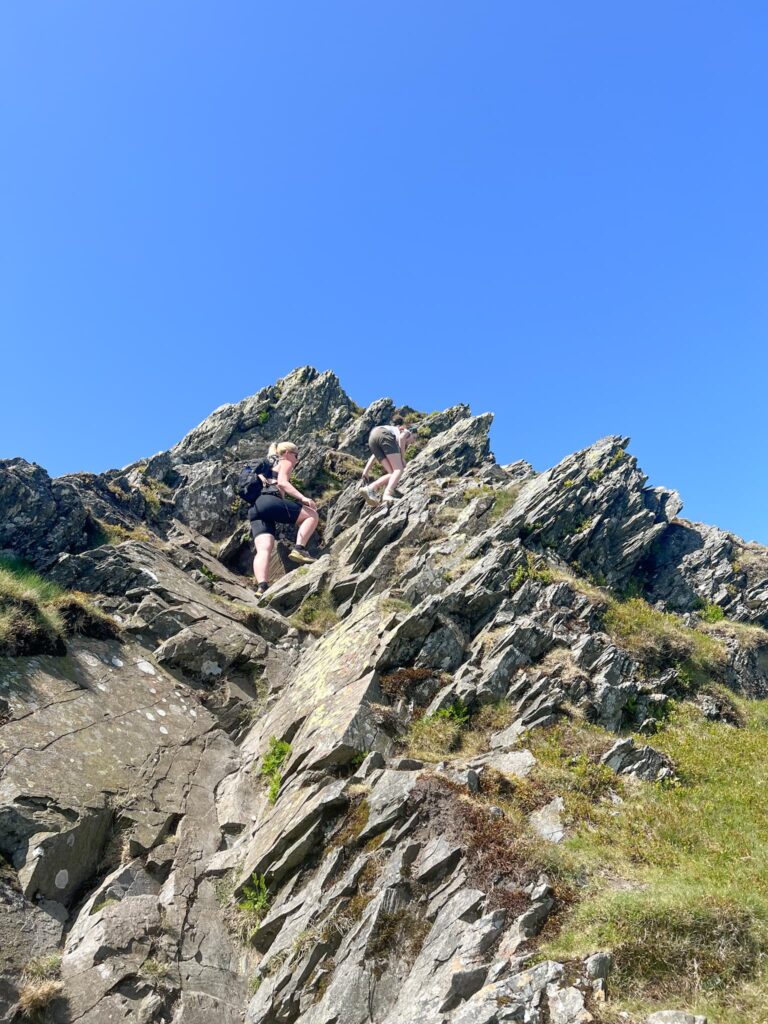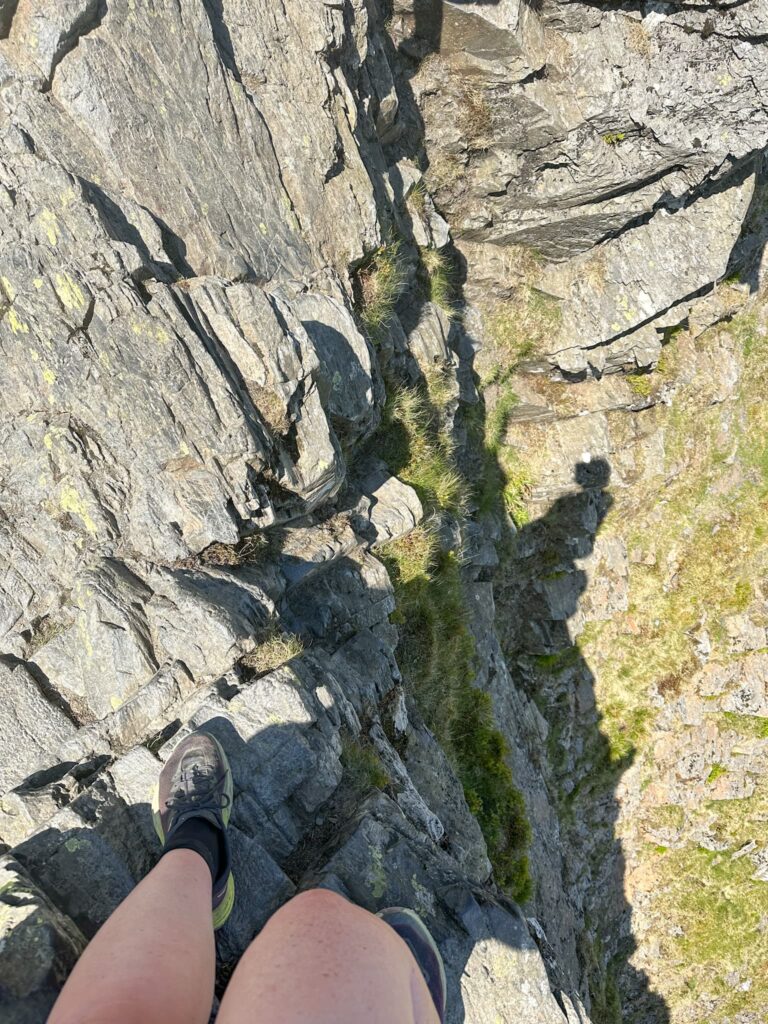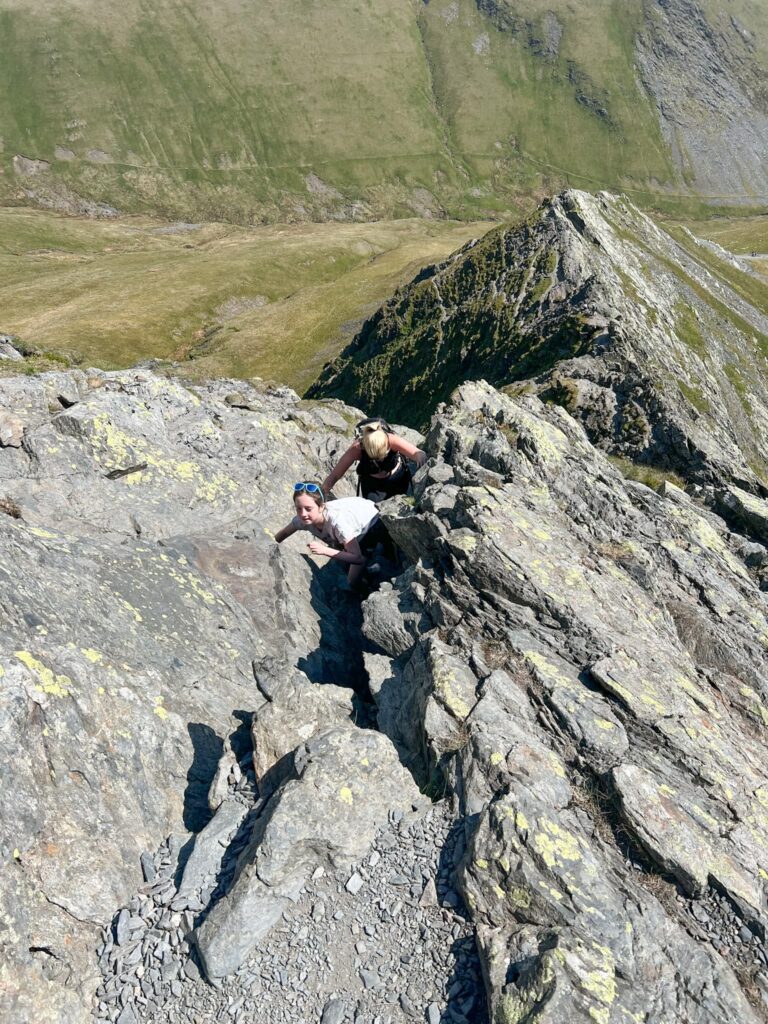 At the top of Sharp Edge we headed up to Atkinson Pike (845m above sea level). This isn't a Wainwright but a Birkett, and an easy summit to visit if you're climbing Sharp Edge. We then passed Robinson's Cross, a white cross made from quartz which was created by Harold Robinson, who carried each stone up on his trips to the summit of Blencathra.
It's then a short distance from the cross to the summit of Hallsfell Top on Blencathra, the highest point on the ridge – you'll know you've reached it because there'll be a load of people there! It was super busy when we visited! There is also a trig point detector ring on the ground which has sadly been damaged. This was designed to be a bronze ring which could be located by metal detectors in bad weather or if the ring was covered over – the actual trig point was a block buried in the ground.
The route then heads south-east (ish) to scramble down Hall's Fell Ridge, a grade 1 scramble down into Threlkeld. Alfred Wainwright described the ascent from Threlkeld via Hall's Fell ridge as 'positively the finest way to any mountain-top in the district' and he's not wrong – I preferred it to Sharp Edge and when we visit again I'll head up that way. There is a path running along parts of the scramble if you don't fancy trying to clamber down.
At the base, the path passes near some kennels (you'll hear the dogs!) and then heads east along a wall, crossing Doddick Gill and then Scaley Beck before reaching the small woodland near the car parking layby.
Can Children Climb Sharp Edge Blencathra?
Obviously you know what your kids can do. I've seen kids going over Crib Goch with their parents who are experienced scramblers, and others who haven't attempted anything scrambly yet. If you've followed this blog for any length of time you'll know that Holly (who's 11) has done many scrambles so has experience and confidence on terrain like this. We always pick a day with perfect weather – little or no wind, dry, no snow or ice – and we go at her pace. She wanted to lead across Sharp Edge but I felt a lot better with Joel going first!
Is Sharp Edge Hard?
This is relative – what's difficult for someone might be easy for others. I probably wouldn't attempt Sharp Edge as a first scramble as there are some very exposed sections. Halls Fell Ridge might be a gentler way to reach the summit of Blencathra.
Can You Climb Blencathra Without Sharp Edge?
You can climb up to Blencathra via Halls Fell Ridge from Threlkeld, which is the way this route goes down to the parking area. You could also take a route over Blease Fell, which is a steep climb but doesn't feature as much scrambling.
How Long Does It Take to Hike Blencathra?
Around 4-5 hours, depending on whether you had a swim in Scales Tarn or not.
Blencathra Sharp Edge Circular Walk
Parking: Layby near Scales Farm A66 – W3W///dollar.mimed.structure
Facilities: None. Please take your rubbish home with you.
Walk Time: 4-5 hours depending on whether you swim in Scales Tarn
Difficulty: ▲▲▲
Distance: 5.14 miles (8.2km)
Trig Points Bagged: Blencathra
Wainwrights Bagged:  Blencathra
Some other Wainwright walks you might like:
Walla Crag, Bleaberry Fell and High Seat
Coledale Horseshoe – A Lake District Classic Walk
Fairfield Horseshoe Hiking Route