Tintwistle Seven Falls and Plane Crash Sites
This 7 mile circular walk around Tintwistle is a challenging moorland walk involving lots of off path sections, visiting the beautiful waterfalls of Tintwistle Seven Falls and then heading up onto the moors of Tintwistle Knarr to find three plane crash sites.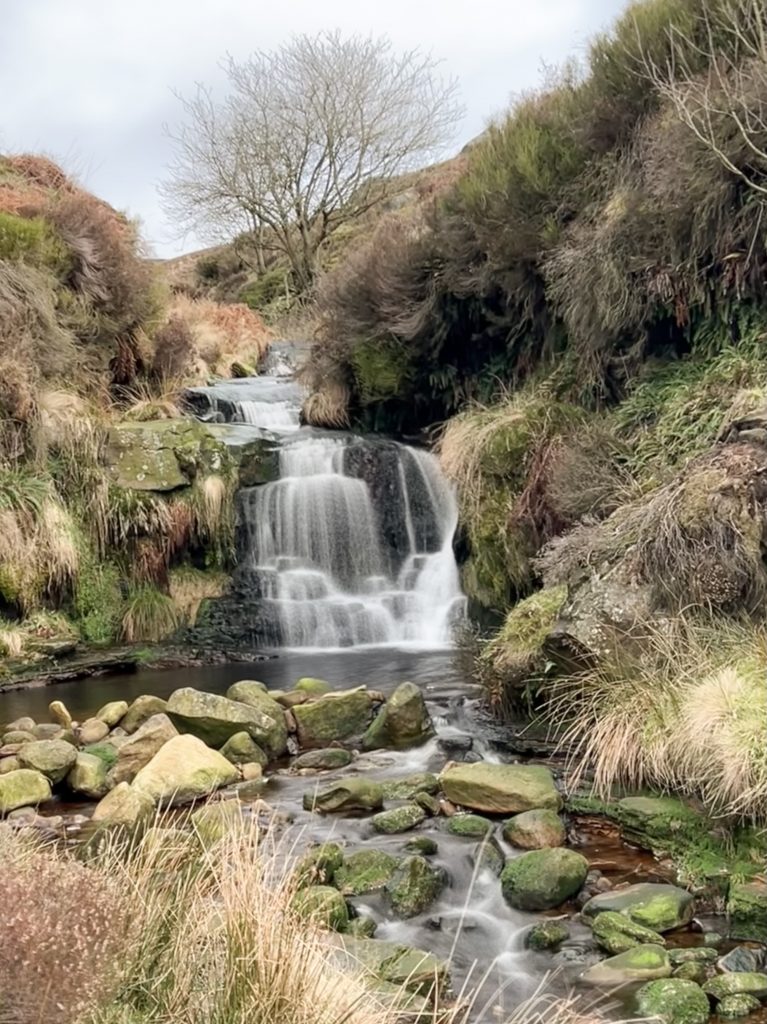 I had wanted to visit the Tintwistle Seven Falls for a while and I wasn't disappointed! This cascade of waterfalls flows down from the moorland of Tintwistle Knarr above Arnfield Brook and although there are seven waterfalls shown on the OS map, there are definitely more including lots of smaller ones as you work you way up the brook. We had them all to ourselves and it was such a treat!
We also found 3 more Peak District air crash sites:
The first site is that of 3 Hawker Hurricanes Mk 2Cs (PZ851, PZ765 and PZ854). These 3 planes were practising formation flying when they hit the side of Tintwistle Knarr in industrial haze in 1945, killing all 3 pilots. The site is at grid reference SK 035565 98893.
The second plane crash site was the Lockheed P-38J Lightning 42-67207 which crashed in cloudy weather on 10 May 1944 killing the pilot. The Lightning crash site is at SK 03932 99088.
The third plane crash site is that of an Avro Lancaster Bmk 1 PA411 which crashed on 21 December 1948, killing everyone on board. The plane is thought to have crashed due to a navigational error, descending through cloud onto Tintwistle Knarr way too early. The Lancaster crash site is at SK 03565 99254.
Our walk starts from the road next to Arnfield Fly Fishing, where we parked. We walked up Crossgate Lane towards Crossgate Farm (look out for the peacocks) and then turned left on Arnfield Lane towards Arnfield Farm. There is a metal gate and footpath before you get to the main buildings of Arnfield Farm.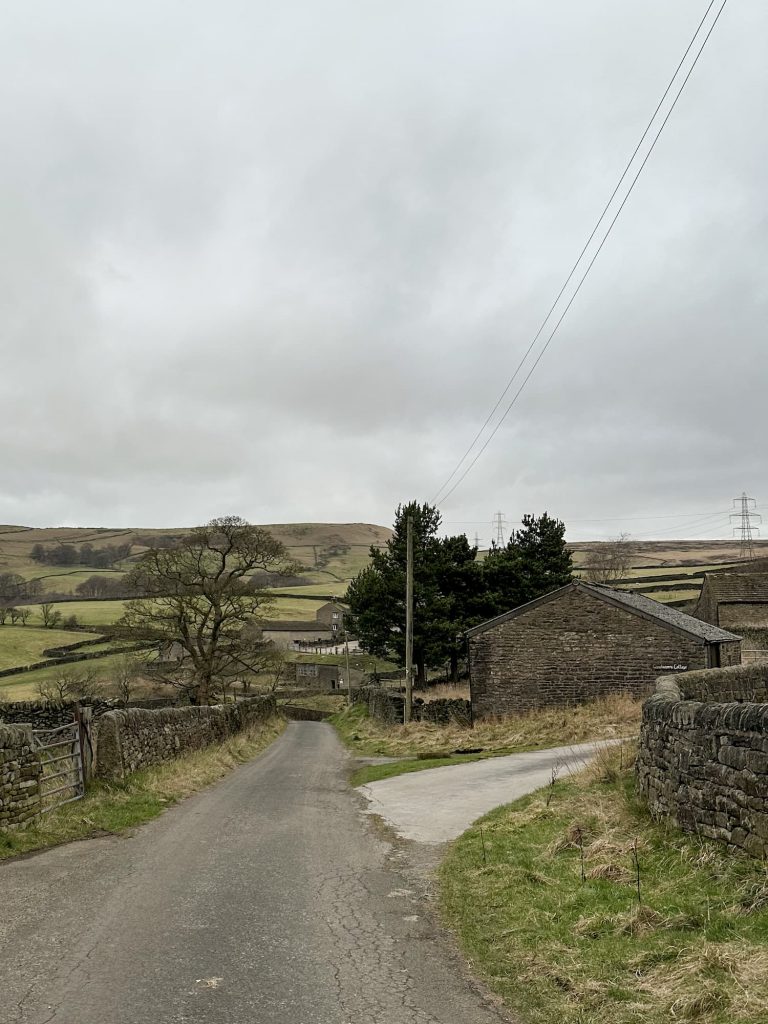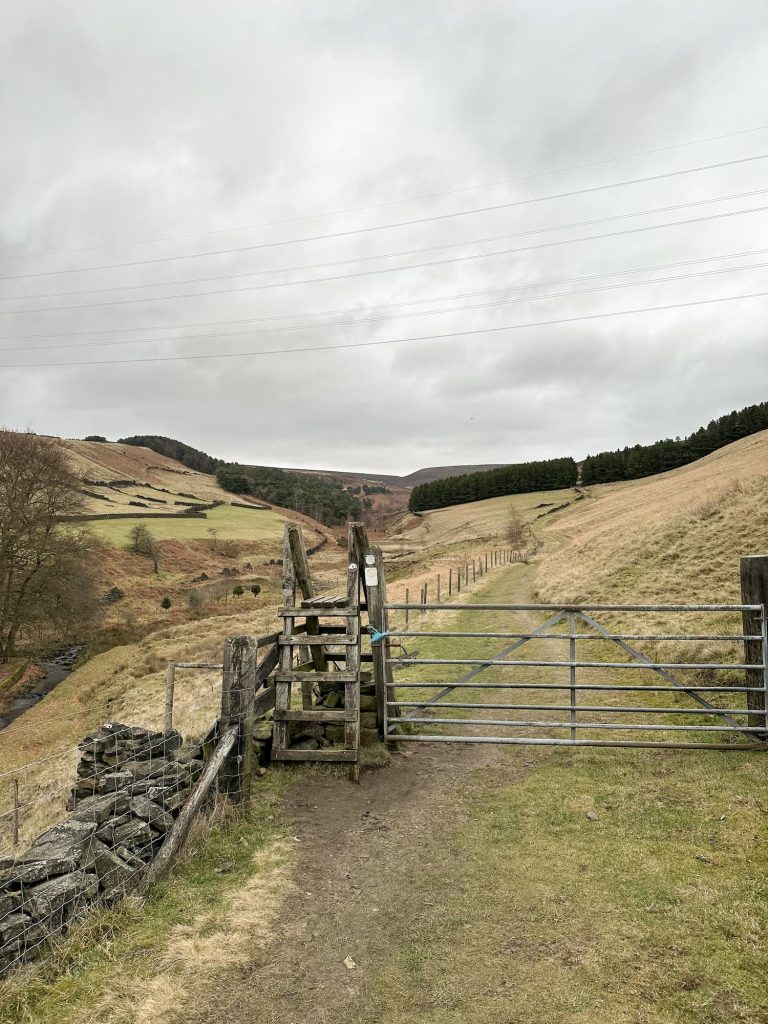 The footpath follows the path of Arnfield Brook and passes through a small pine plantation before we came to a fork in the path. We headed down the hill to Tintwistle Seven Falls. There are a series of waterfalls here, with the first few being especially spectacular. Some of the waterfalls can be accessed by heading down the banking, but this is steep and muddy in places and you should only head down if you're confident you can get back up without hurting yourself! We scrambled up some of the waterfalls but there is a path running alongside if you don't fancy a scramble.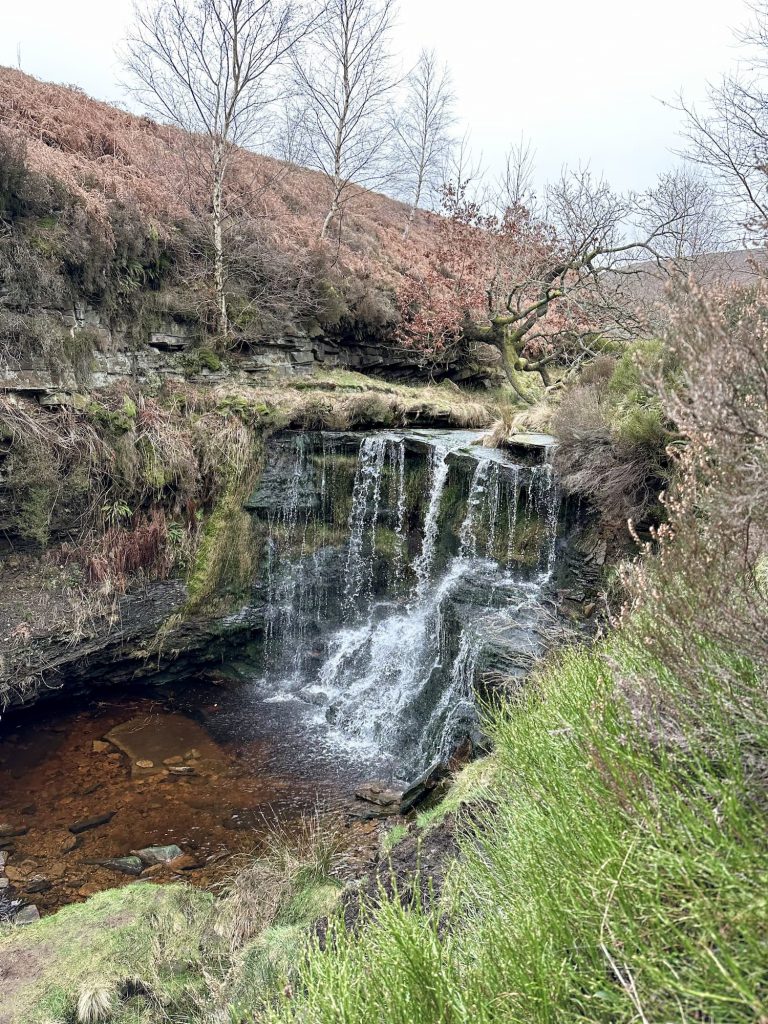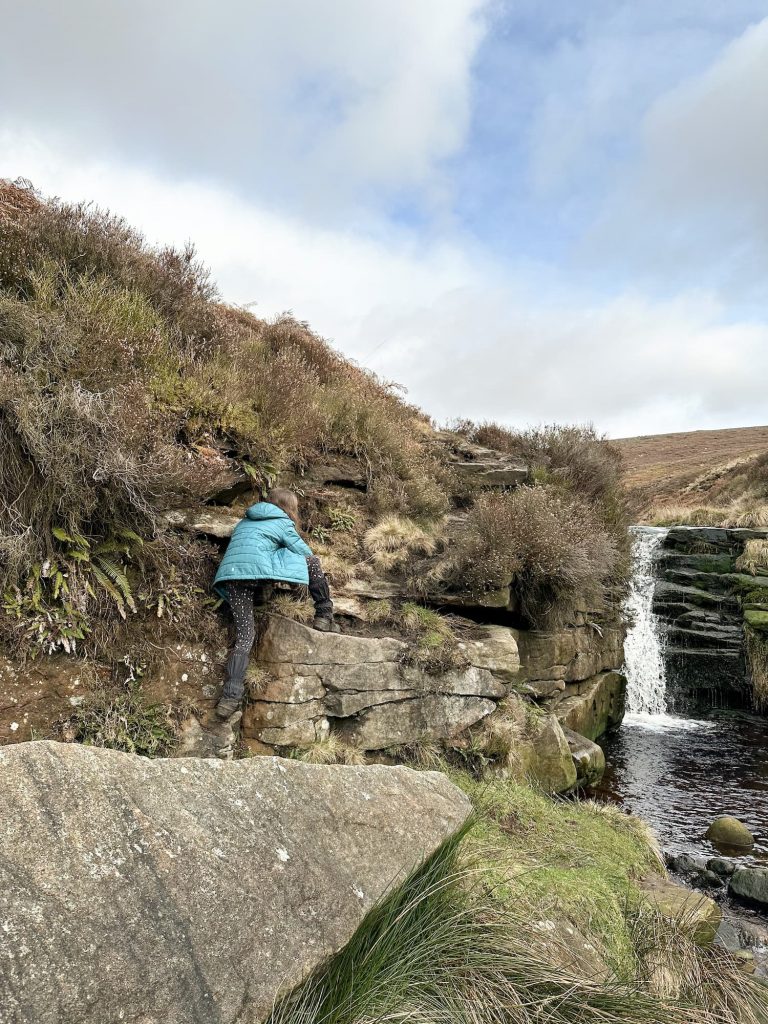 We followed the stream for a while after the waterfalls then crossed over, heading up onto Tintwistle Knarr. We had to go off path for a while, and then picked up the path leading up Tintwistle Knarr. There is a stile which leads up onto the moorland where it flattens out a bit and the crash site of the Hawker Hurricanes is over the fence and down the hillside near the old quarry. The barbed wire fence is tricky to get over so this might be a crash site to visit from below, rather than above. It's also very steep to get down and back up to.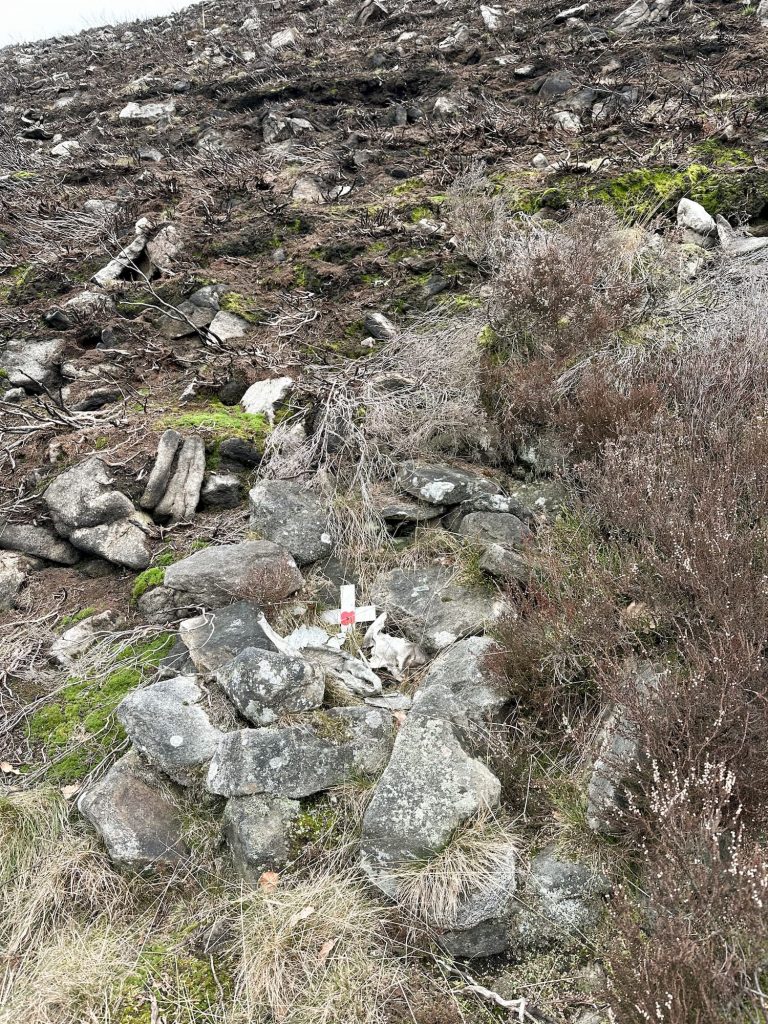 We then carried on up the hillside, past the large gritstone boulders to find the crash site of the Lightning. This is a short distance from the path to the south-east and has stunning views over to Peaknaze Moor and Bleaklow.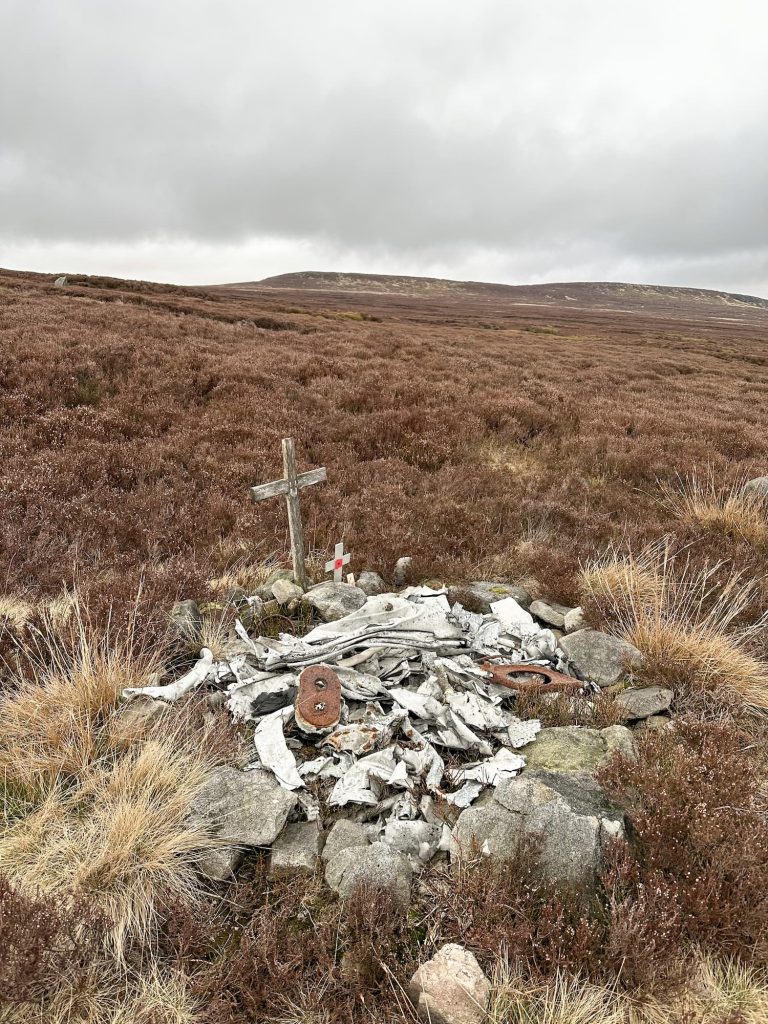 We retraced our steps and headed back to the path, then set off to the north-west to find the Lancaster Bomber crash site on Tintwistle Knarr.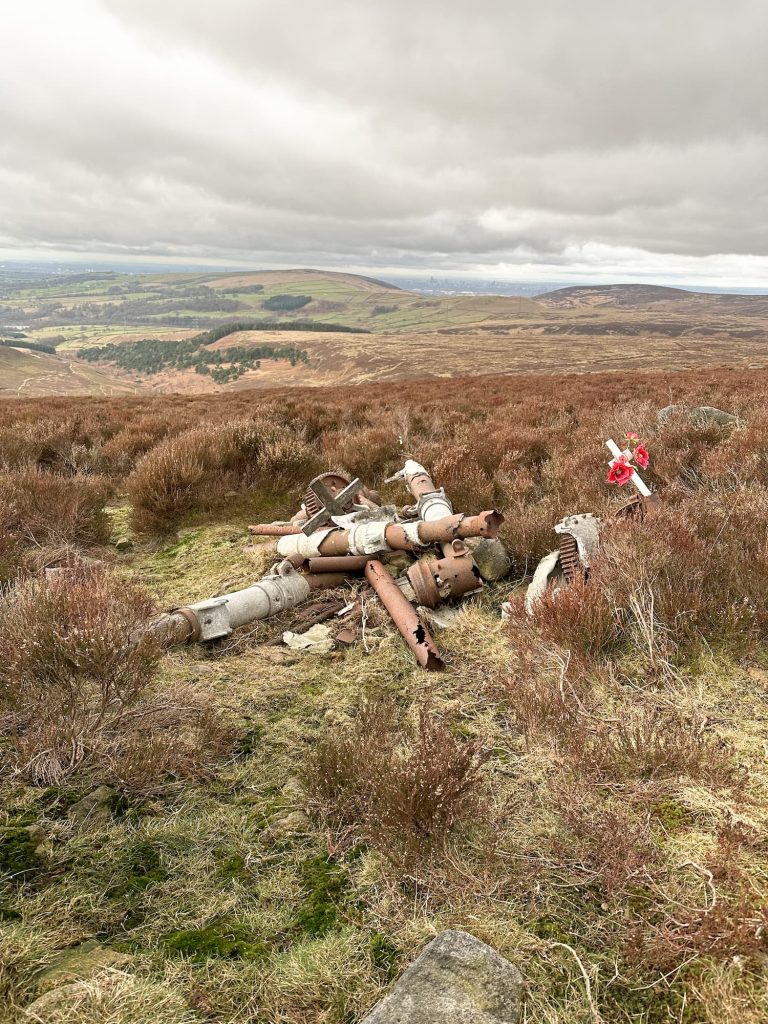 From this crash site we followed the line of the fence north-west, then picked a path down the hillside to Arnfield Brook.  We crossed Arnfield Brook near the gate across the stream, then scrambled up a dry gully on the other side to pick up a track which followed the fence line. The fence is falling down in places, but there is a stile leading to a gamekeepers track.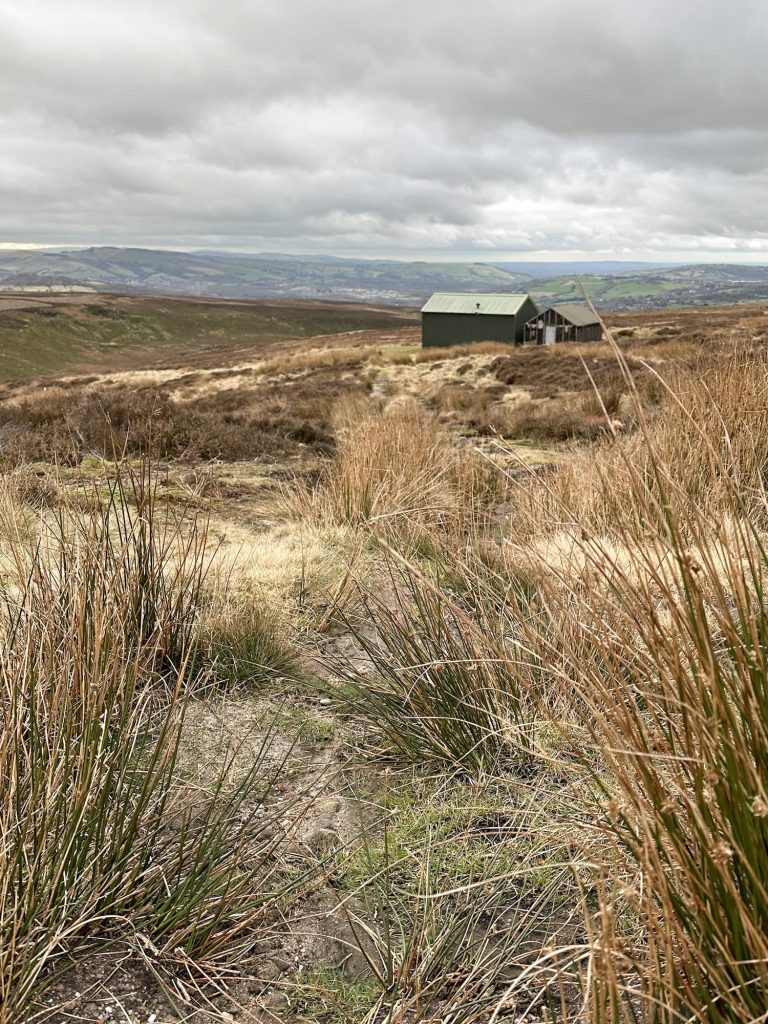 This track leads to the shooting cabin (not accessible) and then down to a pine plantation. This becomes a farm track which leads down into Arnfield Farm. We followed the track out onto Arnfield Lane and then turned right, taking the footpath that leads through the farmyard itself (it's very well signposted) and then out into the fields again, to take the path down into Swallows Wood over Devils Bridge. The bridge itself didn't seem especially satanic!
We headed through Swallows Wood, created on the site of two former reservoirs, and then skirted round the edge of Arnfield Reservoir before heading back to the car.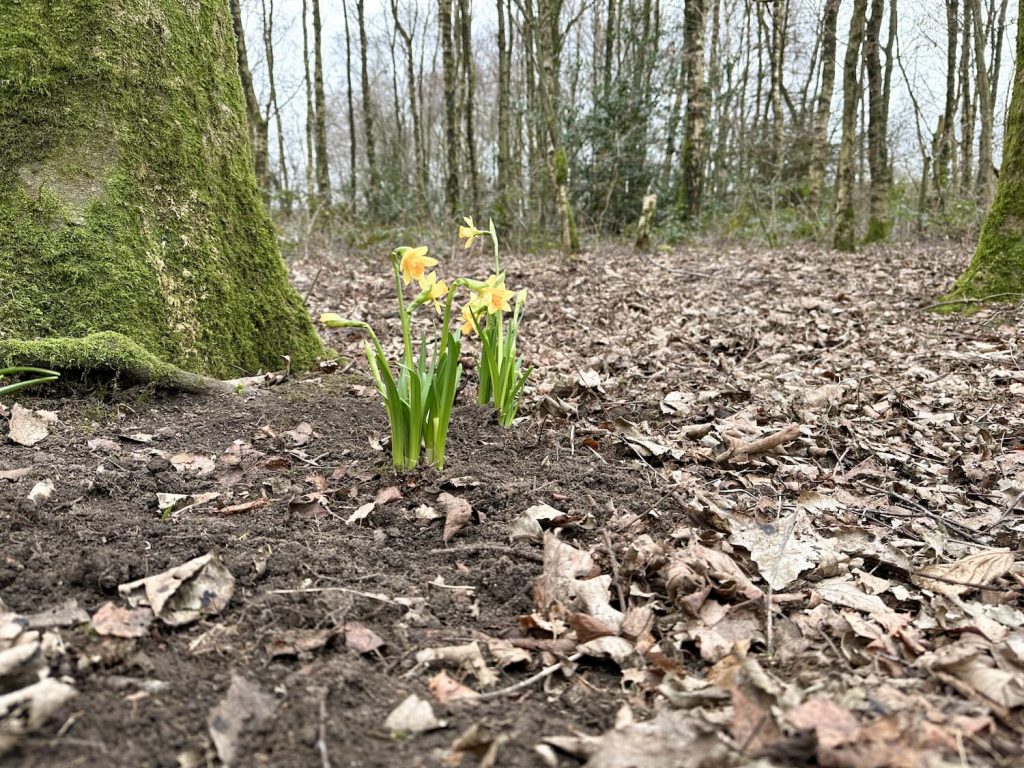 You might like this Tintwistle Seven Falls Short Walk if yomping over the moors and scrambling about isn't your thing!
Parking: Roadside parking near Arnfield Fly Fishing SK13 1HP. Please be mindful of local residents.
Facilities: None
Walk Time: 4-5 hours
Difficulty: ▲▲▲
Distance: 7.1 miles (11.4km)
Trig Points Bagged: None
Peak District Peaks Bagged: None
Peak District Ethels Bagged: None
Walk Map: 
You can click on the map to download the GPX file from Komoot.
For more Peak District plane wreck walks, you might like:
Higher Shelf Stones via Ashton Clough Scramble
Middle Black Clough Waterfall and Bleaklow Stones
USAAF B24-H Liberator Crash Site on Twizle Head Moss, Holmfirth
and for more Peak District waterfalls you might like Amazing Peak District Waterfall Walks.