Brownhill & Ramsden Reservoir Circular Walk
Looking for circular walks in Holmfirth? This Ramsden Reservoir circular walk is a really lovely walk to do with kids. With a beautiful bridge, reservoir views and even a detour to a bluebell wood (time of year depending) this circular walk of approximately 5km or 3 miles should be on your list!
We parked at the Ramsden car park by Brownhill Reservoir (on Brownhill Lane). The first time we visited the area we met some friends here, and I was told to head to Yateholme car park (which doesn't exist, by the way!). I spent ages driving around looking for it and ended up driving down a track only really suitable for off road vehicles! Luckily my little 206 managed not to get stuck on a rock or in a massive hole and we made our way back to Ramsden car park. There is only one car park!
Here's the Ramsden Reservoir walk route:
The walk starts out by the side of the reservoir and takes you on gravel tracks over a bridge between two reservoirs. There are stunning views down over Ramsden Reservoir from here and Riding Wood Reservoir on the other side of the bridge.
The tracks take you through some beautiful Yorkshire countryside and you come more or less to the base of Holme Moss, where you can see the Black Hill summit.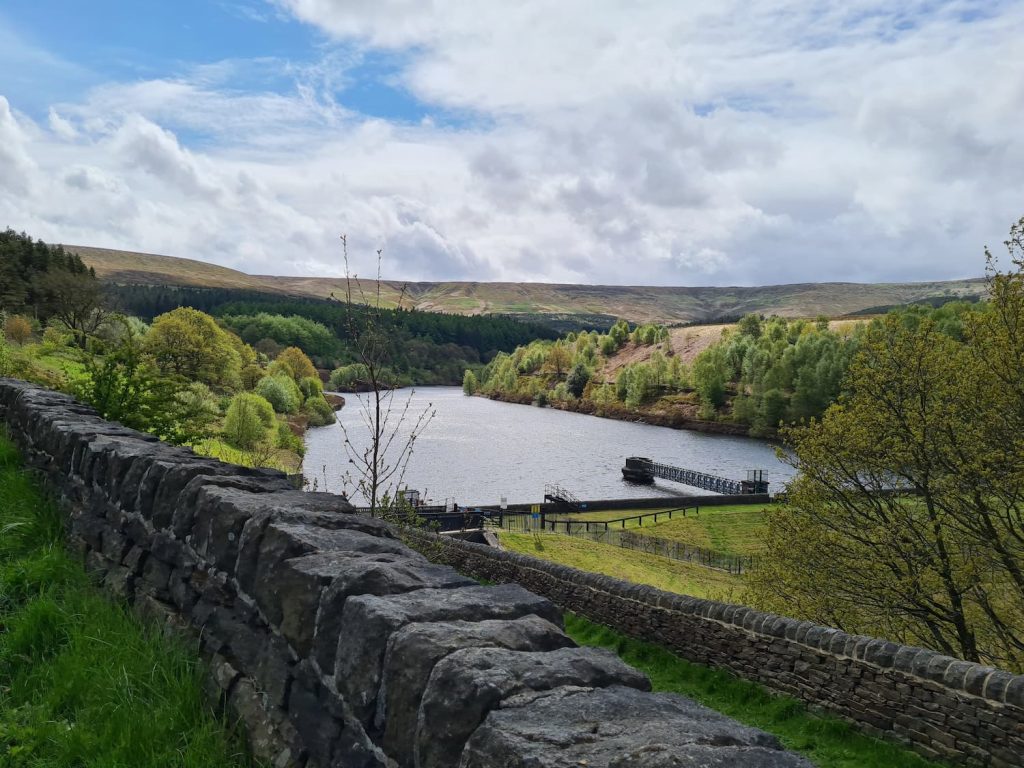 The path heads over the fields (which can be a bit boggy – they were when we went in May) and then along the top edge of Ramsden Reservoir.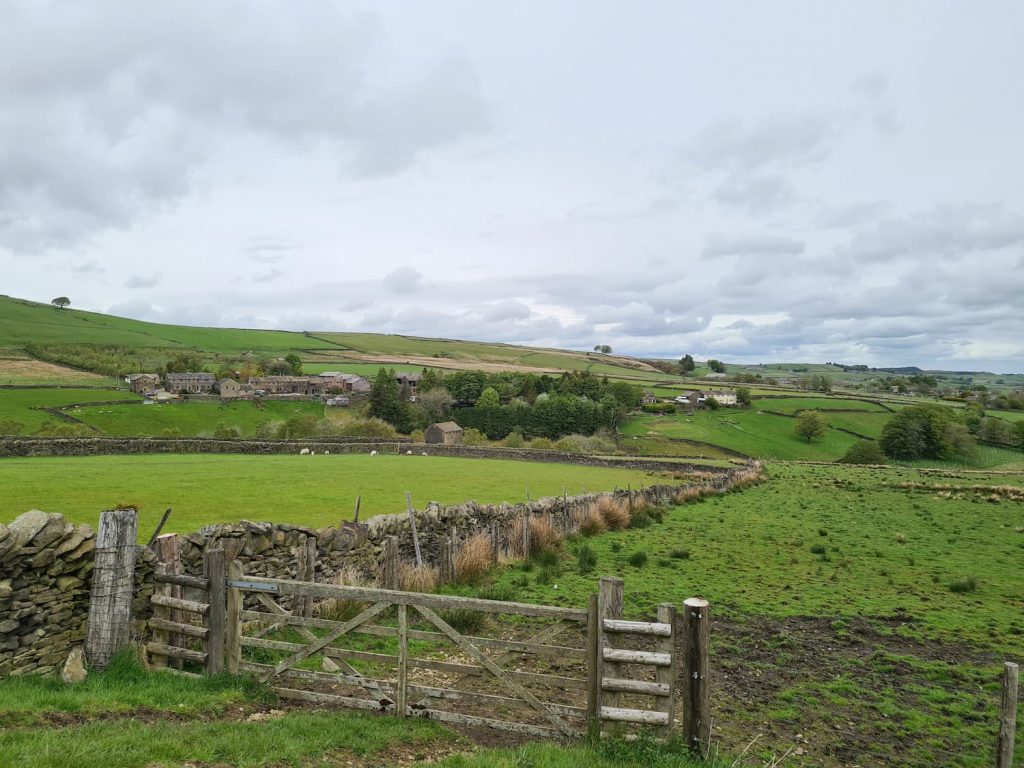 We took a detour to see the little bridge which crosses a stream running into Ramsden Reservoir. It's a great place for a little paddle on a hot day. It's a steep climb down to the bridge and back up, unfortunately.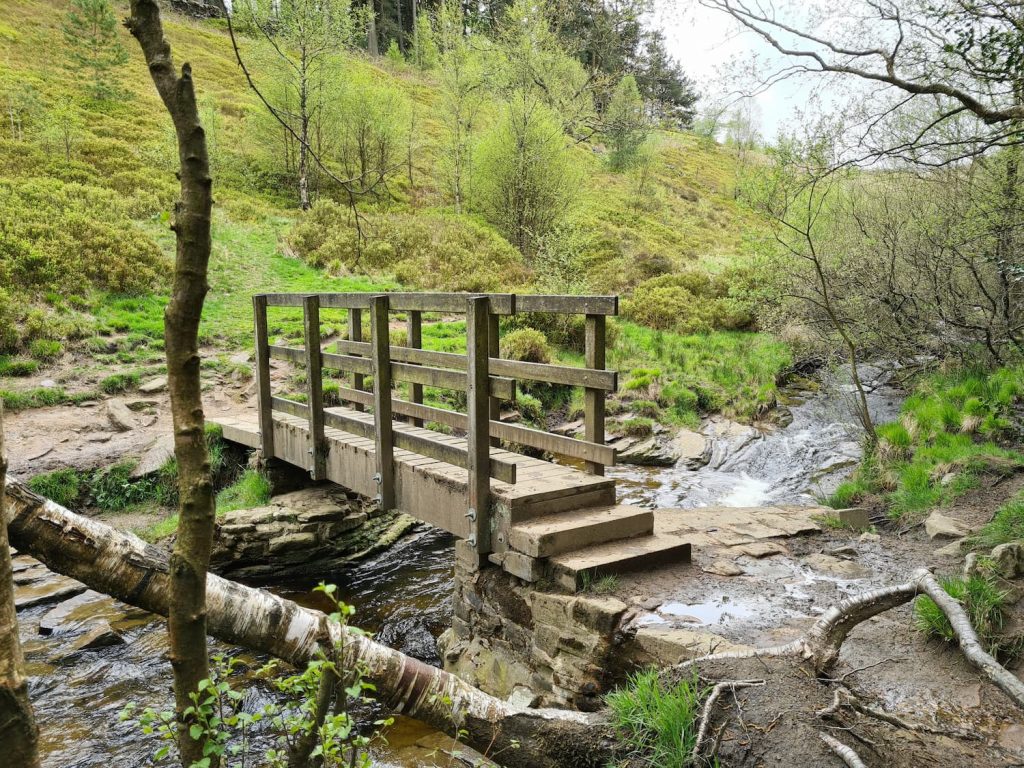 The path then heads into the woodland and becomes a skinny track, which makes it a bit awkward if there is someone coming the other way as there's not much room to move. There's hillside to one side and a drop down to Rake Dike on the other side!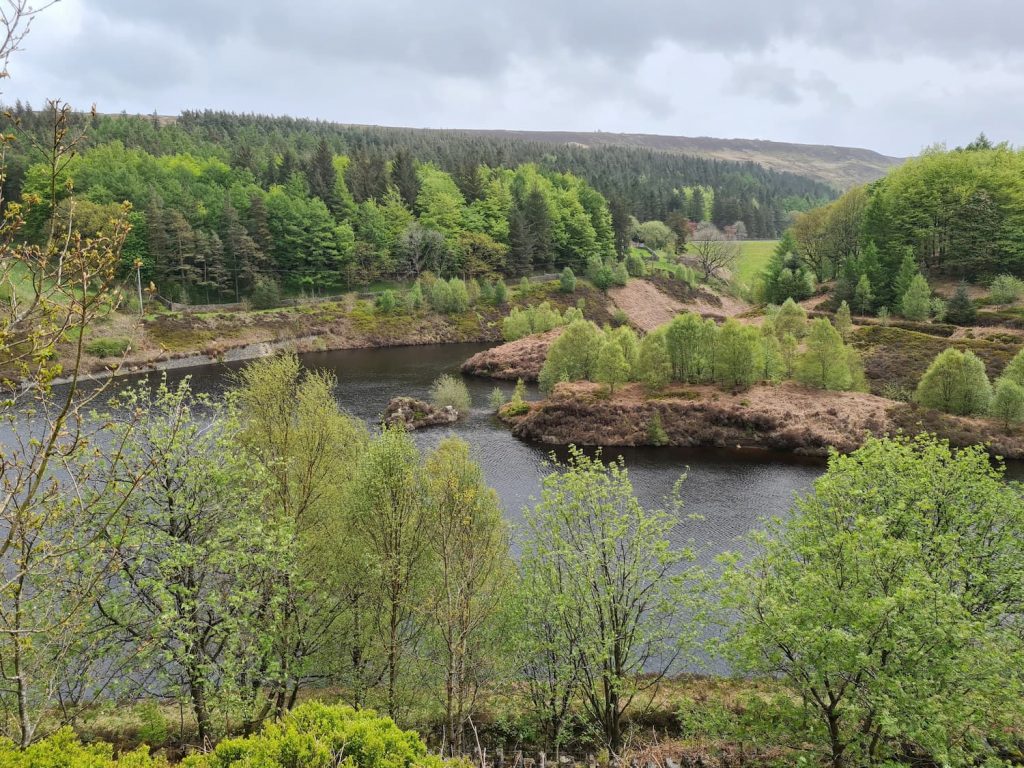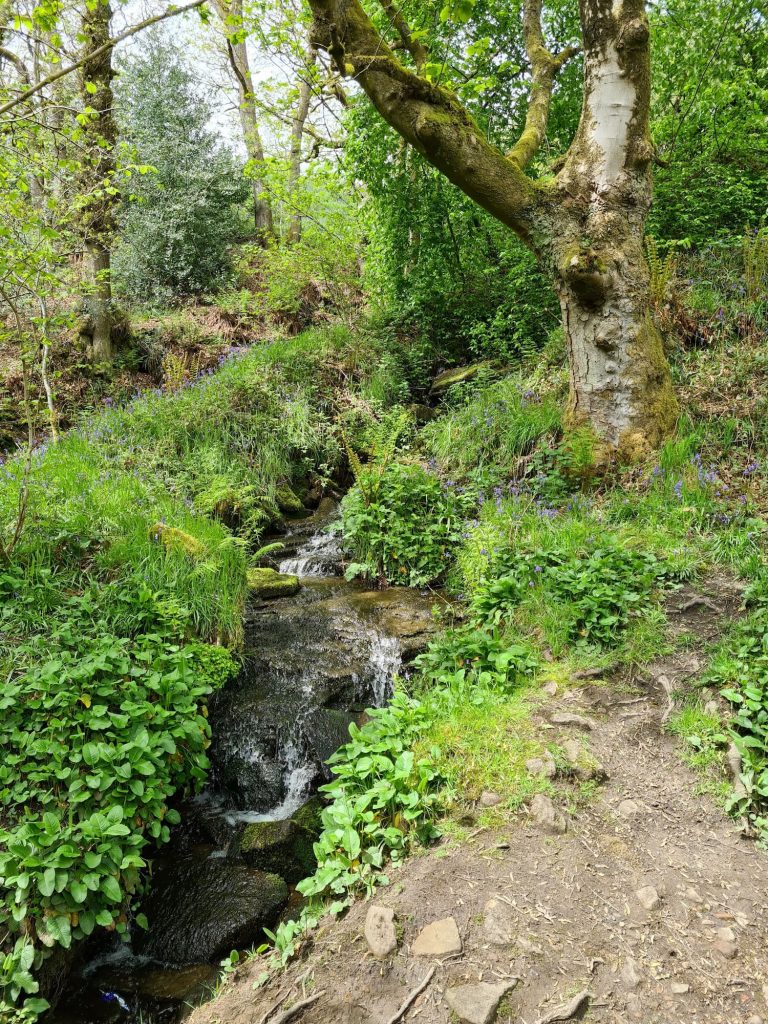 This path takes you into the bluebell woodland. I would say the best time to visit for the bluebells is May, but this is totally dependant on the seasons, the weather and the bluebells – I'm not being held responsible if you go and there are no bluebells! That's the joy of nature. There is another bridge here where you can paddle, but there were people paddling when we went so I couldn't take any decent photos.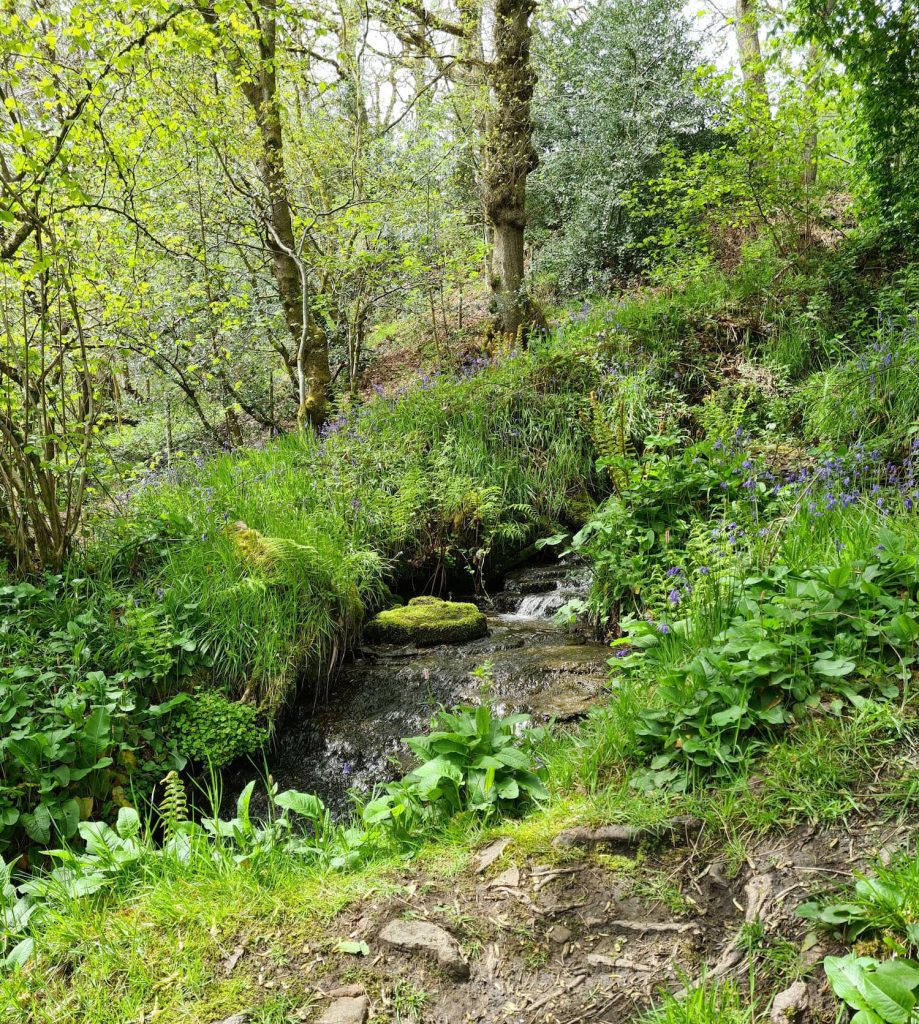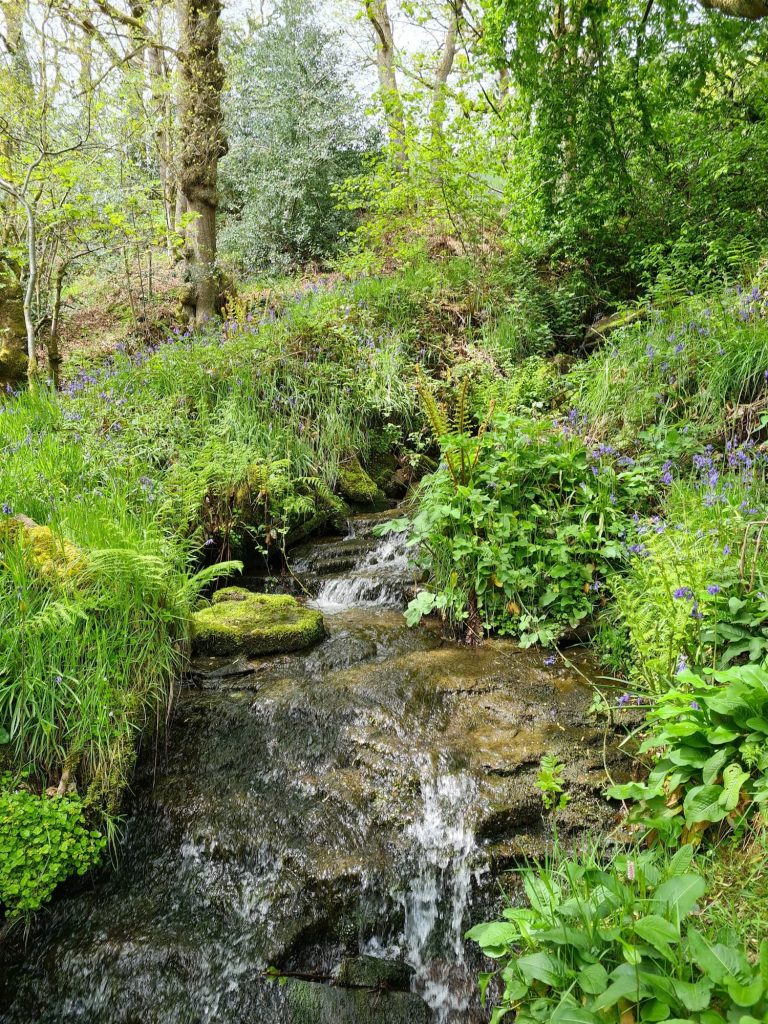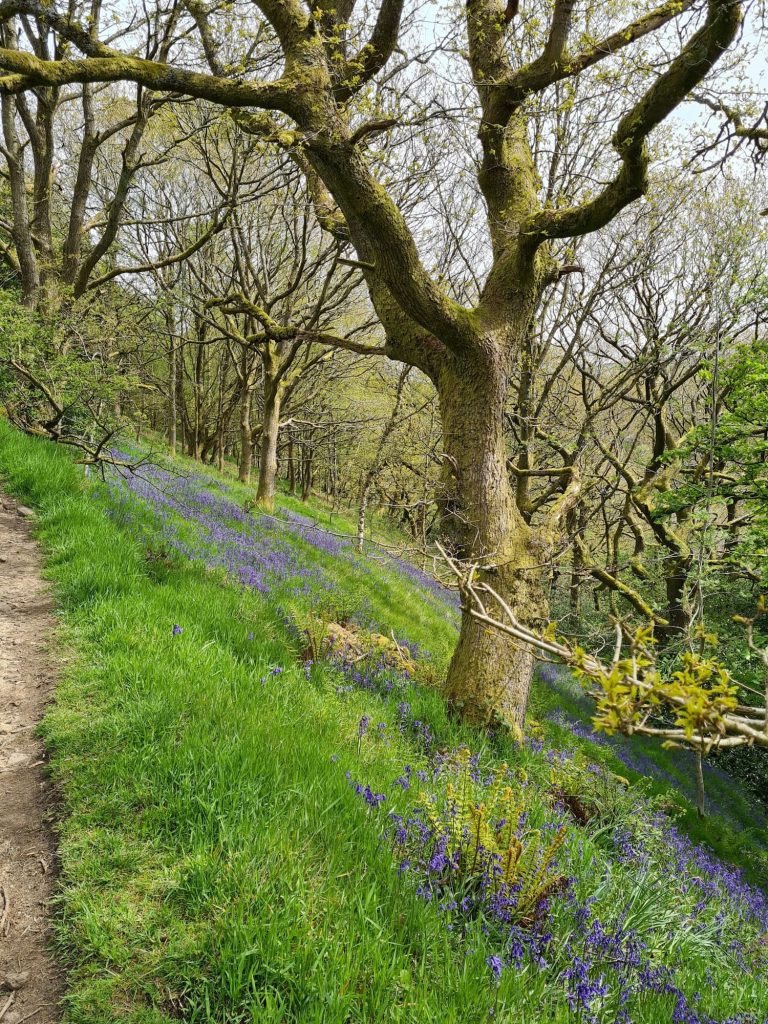 To get back to the car park you just need to retrace your steps along the path next to Rake Dike and take a left hand fork in the woods down to the reservoir embankment. This is across from the car park and is only a five minute or so walk.
Ramsden and Riding Wood reservoirs have some of the most beautiful countryside views and are a lovely place to wander. This Ramsden reservoir circular walk is one of my favourites to do, especially when the bluebells are out!
Are there any facilities at Ramsden Reservoir?
There is a wooded picnic area next to the car park but no public toilets.
Where to park for Ramsden Reservoir?
Use the free Yorkshire Water car park on Brownhill Lane HD9 2QW.
Can you walk round Ramsden Reservoir?
Yes, you can walk around Ramsden Reservoir and Brownhill Reservoir.
This is a beautiful scenic walk to do to see some magical bluebell woods in Holmfirth, and an easy circular walk with scenic views. For more walks in Holmfirth and the wider Yorkshire area, why not follow the blog? Most of our walks have been undertaken with our little girl so are walks suitable for kids unless specified otherwise.
You might also like:
Riding Wood and Ramsden Reservoir Circular Walk
Ramsden Reservoir to Hade Edge Circular
Cooks Study Moss and Hades Circular Walk
Don't forget to follow on Instagram!