Higher Shelf Stones via Ashton Clough Scramble
This Higher Shelf Stones walk explores some of the quieter parts of the Peak District as well as one of the other Peak District plane crash sites, the Dakota C47. This walk involves a couple of Grade 1 scrambles up Ashton Clough to James's Thorn, down Wigan Clough and up  Dowstones Clough  before heading to the Higher Shelf Stones trig point and the B29 Super Fortress plane crash site near Bleaklow if you fancy a small detour.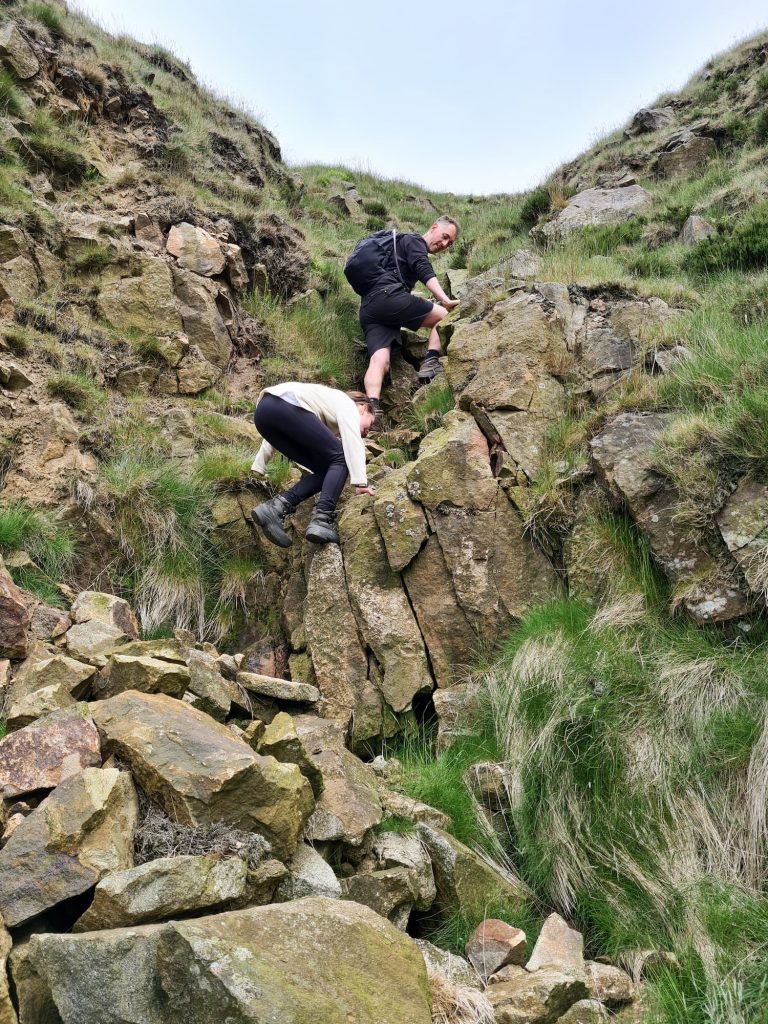 This Higher Shelf Stones walk should only be attempted if you're comfortable with scrambling over rock using your hands to pull yourself up. There are some very steep sections and parts where the rock is loose.
This blog may contain affiliate links through which, at no additional cost to you, I may earn a small commission. I only recommend products I would use myself and all opinions expressed here are my own. As an Amazon Associate I earn from qualifying purchases. Read full privacy policy here.
I recently bought the book Scrambles in the Dark Peak by Tom Corker and Terry Sleaford which is full of amazing scrambles to do in the north of the Peak District. In the book it mentions a scramble up Ashton Clough to James's Thorn and a scramble up Dowstones Clough onto Shelf Moor. We added them together to make a longer walk and to be able to spend more time on the moors.
There are about 150 plane crash sites in the Peak District, and there are a fair few of them on Bleaklow and Shelf Moor. Whilst climbing up Ashton Clough you will pass parts of the wreckage of an American C47 Skytrain 2108982 transport plane Dakota which crashed on 24 July 1945, tragically killing everyone on board. Aircrashsites.co.uk has lots of information about the plane crash and the crew members.  The plane crashed on James's Thorn, just feet away from where a Lancaster Bomber had crashed a few months earlier, and the wreckage was pushed down into Ashton Clough by recovery crews.
The coordinates for part of the C47 Skytrain Dakota crash site are SK 08052 94734. The wreckage was pushed down into the clough and the coordinates are SK 08052 94333.
Our walk starts from the car parking lay by on Snake Road, A57. We followed the Pennine Way to Old Woman, then took the left hand turning down Doctors Gate and the old Roman road down towards Glossop. Passing through the gate, we followed the path as it wound through the valley down to Shelf Brook for about 0.8 miles until we saw a pond down in the bottom of the valley, which is just before Ashton Clough.
We followed a very faint path through the heather and bilberries down to Shelf Brook and crossed over, before having a quick snack break at the bottom of Ashton Clough.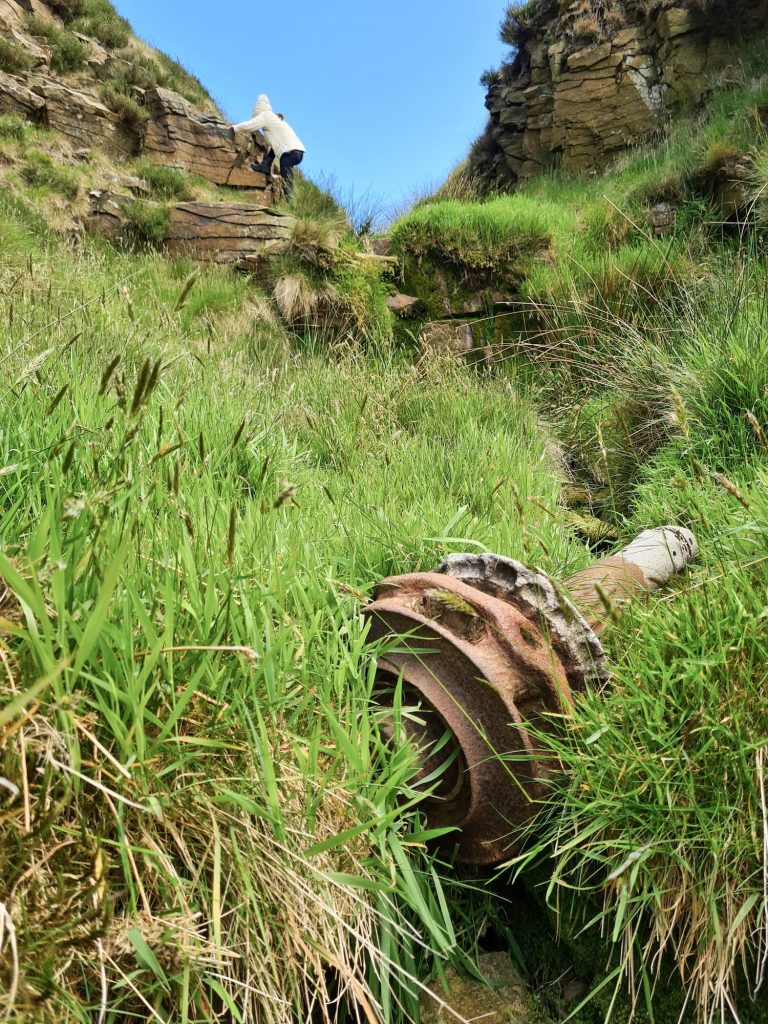 We scrambled up Ashton Clough, finding bits of plane wreckage along the way including wheels, parts of the wing and plane undercarriage strewn in the Clough. Parts have been buried or "reclaimed" over time, but the bits that remain are a poignant reminder of the tragedy. I'm sure someone far more knowledgeable than me will know what all the pieces are!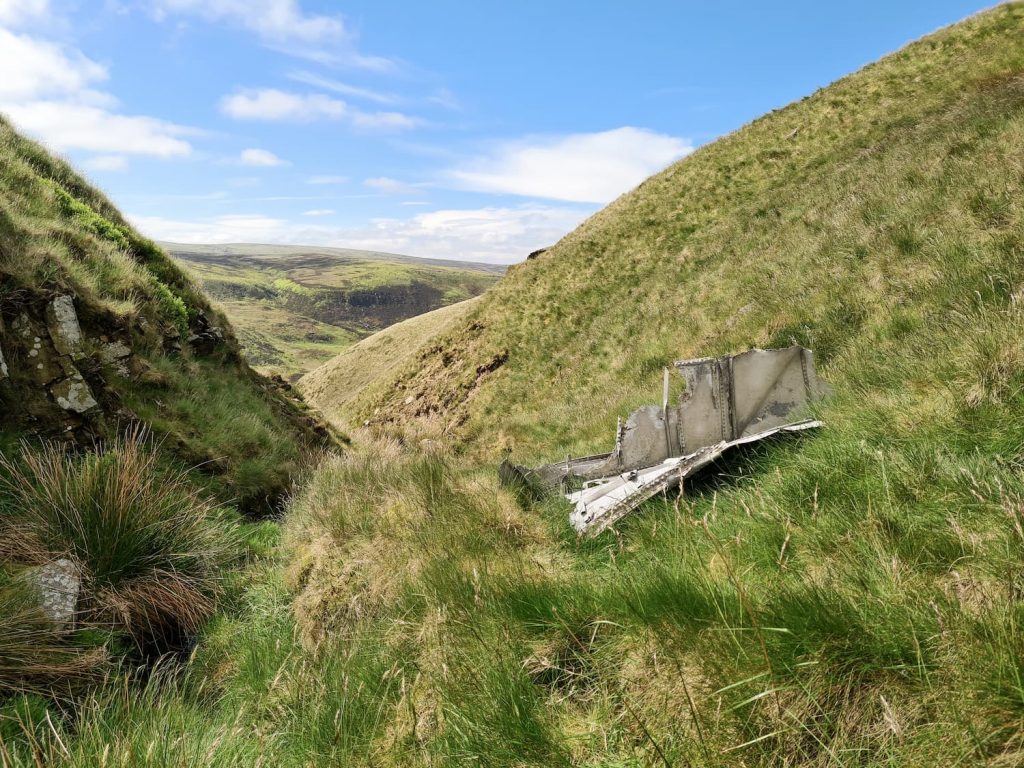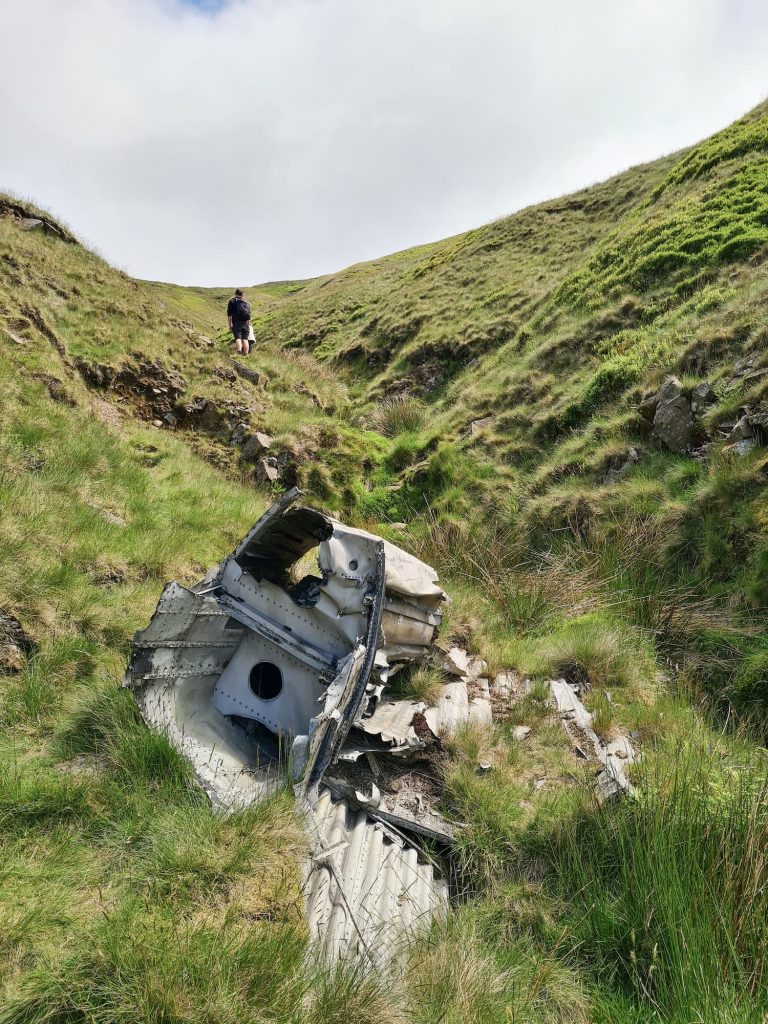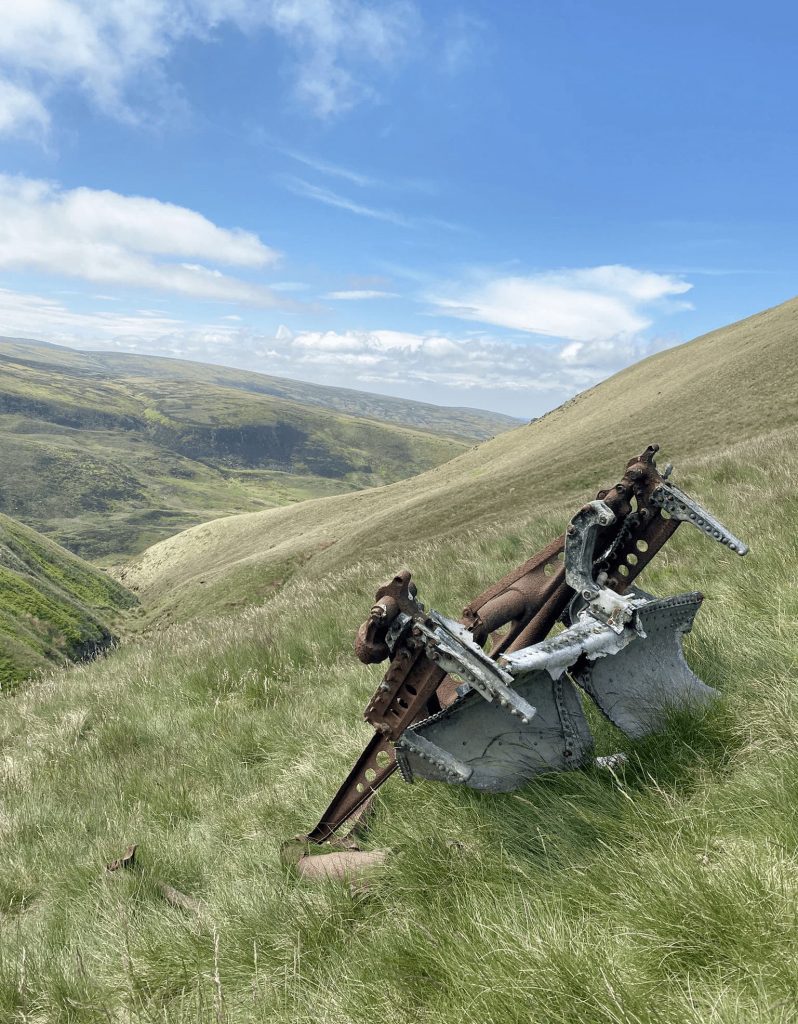 The scramble up Ashton Clough isn't too challenging, but does get steeper towards the top. The Clough forks, and we took the left fork to head up towards the fence. I think that if you take the right fork you'll come to the actual plane crash site of the C47 Dakota and a Lancaster bomber which crashed a few months earlier in almost the same place. There are memorial plaques there as can be seen in this image.
From the top of James's Thorn we headed south-east along the fence line to a stile, then headed north-west over the moors, then north-west to start to descend the hillside down Wigan Clough. This is quite a steep climb down a rock face, so again care needs to be taken. Here we saw curlew and meadow pipits, and lots of sheep and lambs. With this being a quieter part of the moors, the wildlife is amazing.
After we climbed down Wigan Clough we headed down towards Dowstone Clough, which again is a beautiful brook with lots of small pools and waterfalls. We scrambled up the Clough, climbing up over the rocks. Joel got a shock when he almost put his hand on a rabbit, which suddenly leaped up as we got closer!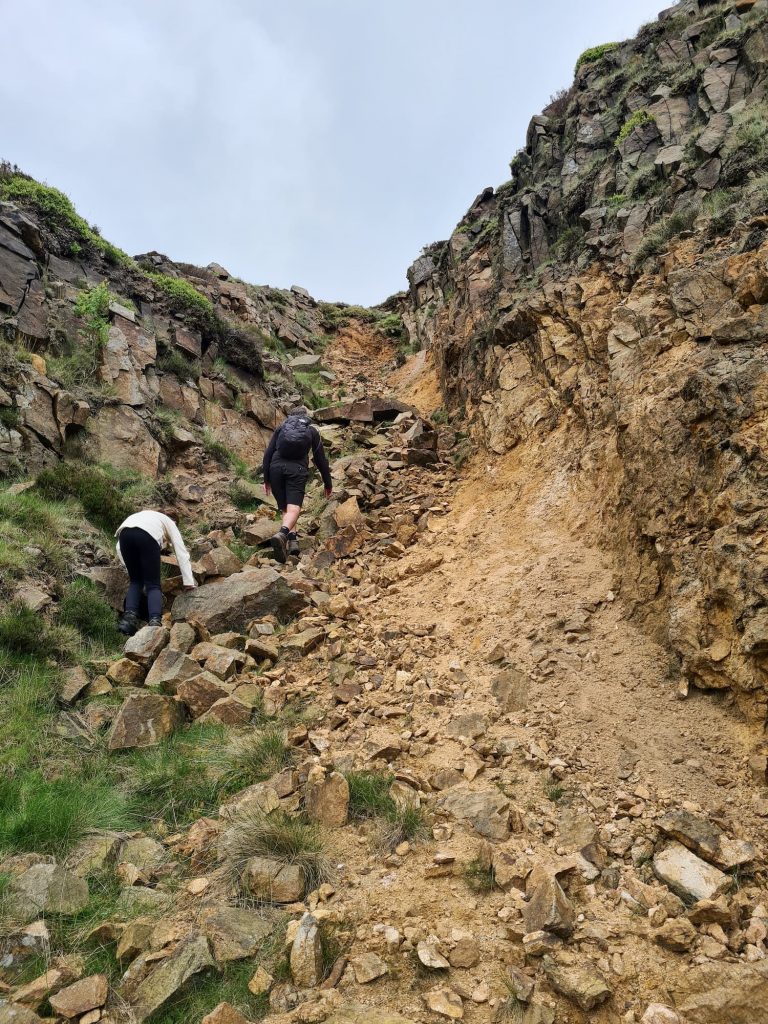 Once at the top we had another snack break then headed off over the moors to pick up the path to Higher Shelf Stones. Up until this part of the walk we had barely seen anyone other than another family who climbed straight up the hill onto Shelf Moor, but you will be able to tell when you're near the Higher Shelf Stones trig point and the B29 crash site as it will get so busy!
We didn't go to the B29 crash site near Bleaklow as we've been before, and you can read a guide to visiting the B29 crash site here. It's a very small detour (0.1 miles to the north-east) from the Higher Shelf Stones trig point though so you can visit a couple of Peak District plane crash sites in this walk if you wanted to.
After a quick pic of the trig point, we headed off back over Gathering Hill and crossed Crooked Clough before heading back along the track to Old Woman and back along the Pennine Way to the car.
For more Peak District scrambles, you might like to try Edale to Grindslow Knoll Circular Walk or Kinder Downfall Walk via Nether Red Brook Scramble. 
This Higher Shelf Stones scramble walk is a lovely one to do on a spring day with good visibility, but should only be attempted if you are confident navigating over bleak, featureless moorland. It can be easy to get lost on Shelf Moor and Bleaklow as the weather changes quickly. Make sure you are prepared, and don't go wearing crocs or some other horrors. 
Higher Shelf Stones Scramble Walk:
Parking: A lay-by on the A57 Snake Road SK13 7PQ. Get there early as it fills up quickly, and traffic wardens have handed out tickets to people parked where the double yellow lines are.
Facilities: None
Walk Time: 3-4 hours
Difficulty: ▲▲▲ – this route involves scrambling and is navigationally challenging
Distance: 5.7 miles (9 km)
Trig Points Bagged: Higher Shelf Stones
Peak District Peaks Bagged: Higher Shelf Stones
Peak District Ethels Bagged: Higher Shelf Stones
Higher Shelf Stones Scramble Map:
You might also like: