Baslow Edge Short Walk
This Baslow Edge short walk starts from Curbar Gap car park and is a relatively level 1.5 miles walk to see the Highland Cows of Baslow Fold, as well as the Eagle Stone.

We did this walk after the Flask Edge and White Edge trig point walk. I'd promised Holly we'd look for the Baslow Edge highland cows. The cows are famous on Facebook, even having their own Facebook group! Unfortunately they have something like 200 acres of moorland to roam in, so I wasn't sure we'd even see them, but we were really lucky and they were just by the gate. Holly thinks they were waiting for us – I think it was more likely they wanted the shade on what was a very hot day!
From the Curbar Gap car park, we crossed the road and went up the small hill to the gate. The cows can be anywhere on the other side of this gate.
There were a few members of the herd just chilling around, and then we saw the calves a bit further on.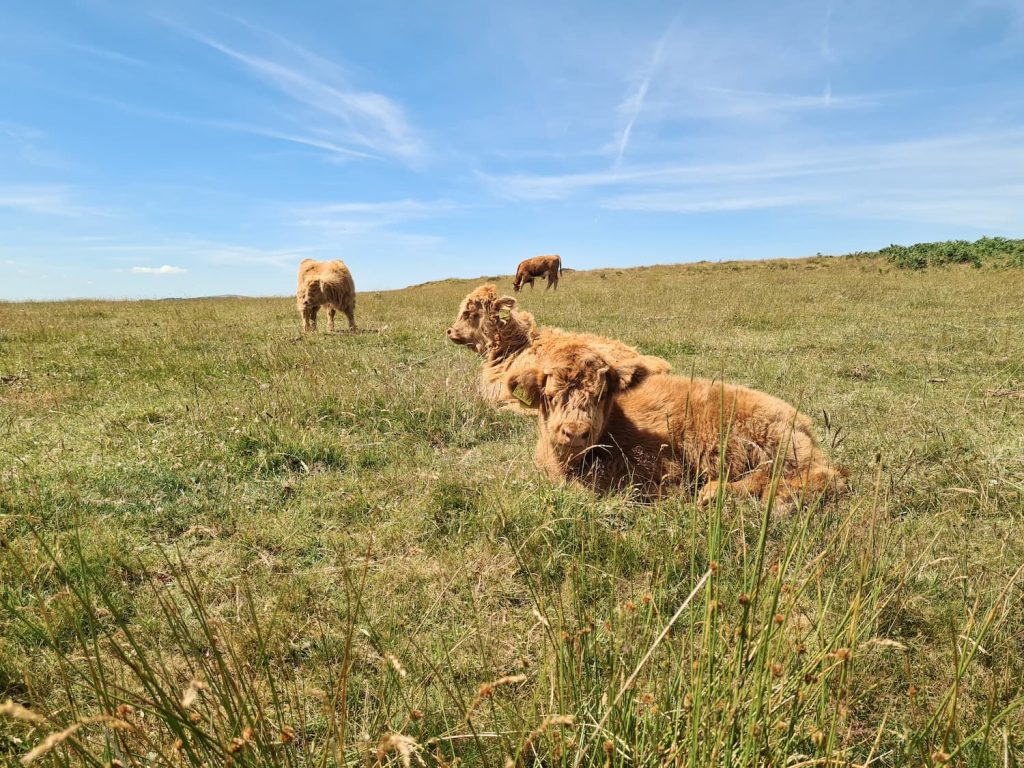 After much persuasion we dragged Hols away to look at the Eagle Stone, which local legend tells that young men had to climb before they got married in order to prove their manliness. None of my family are very manly as it turns out, as none of us could climb very far!
Further on the track leads to the Wellington monument, but we didn't get that far as it was a hot day and we'd already walked 8 miles or so round Big Moor. Hols was fed up, so we did what all good parents do and rather than listen to the complaining, we went to the pub for some lunch.
This is a lovely easy walk for the kids to do, and the views from Baslow Edge are stunning. There are lots of rocks to scramble on, and the cows make a lovely addition, although please be careful around them and don't feed them.
Baslow Edge Walk Route:
Parking: Curbar Gap car park, Clodhall Lane, Hope Valley S32 3YR (National Trust)
Facilities: None but there was a coffee van in the car park when we left
Walk Time: 1-2 hours depending on speed, fitness and how long you spend looking for the cows!
Difficulty: ▲
Distance: 1.5 miles (2.75km)
Trig Points Bagged: None
Peak District Peaks Bagged: None
Peak District Ethels Bagged: None
Walk Map:
Click on the map to access Komoot and download the GPX
You might also like Curbar Edge Walk with Froggatt Edge and White Edge or Surprise View Circular Walk.