Mardale Horseshoe
This Mardale Horseshoe walk takes in the Wainwrights of Harter Fell, Mardale Ill Bell, High Street, The Knott, Rampsgill Head, High Raise and Kidsty Pike. Starting in Haweswater, this route is 10 miles long.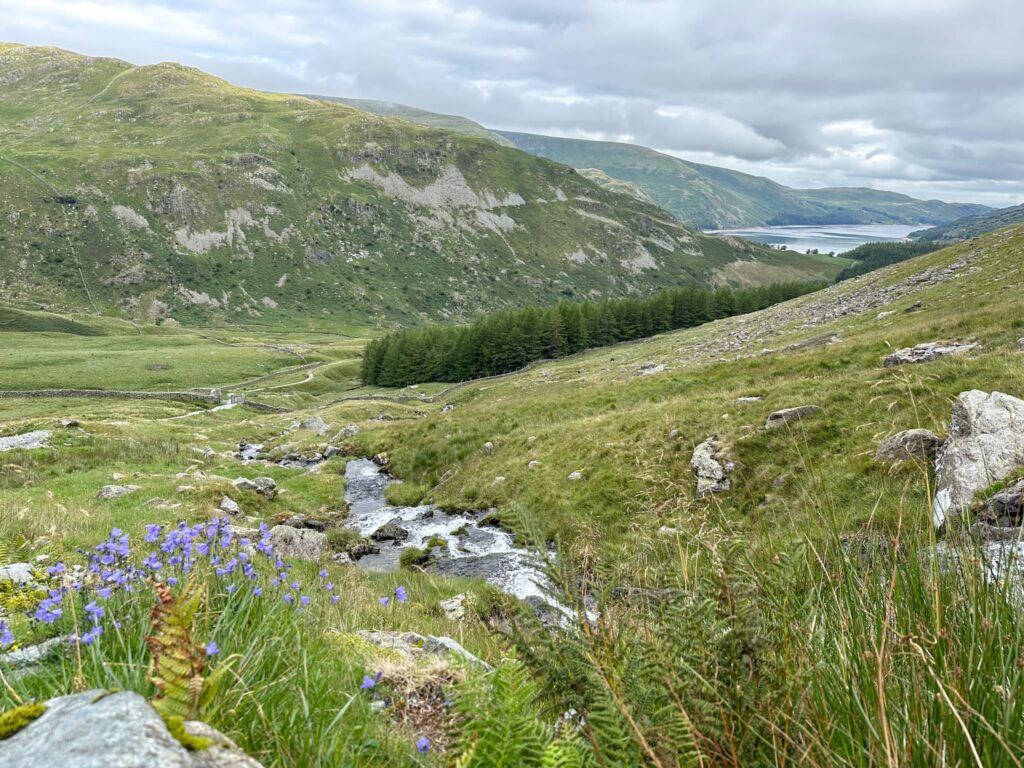 I've called this walk a Mardale Horseshoe but it's only to give it a snappy title! It's actually just a walk which is great for Wainwright bagging, ticking off 7 in one go! Starting from Haweswater, this route heads up the Gatescarth Pass to Little Harter Fell (681m) which isn't a Wainwright, but then onto Harter Fell (779m), Mardale Ill Bell (760m), High Street (828m), The Knott (739m), Rampsgill Head (792m), High Raise (802m) and Kidsty Pike (780m) before descending back down to the car park at Haweswater.
This was the first time we'd explored the area around Haweswater, and it won't be the last. Haweswater is a reservoir (not a lake or mere) and as such there is no swimming, boating or SUPing allowed, meaning it's a very tranquil part of the Lake District. We arrived mid morning and found parking easily in Mardale Head car park, and set off up the Gatesgarth Pass. I didn't press Start on my watch at the right time so the walk on Komoot looks like I've just landed midway up the path! The GPX for the route is the full route though.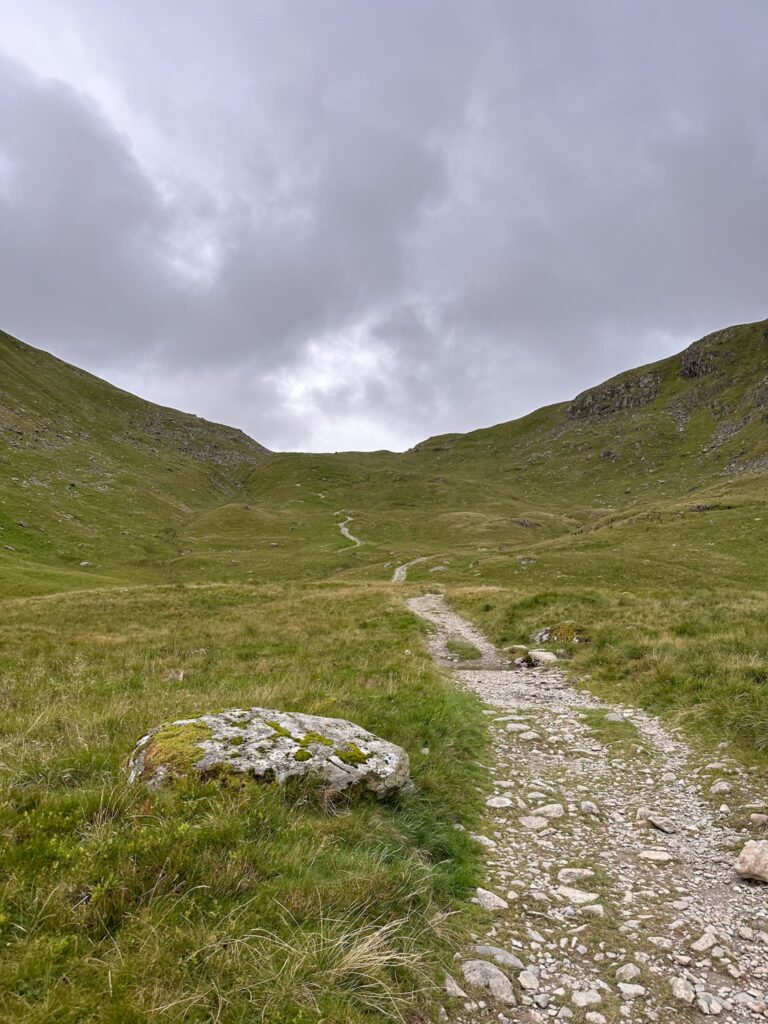 The path winds its way steeply up the side of the Gatesgarth Beck until we reached a col, where we turned north-west in the direction of the Nan Bield Pass. This took us up and over Little Harter Fell, a Birkett of 681m with stunning views over Haweswater. From Little Harter Fell the path climbs up onto the ridge of Harter Fell, marked by a stone cairn, and then drops down sharply towards the Nan Bield Pass. Here there's a little stone shelter – sadly we were "racing" another family down the hill and the faster members of their group got in the shelter first so I've very few pictures – does anyone else race other walkers?!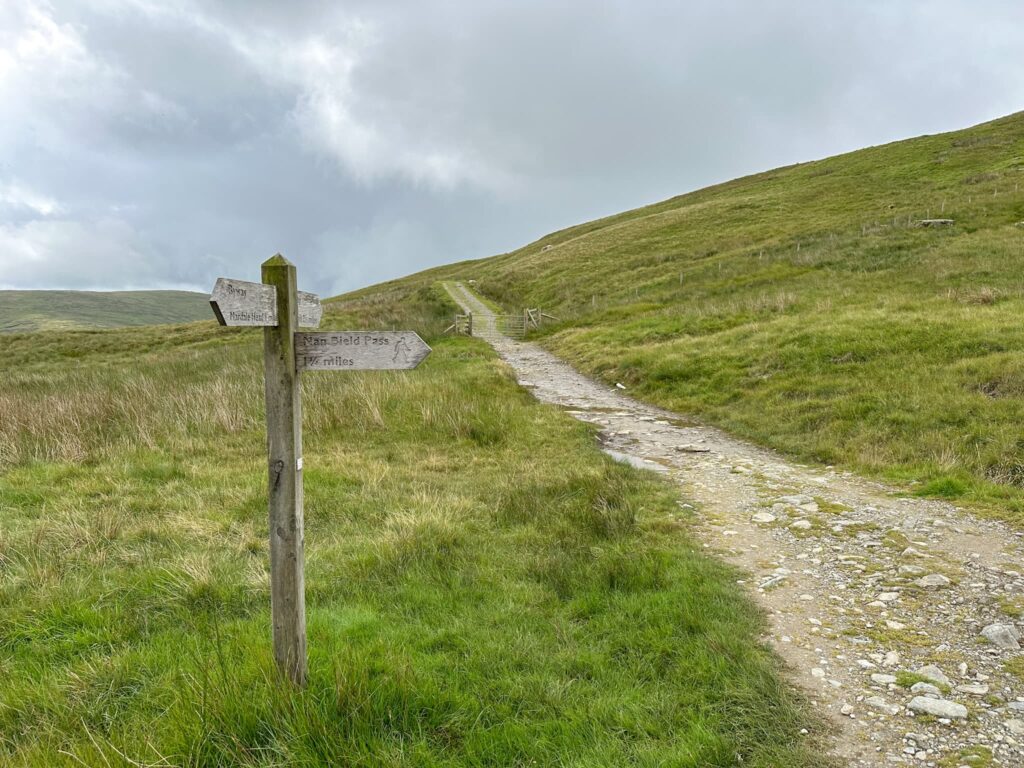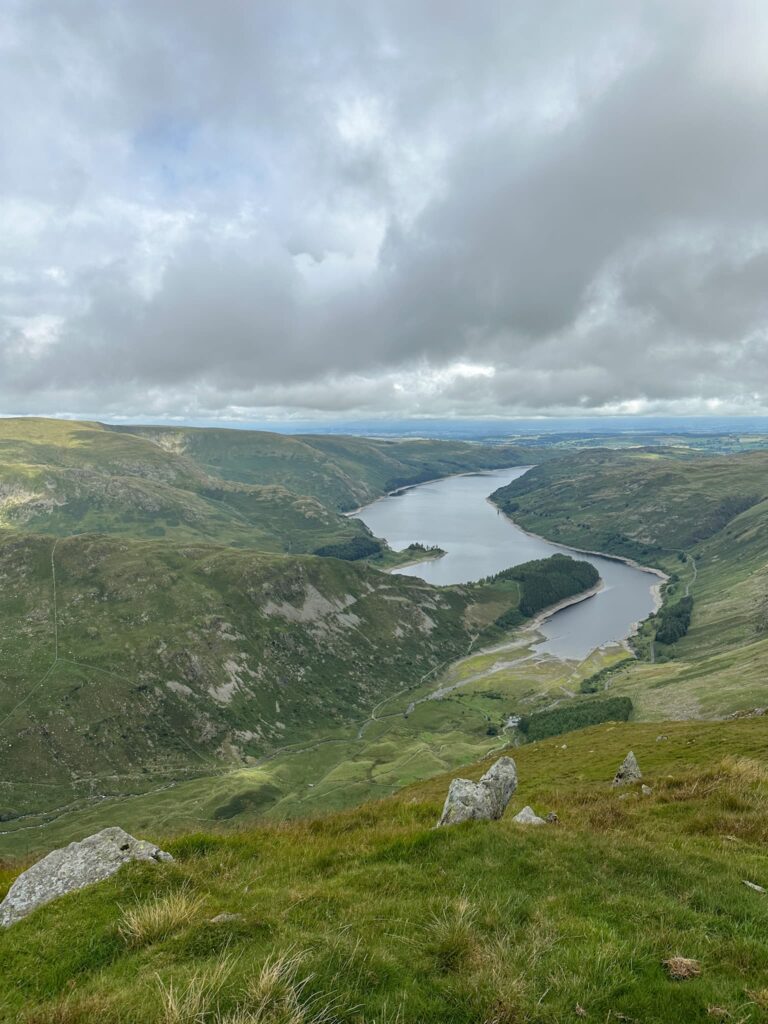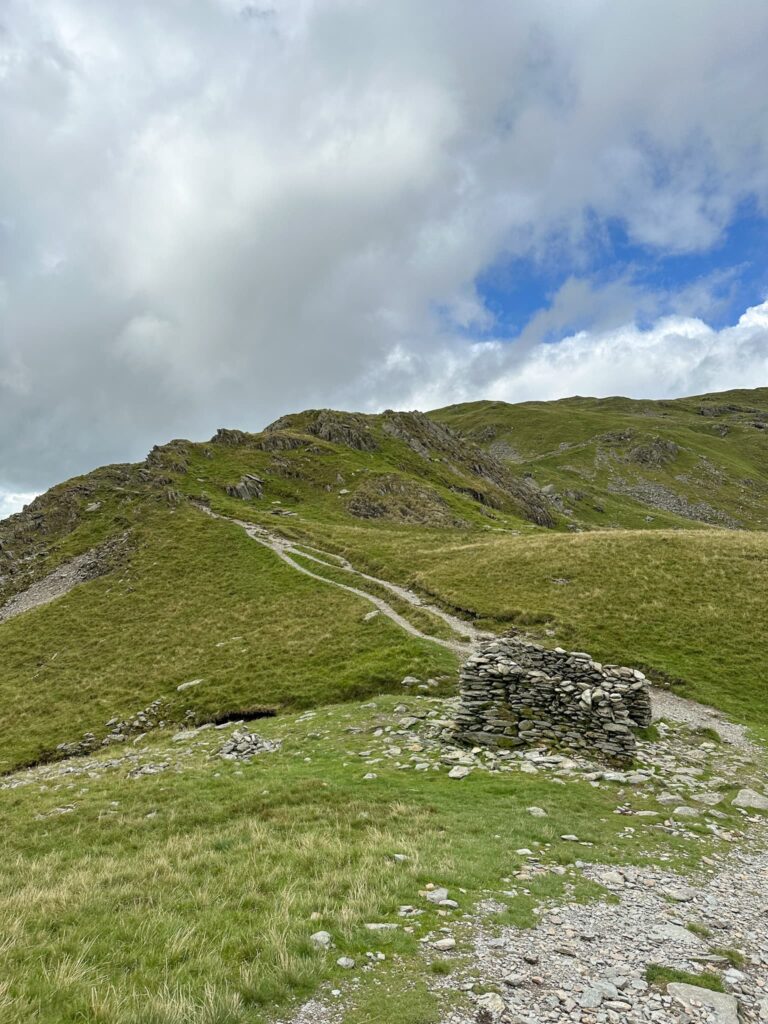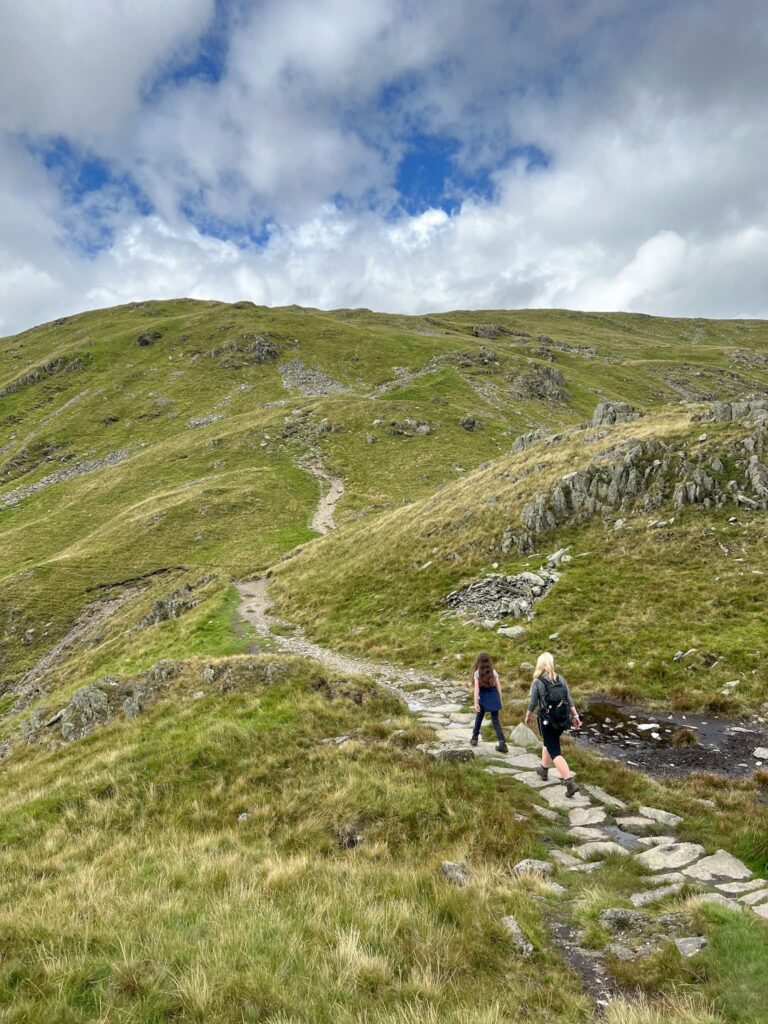 After we'd walked past the shelter we climbed back up to Mardale Ill Bell, again marked by a summit cairn. The views from here over Blea Water are amazing!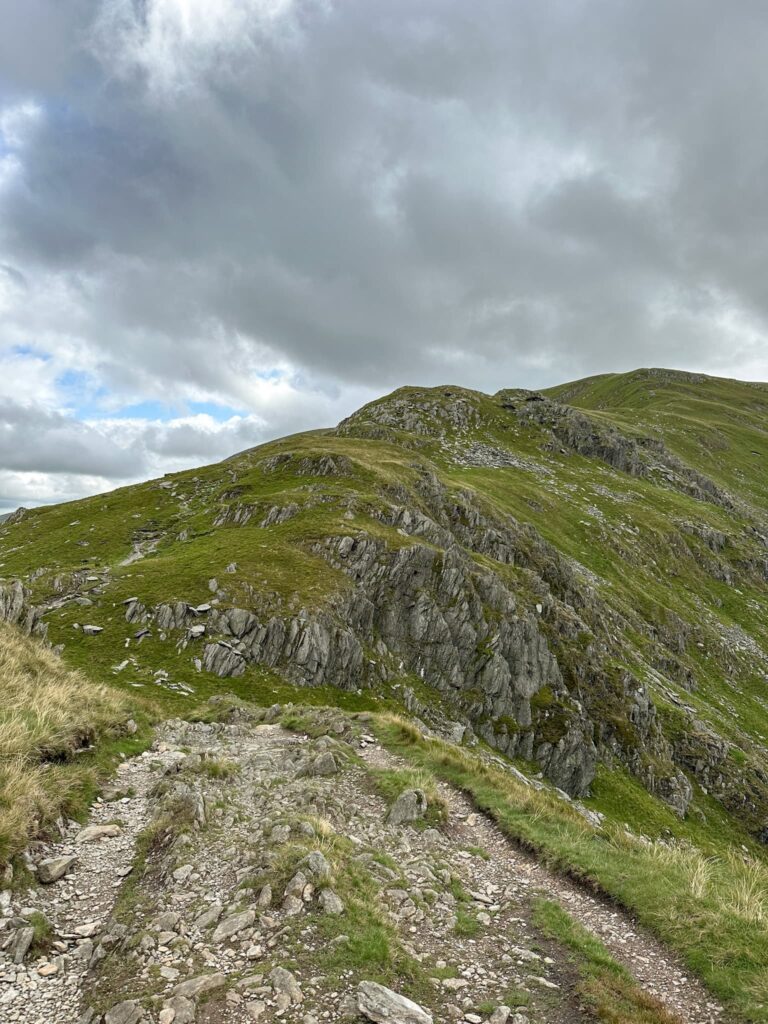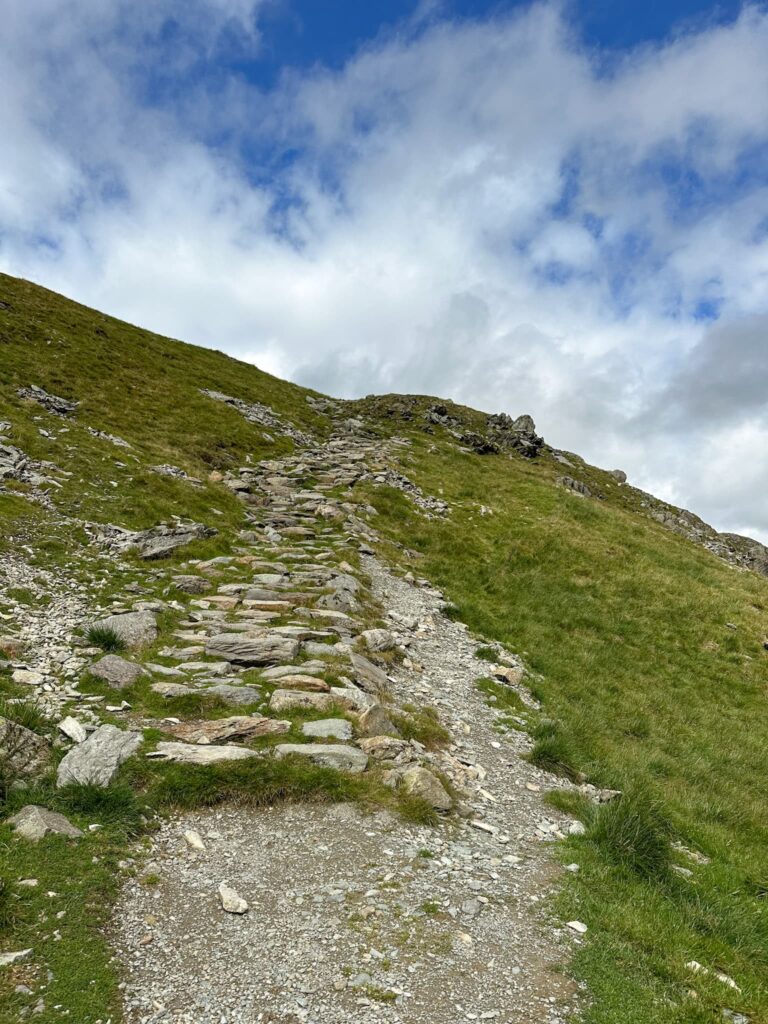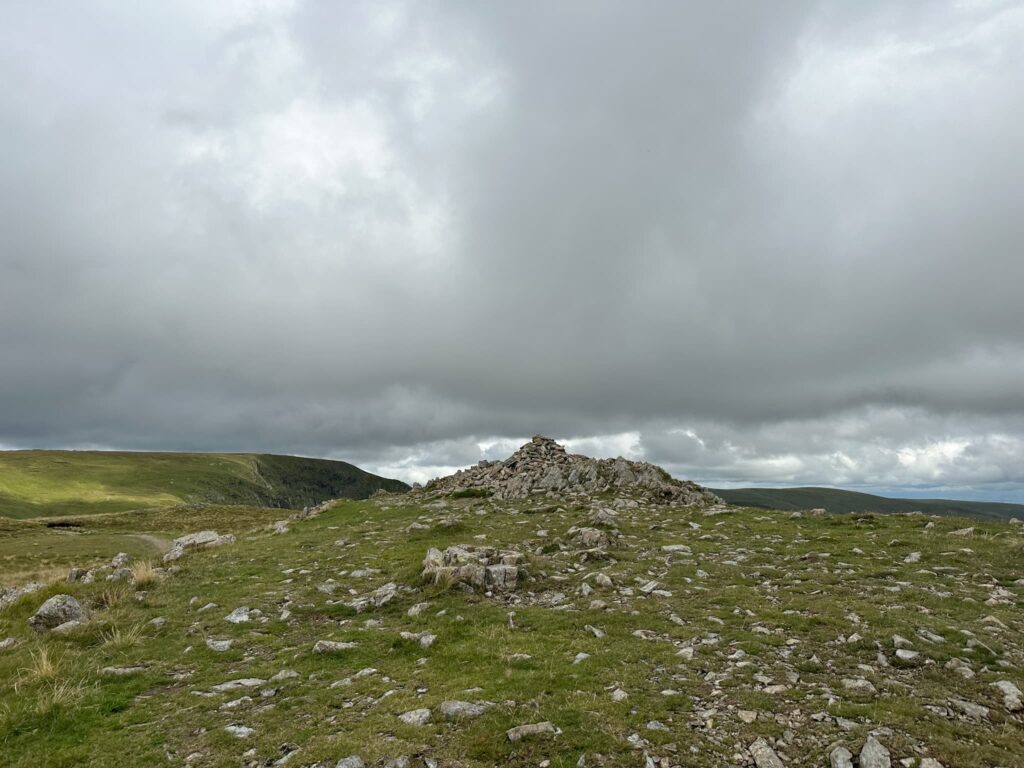 We carried on north-west to where the path joins the old Roman Road running up Racecourse Hill and onto the High Street trig point. High Street, named after the Roman Road running over it's summit, was used by locals for fairs in the 18th and 19th Century, with the last fair being held in 1835.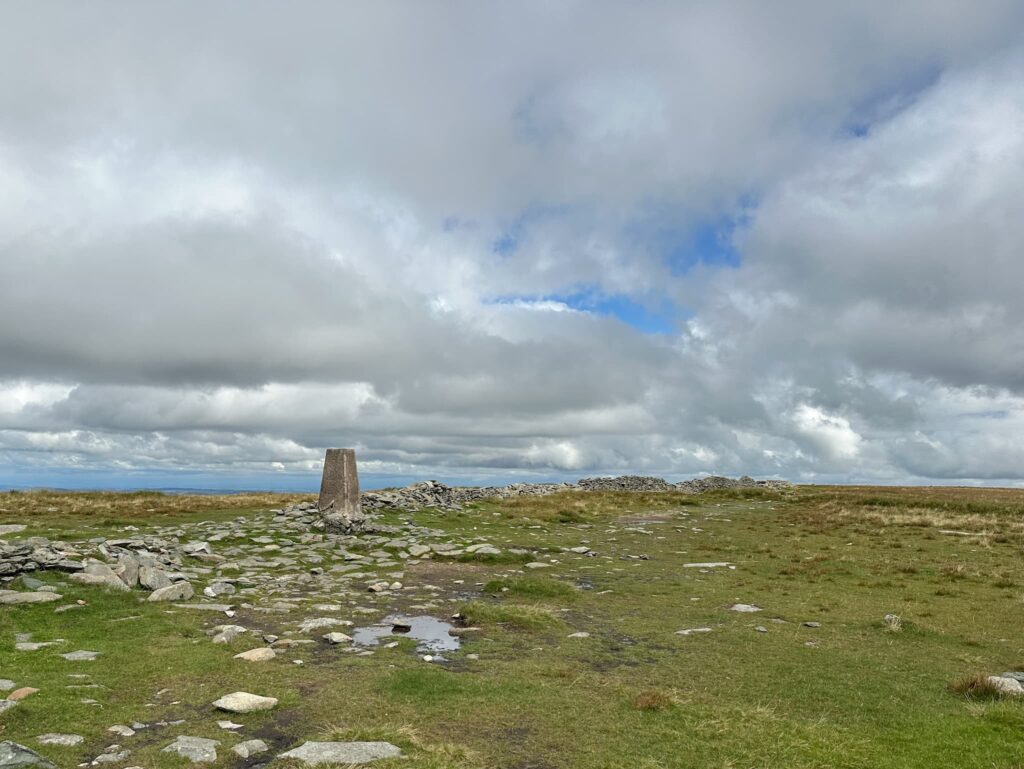 From High Street we set off north down the Straits of Riggindale which has amazing views across to the Helvellyn Range and the Southern Fells on a clear day. We had a quick detour up The Knott summit (I couldn't take any good photos as someone was cooking food there, and had dumped all their stuff over the summit cairn) and then headed up a steep easterly path towards Rampsgill Head.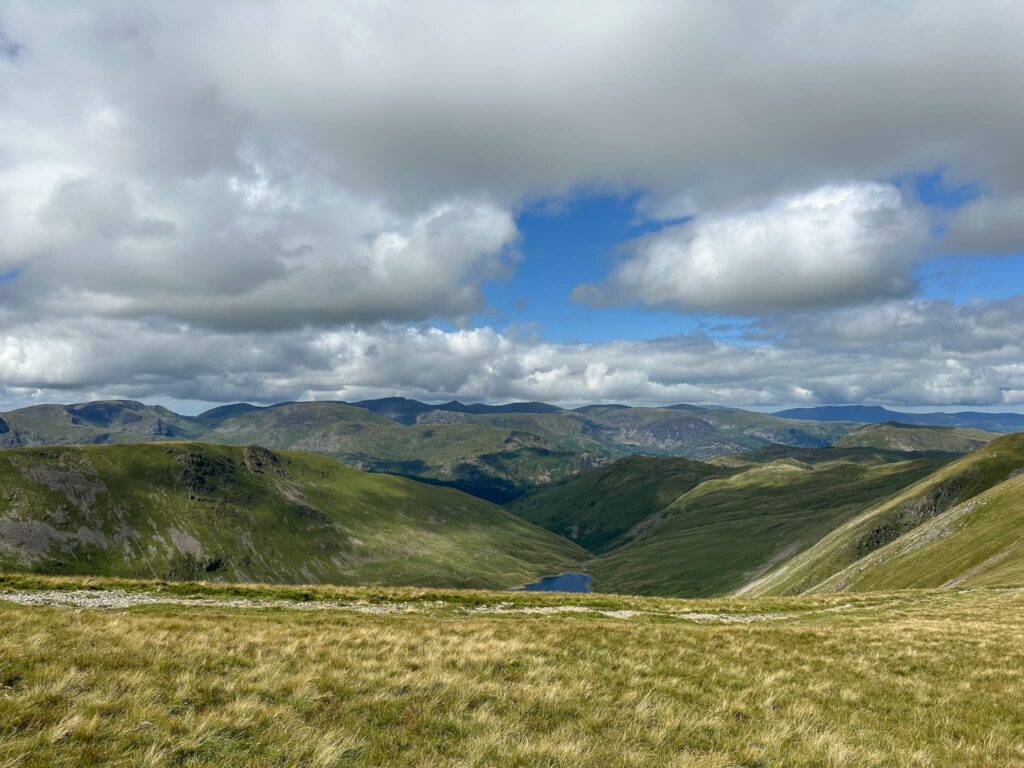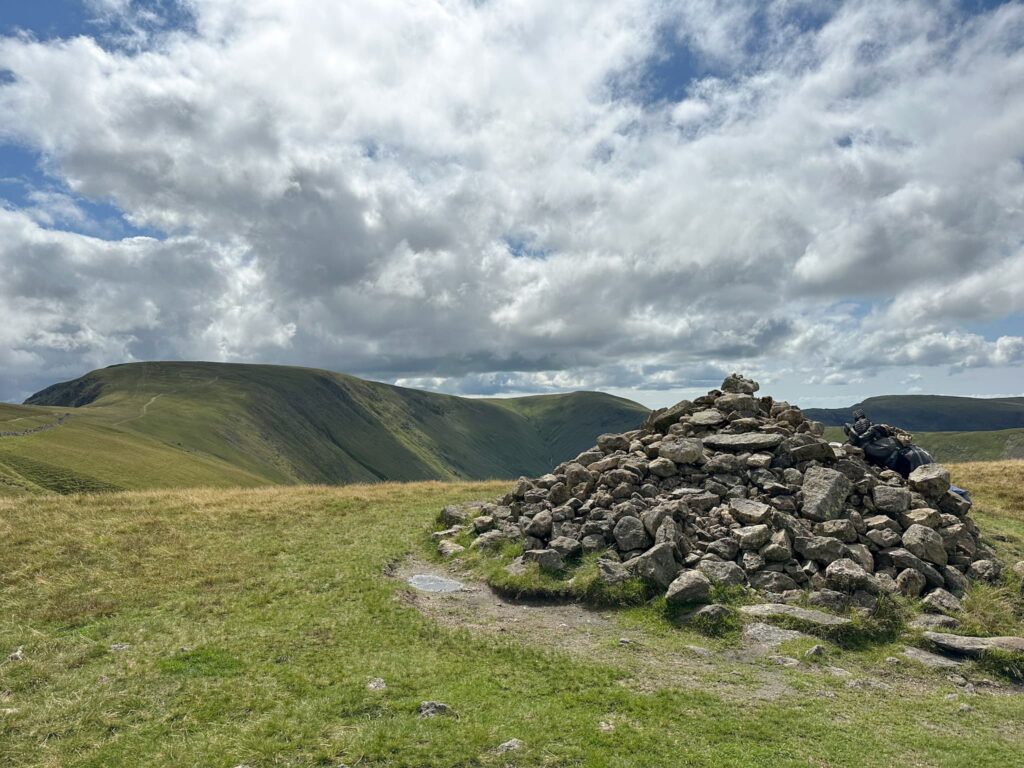 We carried on north up to High Raise, again marked by a cairn but with a low stone shelter, and then turned south towards Kidsty Pike.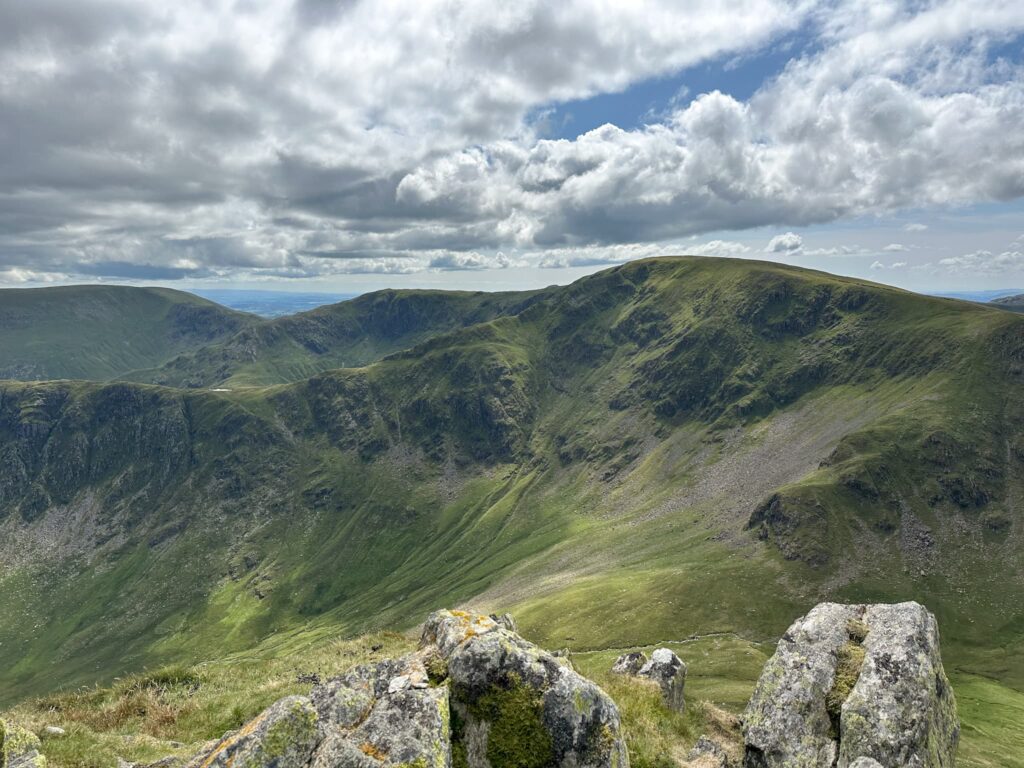 From here the path descends sharply down to the east past Kidsty Howes and then drops down towards Bowderthwaite Bridge. It's quite scrambly in places!
We passed a lovely little stone bridge over Randale Beck, which had a waterfall with a pool deep enough for a dip, and then followed the path around the shores of Haweswater through woodland at the base of The Rigg. We crossed the bridge over Mardale Beck and went through the giant gates, and then headed back to the car park.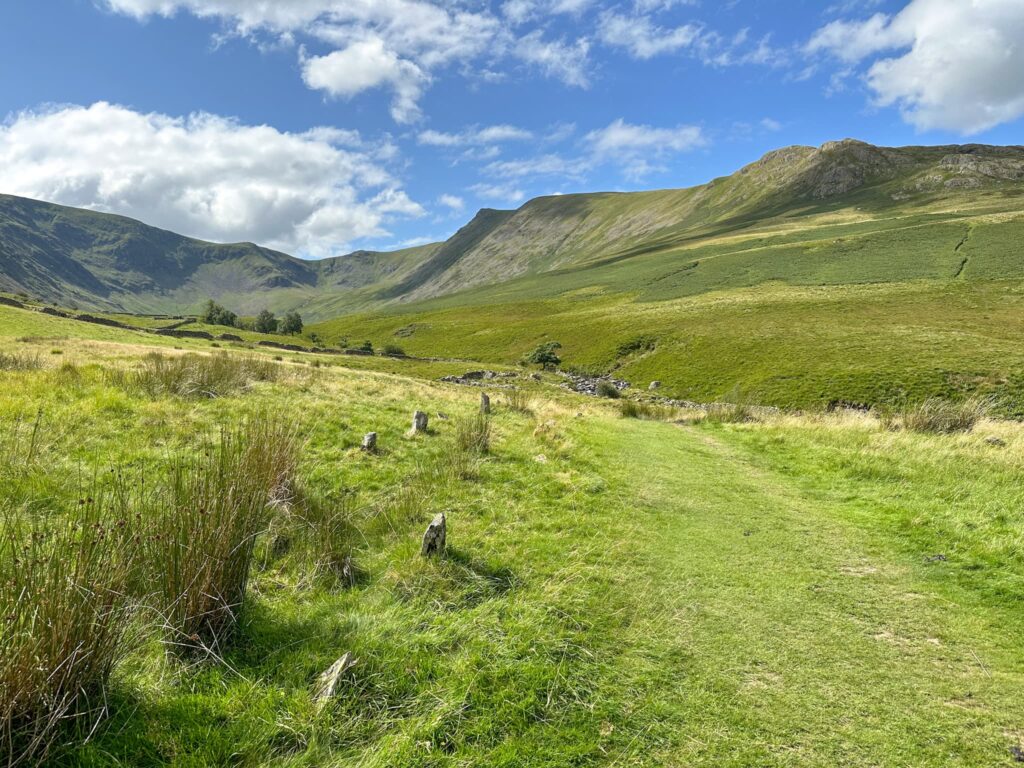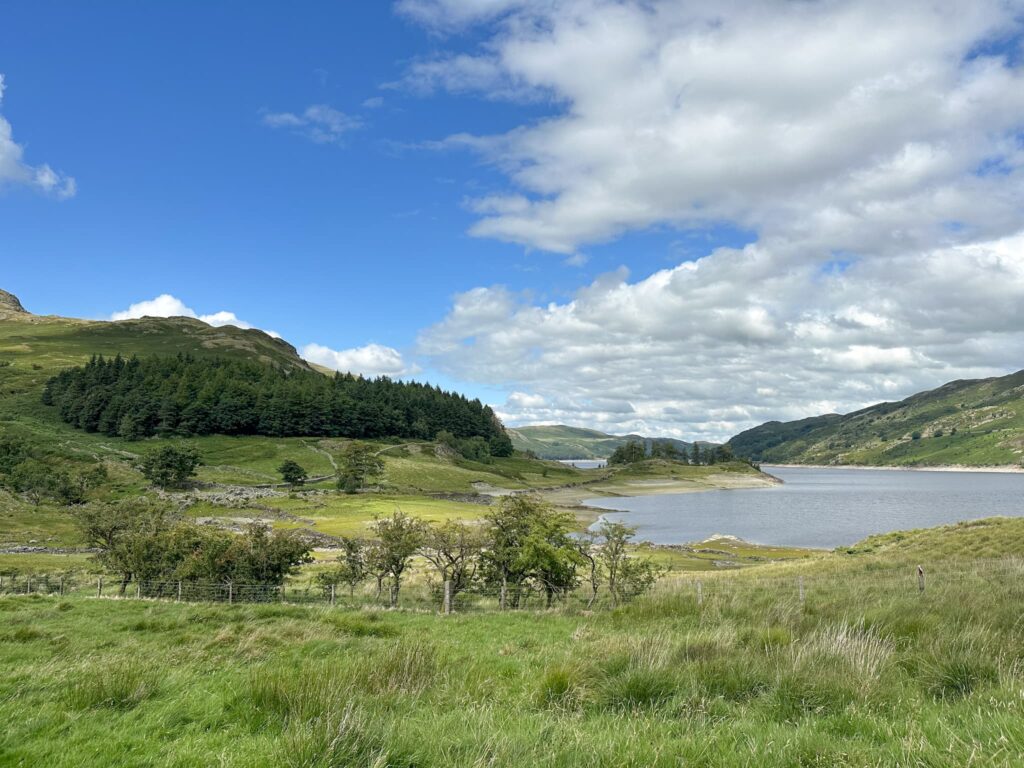 This was a great walk and we had unexpectedly good weather. We usually get weather like our Fairfield Horseshoe walk, with zero views and a layer of clag all the way round, so had packed for wet weather but our waterproofs had a grand day out with no use instead. This Mardale Horseshoe is great if you're Wainwright bagging as it was 7 Wainwrights in quite a short walk, and once you're up there's not (too) much extra climbing!
Here's a list of the Wainwrights by book.
Parking: Mardale Head car park, Bampton, Penrith, Cumbria, CA10 2RP  W3W///delight.paler.declines
Facilities: None
Walk Time: 5-6 hours
Difficulty: ▲▲▲
Distance: 9.8 miles (15.77km)
Trig Points Bagged: High Street
Wainwrights Bagged: Harter Fell, Mardale Ill Bell, High Street, The Knott, Rampsgill Head, High Raise and Kidsty Pike
Mardale Horseshoe Walk Map: