Fairfield Horseshoe Hiking Route
The Fairfield Horseshoe is one of the classic Lake District ridge walks, with spectacular views. This is an 11 mile walk, with the traditional route taking in 8 Wainwright peaks: Nab Scar, Heron Pike, Great Rigg, Fairfield, Hart Crag, Dove Crag, High Pike and Low Pike, starting from Ambleside and finishing at the Rydal Hall Grot.
We chose to tackle this challenging Lake District walk in reverse – there are some small scramble sections which we thought would be better to climb up rather than down. This is one of those routes where once you've done the main climb there aren't too many other large climbs, so it was perfect for Holly (who was 10 at the time but can manage a longer walk).
The horseshoe walk is an 11 mile journey with 1100m of ascent and includes the peaks of:
Low Pike (508 metres)
High Pike (656 metres)
Dove Crag (792 metres)
Hart Crag (822 metres)
Fairfield (873 metres)
Great Rigg (766 metres)
Heron Pike (612 metres)
Nab Scar (440 metres)
We (as usual) had terrible views for our attempt! As soon as we got above about 150m the mist descended and stayed with us ALL DAY. Luckily we were able to navigate, but we met a lady on Fairfield who was lost and couldn't find her way in the mist so she tagged along with us until she could find her way back safely.
This is what the views are meant to look like…
 

View this post on Instagram

 
We didn't get these views.
The walk started in Ambleside and then we headed up Nook Lane to Low Sweden Coppice (passing Nook End Farm, the home of the Kankku Land Rovers). The path passes over the pretty Scandale Beck then winds up through Low Sweden Coppice and High Sweden Coppice, the location of the first scramble section.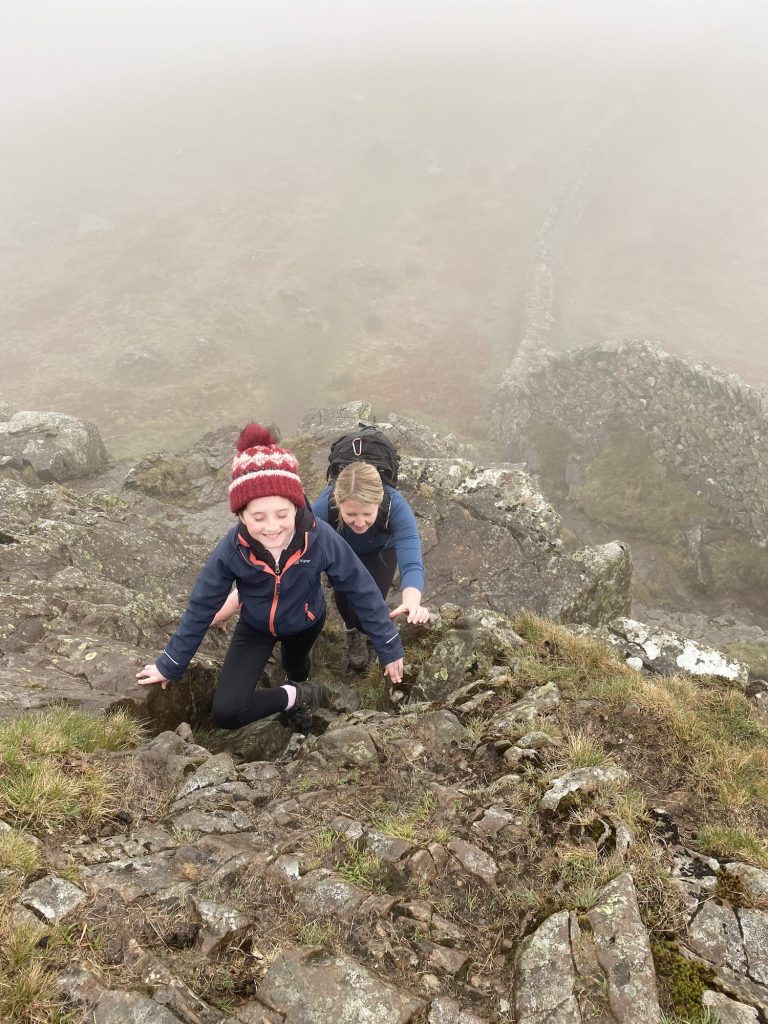 From here the path is well marked out, but on a foggy day it's handy to use the super long wall as a navigational guide. It runs up to Low Pike (508m above sea level), the first of the 8 Wainwrights on this walk, and onwards to High Pike (656m), marked with a small pile of stones, and Dove Crag (792m), again marked with a small cairn.
As the path approaches Hart Crag (823m), head to the other side of the wall and continue uphill. There is a faint path between the large stones, marked with a few cairns. The summit is marked by another cairn.
We returned to the path and carried on north over Thack Bottom Edge, where presumably there are spectacular views on a clear day. The path turns to the east and descends slightly over Link Hause before climbing again up to Fairfield (873m).
Fairfield is a wide plateau summit which is notoriously difficult to navigate in poor weather. There is a wind shelter there which is great for a cuppa stop. We set off south from Fairfield along the wide grassy footpath to Great Rigg (766m).
After Great Rigg, we took the left hand path towards Heron Pike (612m) and then onwards to Nab Scar (450m) before starting to descend down the many, many steps through Dockey Tarn Plantation, when the cloud lifted and we were able to see things again!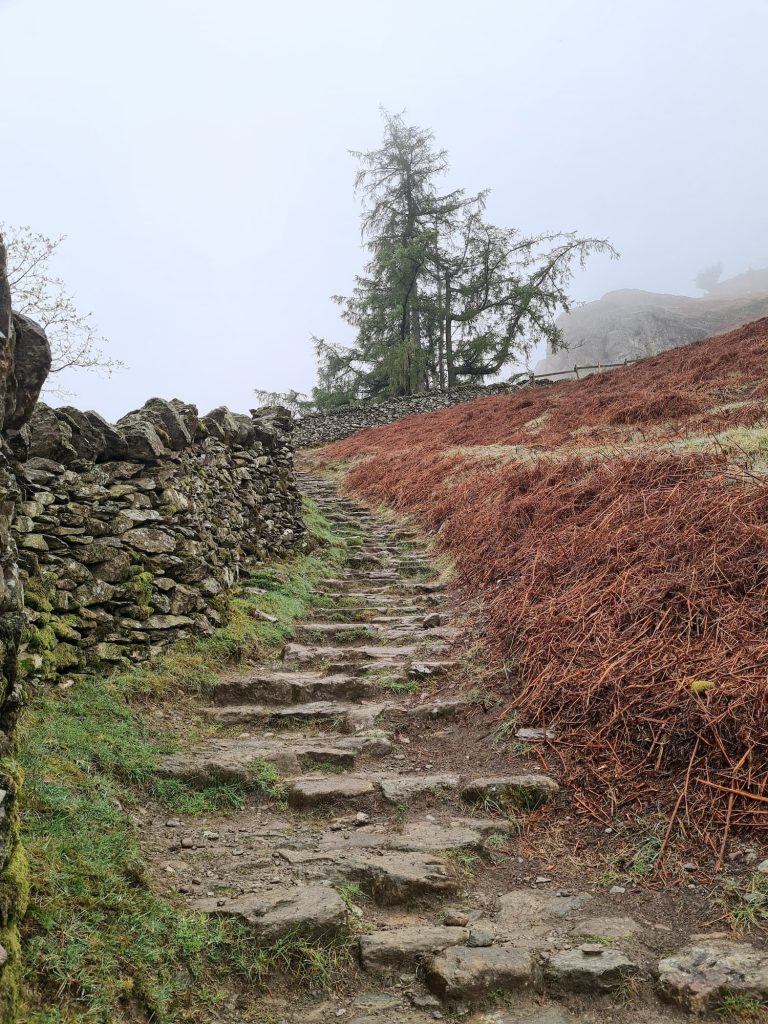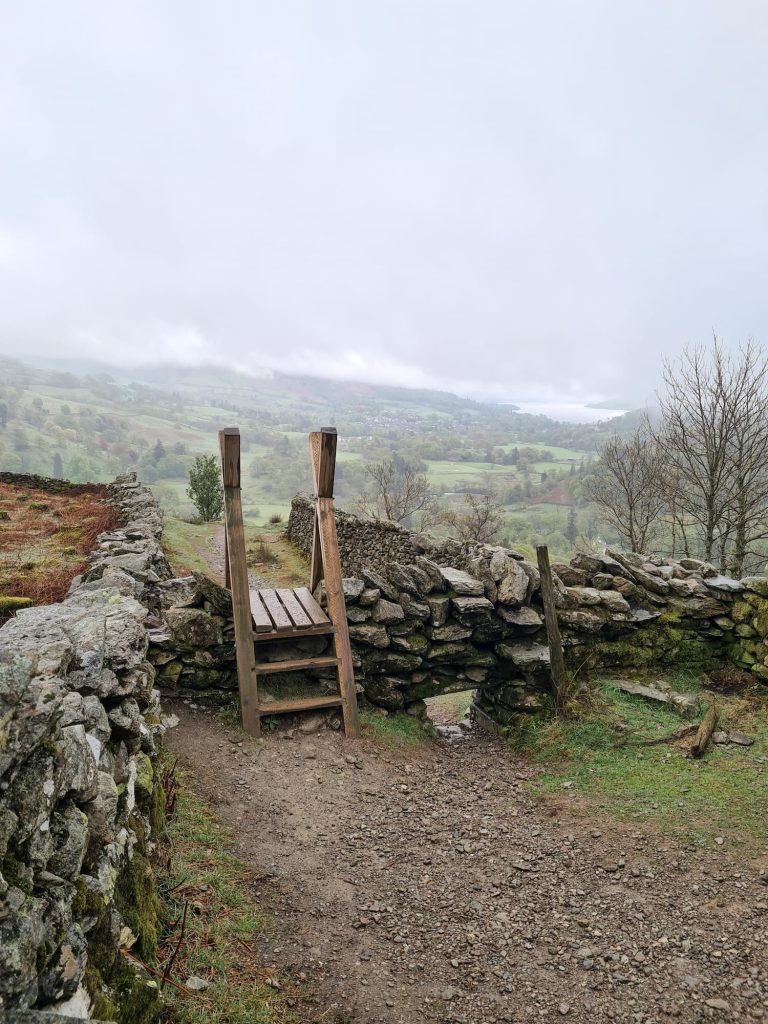 We passed the Rydal Hall tearooms and then went to explore the Instagram famous Grot at Rydal, which is a lovely little waterfall viewing space.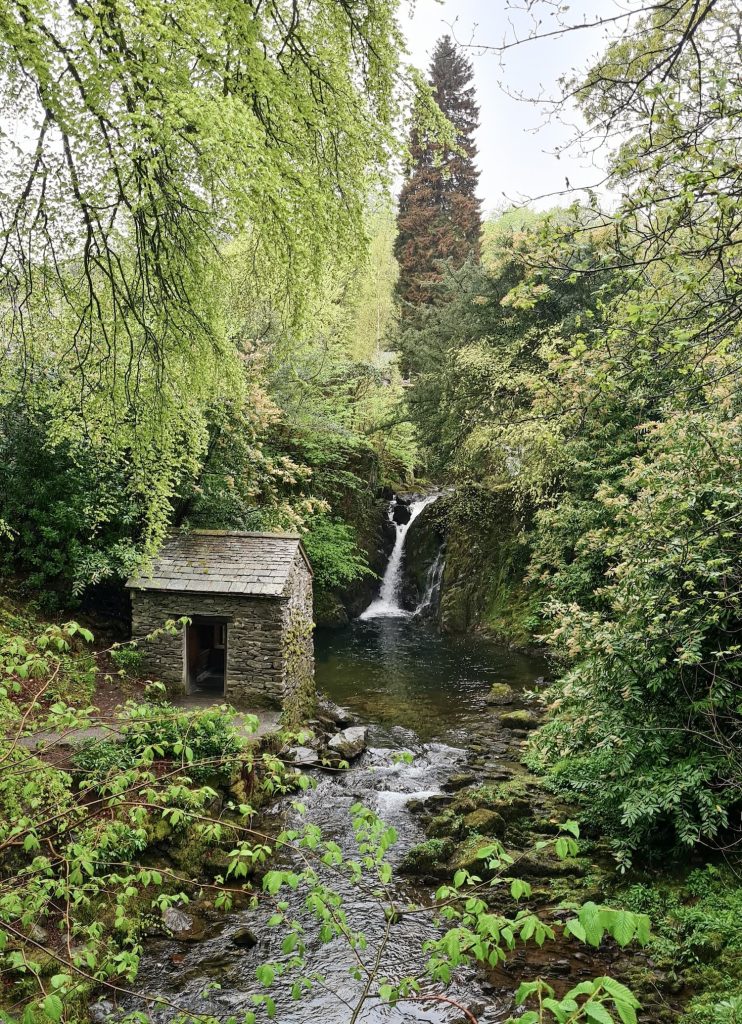 We then set off along the driveway before reaching Rydal Road, which we followed back into Ambleside and to the car. We were so drenched we had to buy Hols some new trainers from the Mountain Warehouse! Luckily she had some other clothes in the car.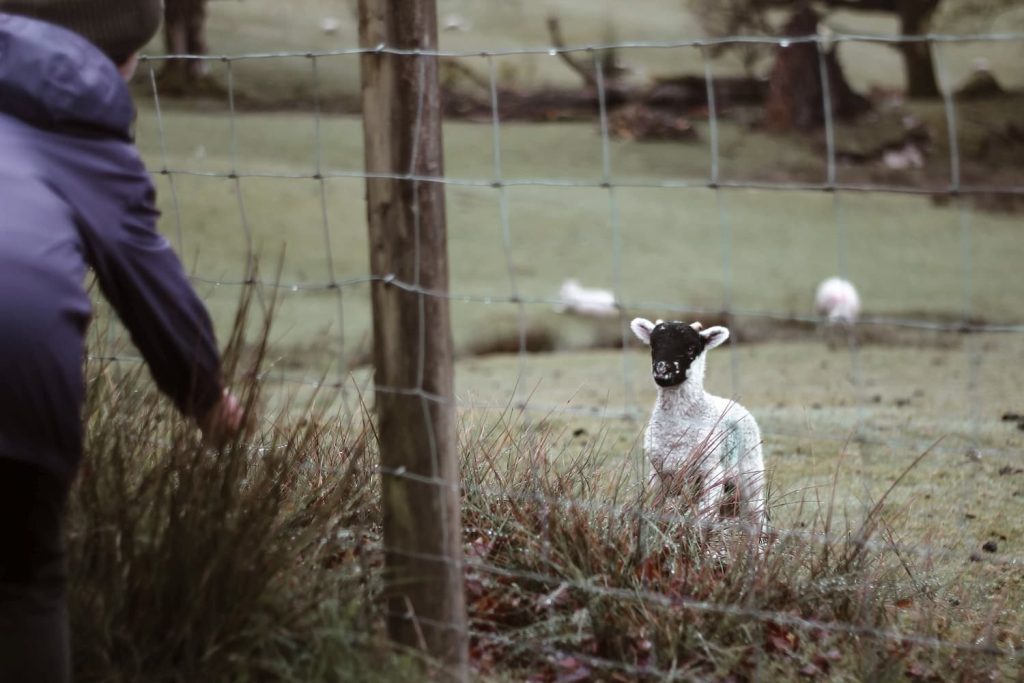 The Fairfield Horseshoe is a fabulous Lake District walk, and one we'll be returning to redo just so I can see those amazing views of Windermere for myself!
Parking: Rydal Road Car Park, Ambleside LA22 9AN
Facilities: There are toilets in Rydal Road car park (pay on entry)
Walk Time: 5-6 hours
Difficulty: ▲▲▲
Distance: 11.2 miles (18km)
Trig Points Bagged: None
Wainwrights Bagged: Nab Scar, Heron Pike, Great Rigg, Fairfield, Hart Crag, Dove Crag, High Pike and Low Pike
Fairfield Horseshoe Walk Map: 
You can click on the map to download the GPX file from Komoot
For more Wainwrights walks, you might like:
Old Man of Coniston Hike via Low Water and Brim Fell
Walla Crag, Bleaberry Fell and High Seat