Coledale Horseshoe – A Lake District Classic Walk
The Coledale Horseshoe is a Lake District classic walk. With stunning scenery and 5 Wainwright fells to visit, this should be on your Lake District walks list if you are looking for a full day hillwalking.
The walk starts from Braithwaite and heads up onto Grisedale Pike before heading round the fells Crag Hill, Sail, Outerside and Barrow, high above the glacial valley of Coledale. The walk itself is 8.6 miles long and also visits some minor fells of Kinn, Hobcarton Crag, Eel Crag and Stile End. There are spectacular views over to Skiddaw and Blencathra, as well as over to Cat Bells, and the route involves a few scramble sections and a ridge walk. This is one of the quieter Lake District horseshoe walks, so perfect if you like a peaceful day on the fells.
Here's a list of Wainwrights by book.
Where to Park for the Coledale Horseshoe?
We managed to find a parking spot next to the Church of St Bega, St Mungo and St Herbert CA12 5SX. If there are no spaces here, there is a small parking area further up the road or very limited on road parking on the Coledale Road. Please be mindful of local residents and don't block any passing places.
There are 5 Wainwrights in the traditional Coledale Horseshoe circuit:
Grisedale Pike (791 m)

Crag Hill (839 m)

Sail (773 m)

Outerside (568 m)

Barrow (455 m)
We also bagged the following Birketts:
Kinn (374 m)

Hobcarton Crag (738 m)

Eel Crag (807 m)

Stile End (447 m)
We started in Braithwaite at a small parking area next to the Church of St Bega, St Mungo and St Herbert. From here we crossed the stream next to the colourful bunting, using the rickety bridge and then up through the woodlands, crossing a track. We then made our way (slowly) up the very steep Kinn (374m) and up the well trodden path to the summit of Grisedale Pike.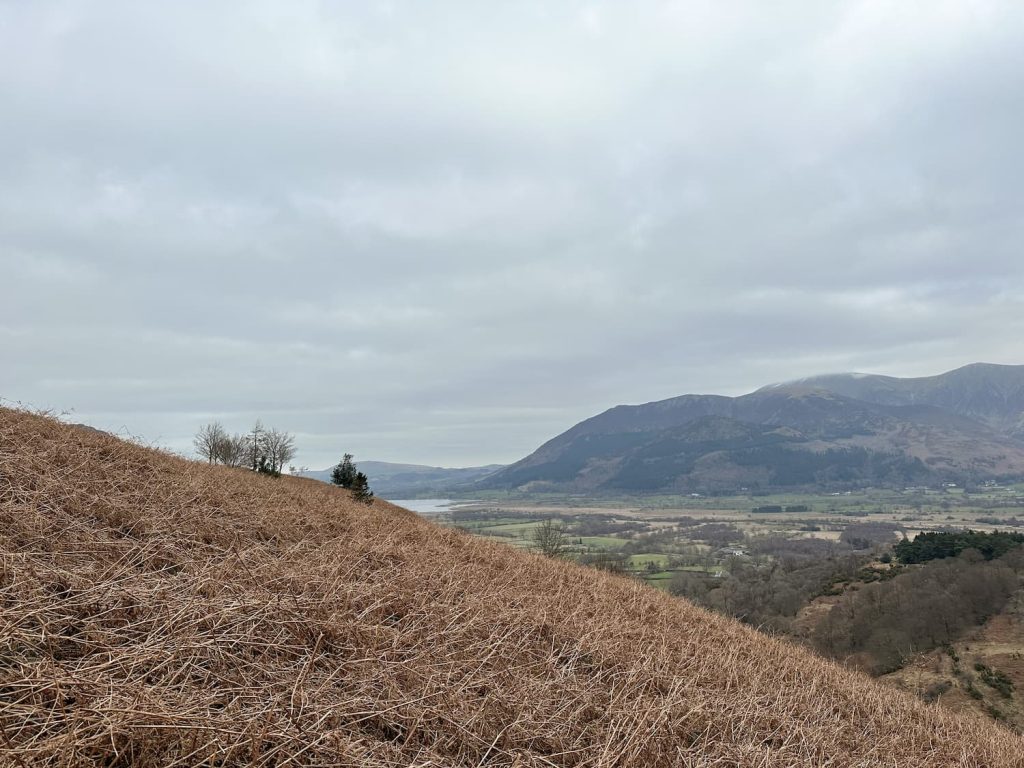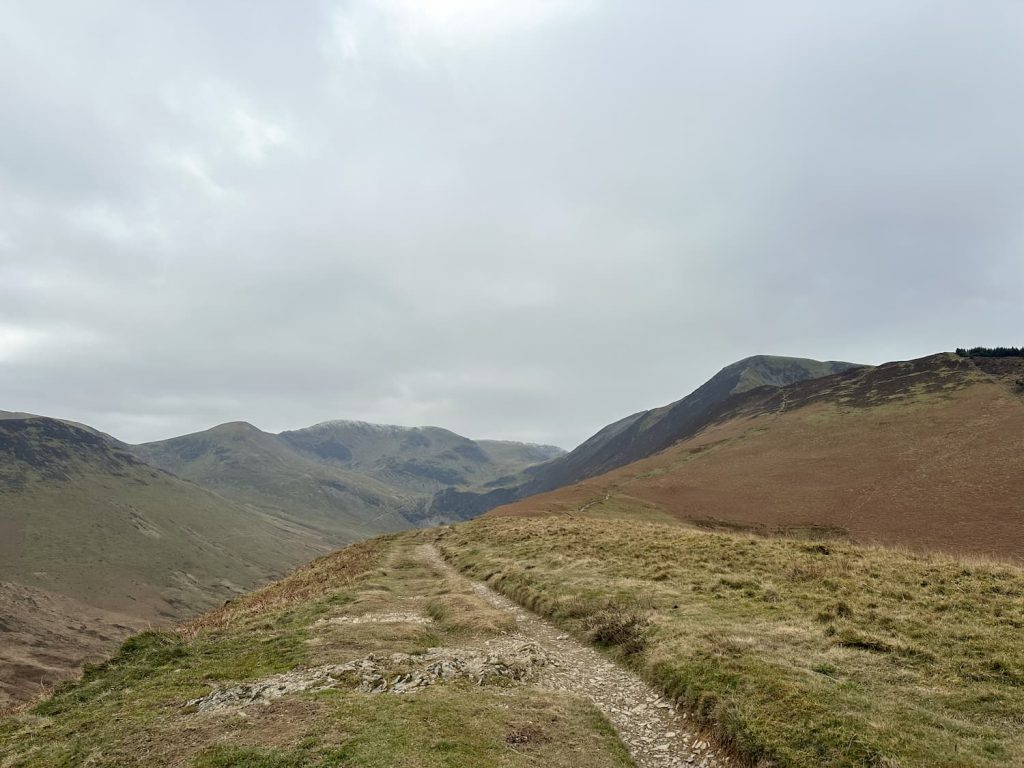 Grisedale Pike is one of those annoying fells with lots of false summits but the views from the actual summit are pretty special over to Skiddaw and Blencathra, Cat Bells and Walla Crag, and Crag Hill and the towering Grasmoor. There appears to be some horizontal ladder rungs set in the rocky summit – I've no idea what these were for but I wonder whether they were something to do with the former mine down in the valley bottom.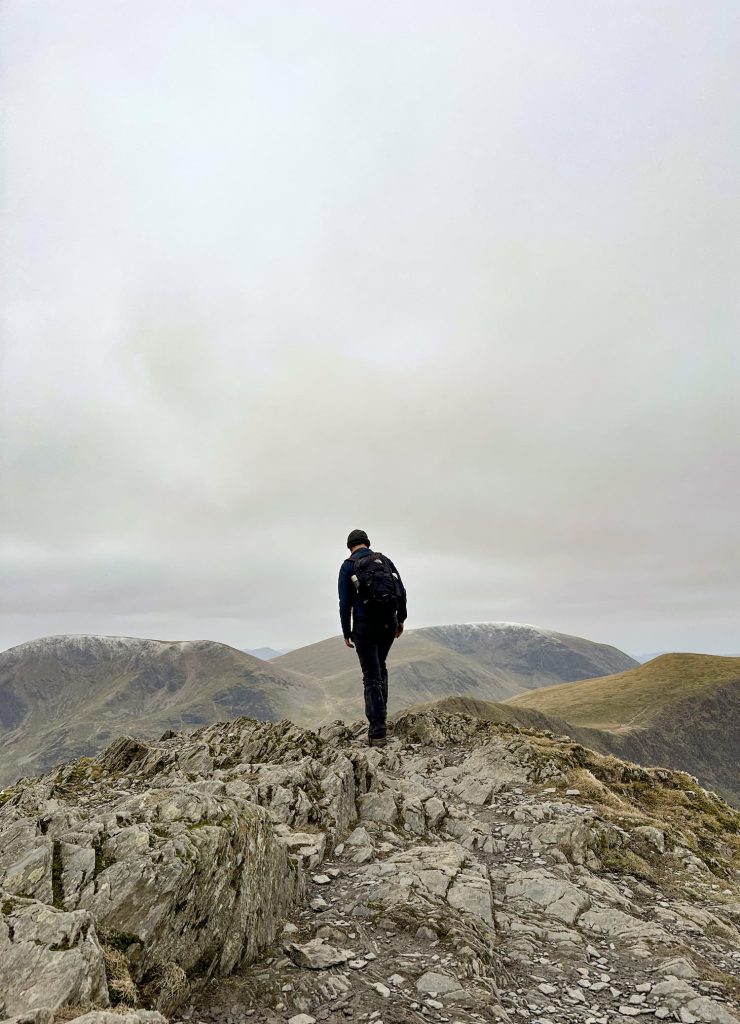 From Grisedale Pike summit we set off over Hobcarton Crag summit towards Coledale Hause, having a rest and a bite to eat next to the waterfalls in Liza Beck. There are two options here to get to the top of Crag Hill – you can follow the path to the south-west which winds its way round the back of the fell, or you can take the direct route and scramble up Eel Crag like we did.
The scramble up Eel Crag isn't too difficult but you do have to use your hands. It starts out quite scree-ish and then gets rockier as you get up to the top. At the top it's a grassy climb to the summit of Eel Crag and then onto the top of Crag Hill, marked by a trig point. The views from here down the Coledale Valley are amazing, and the river in the bottom of the valley really does look like an eel.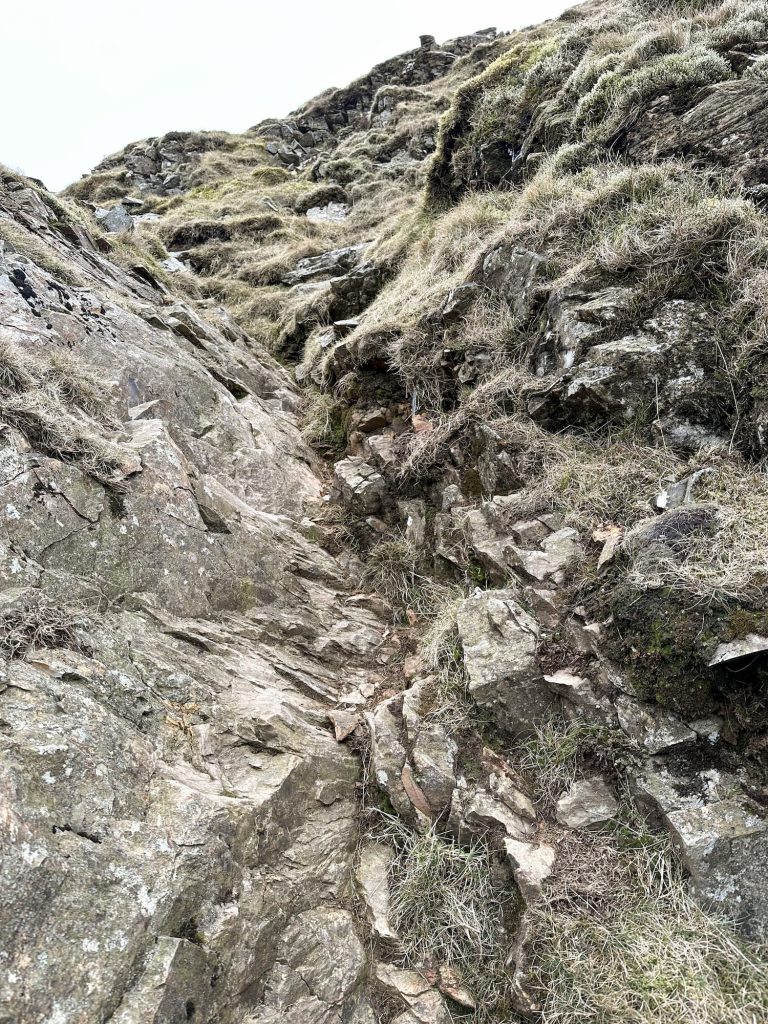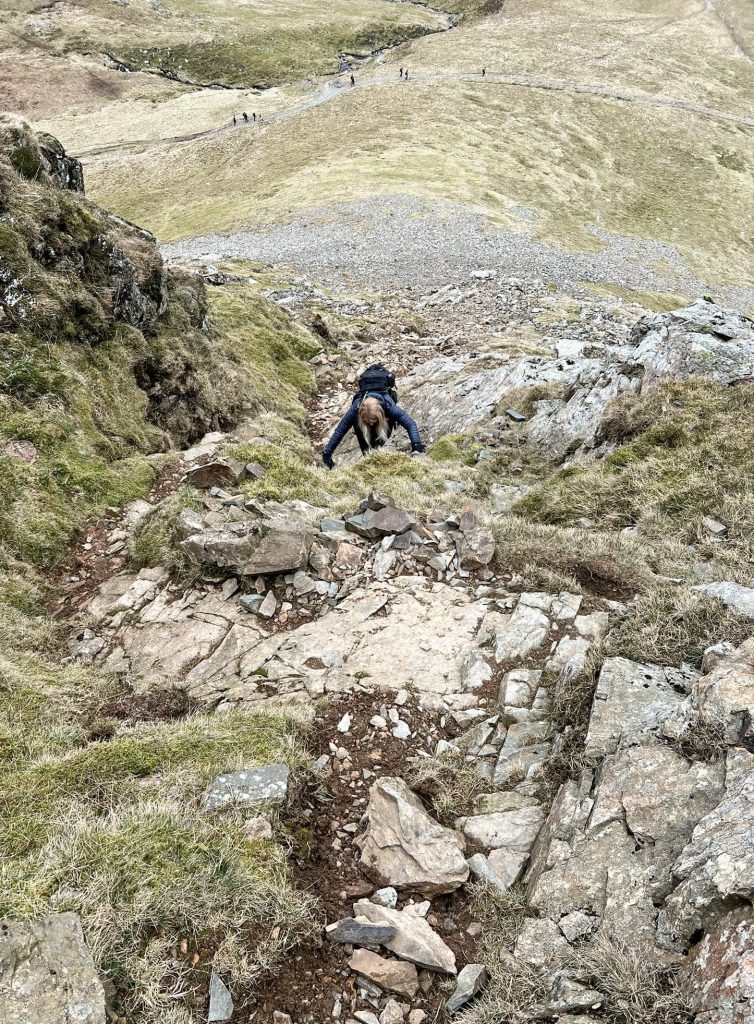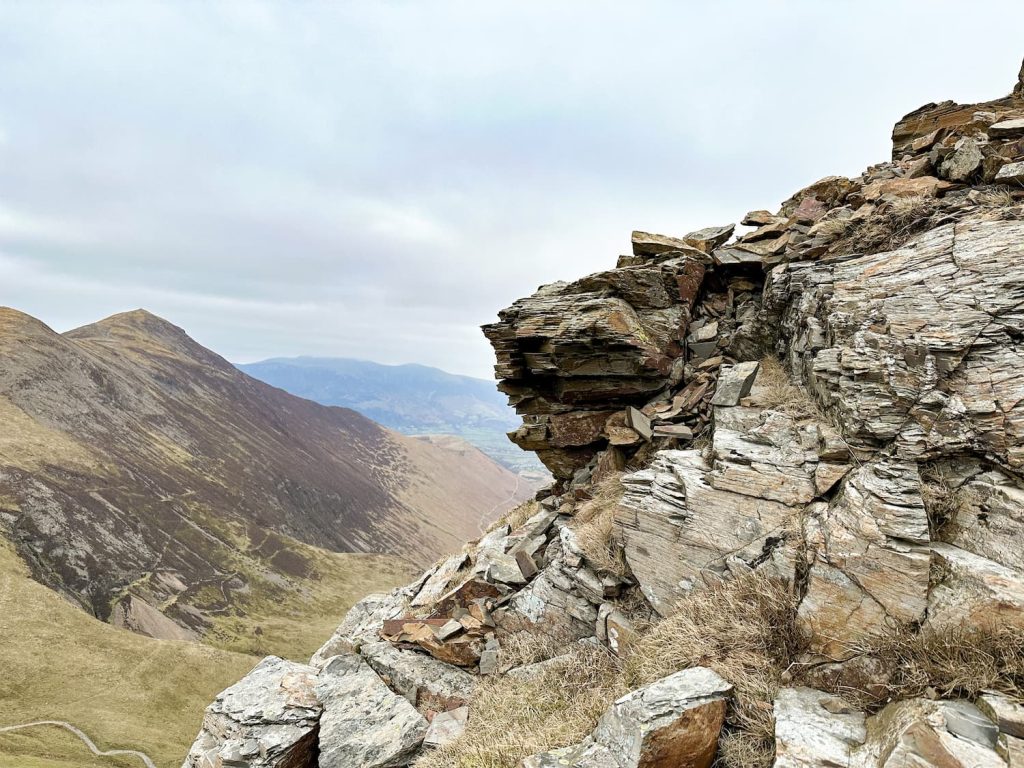 From Crag Hill the path heads over a ridge to Sail, a grassy (and a bit boggy) summit marked by a small cairn of stones next to a puddle. The ridge definitely isn't as scary as Striding Edge on Helvellyn but might be a bit tricky in high winds or bad weather.
The route from Sail heads down its iconic zig zag path, created to stop footpath erosion, and at the bottom turns left to go down the former mining track north-east towards Outerside. There are a couple of options to get to the summit here – there is an obvious path as you're coming down from Sail but it's a bit longer than the short steep route we took up.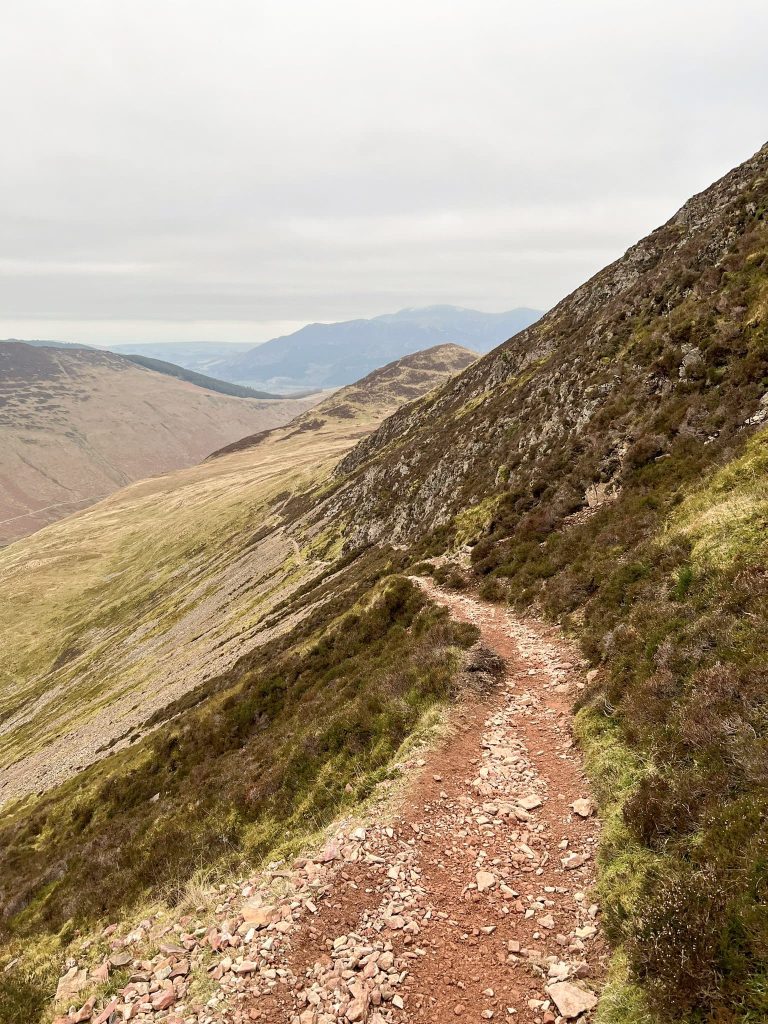 The next summit is Stile End before the path heads up Barrow, a relatively small fell with stunning views down over Derwentwater and Bassenthwaite Lake as well as the Derwent Fells.
The path from Barrow down into Braithwaite is quite steep and grassy, and it didn't take us long to get down and back to the Coledale Inn for a well deserved pub tea.
Is the Coledale Horseshoe Hard?
I found this a more challenging hike than the Fairfield Horseshoe due to the steep climb up Grisedale Pike. There is a lot of descending and climbing back up along the route as well – it's definitely not a reservoir bimble. Our route includes a scramble up Eel Crag which should only be undertaken if you're confident scrambling, and there is a high level ridge walk between Crag Hill and Sail which will be tricky in strong winds.
Parking: Braithwaite Village CA12 5SX
Facilities: None
Walk Time: 5-6 hours
Difficulty: ▲▲▲
Distance: 8.6 miles (13.84km)
Trig Points Bagged: Crag Hill
Wainwrights Bagged: Grisedale Pike, Crag Hill, Sail, Outerside and Barrow
Coledale Horseshoe Walk Map: 
You can click on the map to download the GPX file from Komoot.
You might also like:
Fairfield Horseshoe Hiking Route