Catbells Hiking Trail
Looking for a Cat Bells route? This is the route up Cat Bells we took, and is a circular Lake District walk including Cat Bells, Maiden Moor, High Spy and the beautiful Newlands Valley. Read  on for the Cat Bells walking route map.
We had a random free weekend come up so I booked us a camping trip to the Lake District. We visited Lingholm Estate a couple of years ago and decided we'd climb Cat Bells, and this trip turned into the time we did just that.
Cat Bells is one of the smaller fells in the Lake District. Situated on the banks of Derwentwater, it has a height of 451m above sea level and is one of the most popular fells to climb in the Lake District. It was certainly very busy when we climbed up! It's also famous for featuring in Mrs Tiggywinkle by Beatrix Potter.
We parked at Littletown Farm, which also features in Mrs Tiggywinkle. It was £5 to park all day and is a great place to start your Cat Bells climb. The path starts out as a wide gravel track which carries on around the foot of Cat Bells but we took a diversion off to the right, up what looks like a bit of a rocky river. There is a path through here which takes you past small waterfalls and sheep. Lots of sheep. Coming up Cat Bells this way means you walk to the summit and then turn back on yourself to go to Maiden Moor but it seemed the quietest way up, avoiding the crowds for as long as possible.
This blog may contain affiliate links through which, at no additional cost to you, I may earn a small commission. I only recommend products I would use myself and all opinions expressed here are my own. Read full privacy policy here.
Loving my Acai Outdoor Wear trousers! You can check them out and get 10% off your first order.
We had really misty weather (again) for our Cat Bells walk but from here you could just make out Maiden Moor and High Spy in the mist.
There was a little clamber to the summit, which is a decorative trig style pillar with a little map of what you can see on. Unfortunately we couldn't see anything other than mist, so I'll have to take their word for it!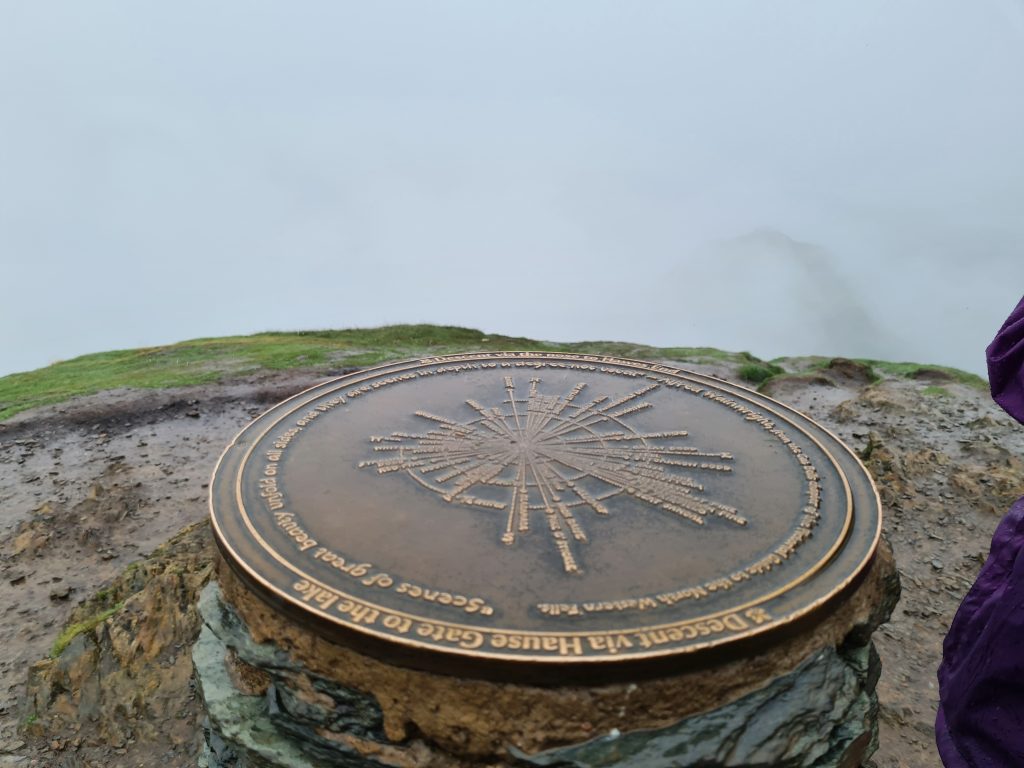 From Cat Bells, we turned back the way we'd come and then headed to Maiden Moor. Here we ran into some llamas out trekking, which looks like an amazing way to get some fell walking in. Maiden Moor has a rather disappointing summit, being a tiny pile of rocks, but our next stop was High Spy. This is 646m above sea level, so a bit higher than Cat Bells, and the views are amazing. We actually did get views from High Spy as the mist started to clear, and from certain view points you could see down the Newlands Valley which is just breath-taking. This is in stark contrast to the views we got from Coniston Old Man!
We headed to Dale Head Tarn (Mr R was contemplating a paddle!) and found the llama trekkers stopping there for lunch. We headed off down the Newlands Valley, which was steep and rocky at first but then levelled out and made for a really lovely walk. We passed a stunning waterfall with a plunge pool at the bottom – it was a shame it was so cold otherwise I'd have been tempted to have a dip.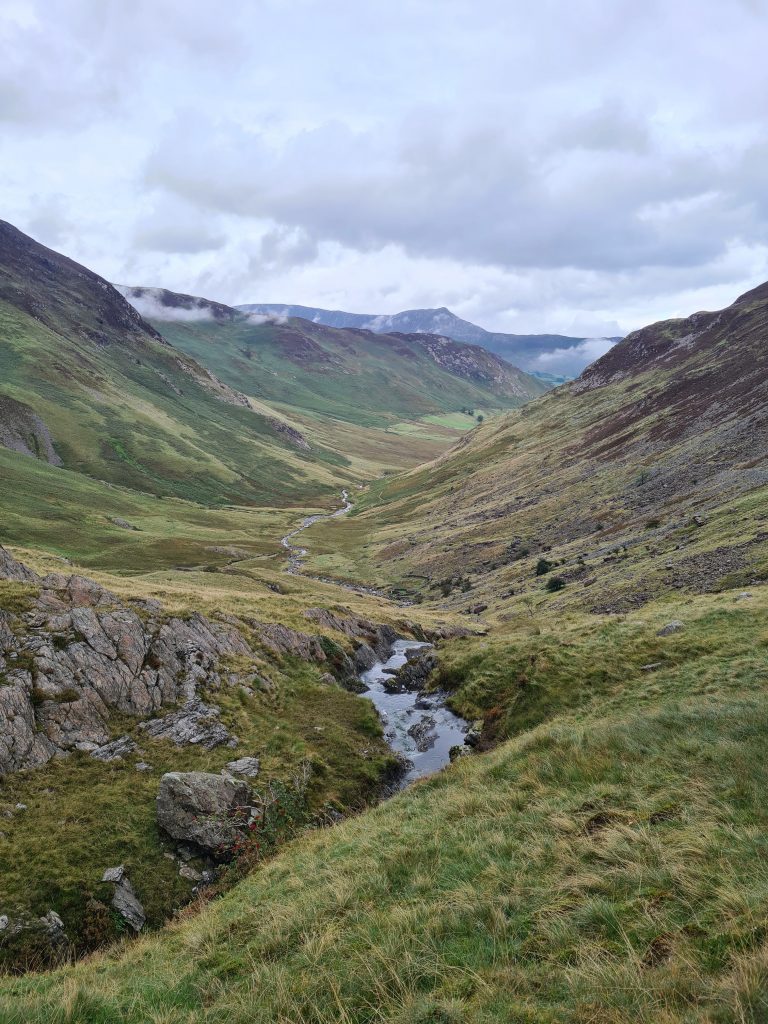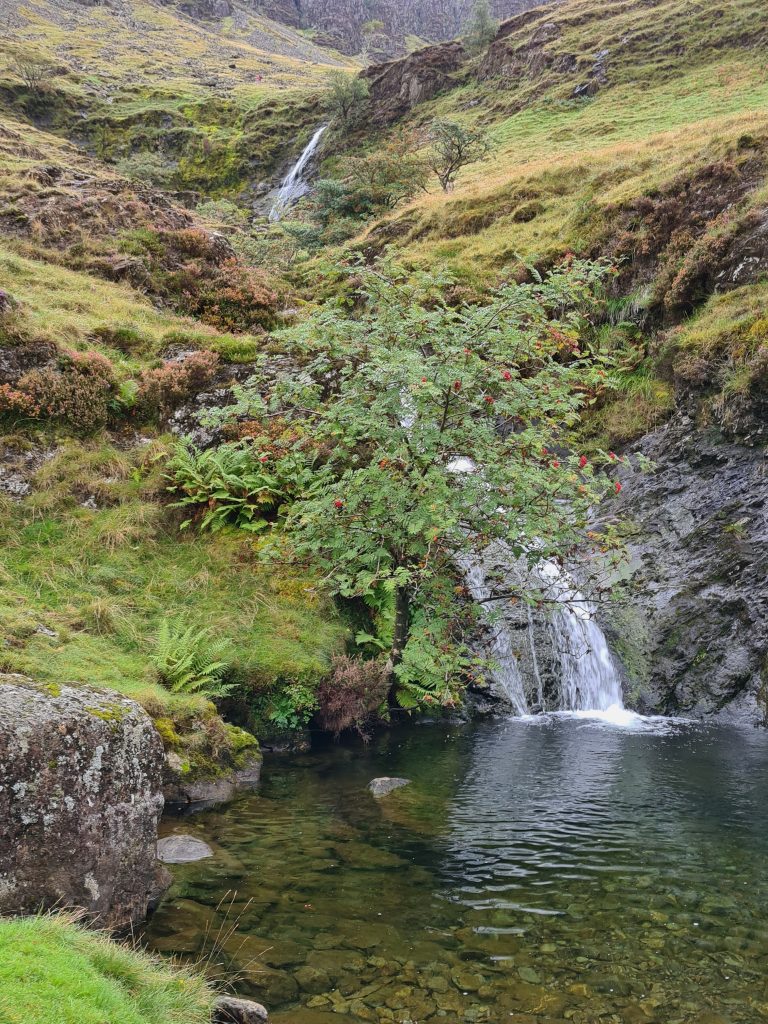 A Newlands Valley walk should be on the list to do for everyone who climbs up Cat Bells. The valley is full of epic scenery, towering fells and stunning waterfalls and is so peaceful. We were the only people that we saw for ages, only coming across one other group of walkers coming the other way.
This was one of my favourite Lake District walks, with stunning scenery, waterfalls, hiking up hills and llamas! Hols really enjoyed it as well. Is this one you'll try?
Parking: Littletown
Facilities: None
Walk Time: 5-6 hours
Difficulty: ▲▲
Distance: 8 miles (15km)
Wainwrights Bagged: Cat Bells, Maiden Moor and High Spy
Catbells Walk Map: 
You can click on the map to download the GPX file from Komoot
Some common questions about this Cat Bells route.
How difficult is Cat Bells?
Cat Bells is one of the smaller fells in the Lake District and is relatively easy to climb. There are clearly marked paths and depending on the route you take there aren't any scrambles. It is however still a fell, so exercise caution and attempt at your own risk.
Can kids climb Cat Bells?
Absolutely! As well as Hols there were many other kids up there. Cat Bells is a brilliant family friendly hike in the Lake District.
How long does it take to get up Cat Bells?
The actual climb up Cat Bells takes around 30 to 40 minutes depending on your fitness levels and whether you are stopping every two minutes to put something in a rucksack/take something out of a rucksack/give a small child a snack.
Is Cat Bells a circular walk?
You have the choice of whether to make a Cat Bells walk into a circular walk or just go up and down the same way. We added on the peaks of Maiden Moor and High Spy, then headed to Dale Head Tarn and back through the Newlands Valley to Littletown, where we parked. This meant we got to see more of the stunning Lake District without the huge crowds at Cat Bells. This is also roughly half of the Newlands Horseshoe walk, which features the peaks we climbed as well as Dale Head, Hindscarth and Robinson. Robinson is definitely one we want to climb in the future!
Can you wear trainers to climb Cat Bells?
I wouldn't recommend trainers for this walk. Walking through Newlands Valley especially was quite tough going and involved clambering over rocks, which might be slippery in trainers. I'd recommend walking boots and love my Scarpa ones.