Dash Falls and Skiddaw Walk
This Skiddaw walk explores the Northern Fells of the Lake District and visits 6 Wainwright fells – Bakestall, Skiddaw, Skiddaw Little Man, Carl Side, Long Side and Ullock Pike. It also visits Whitewater Dash Falls, a stunning waterfall at the base of Bakestall with pools for a wild dip. This 9.9 mile walk is a great day on the fells.
We started our walk from a small layby on High Side near Peter House Farm, where there is a small signpost pointing to Whitewater Dash or Dash Falls. We followed the Cumbria Way as it wound its way up the hillside of Cockup and Bakestall, admiring the falls as we went. Just over the stile is a small pool where you can have a refreshing dip after the climb up.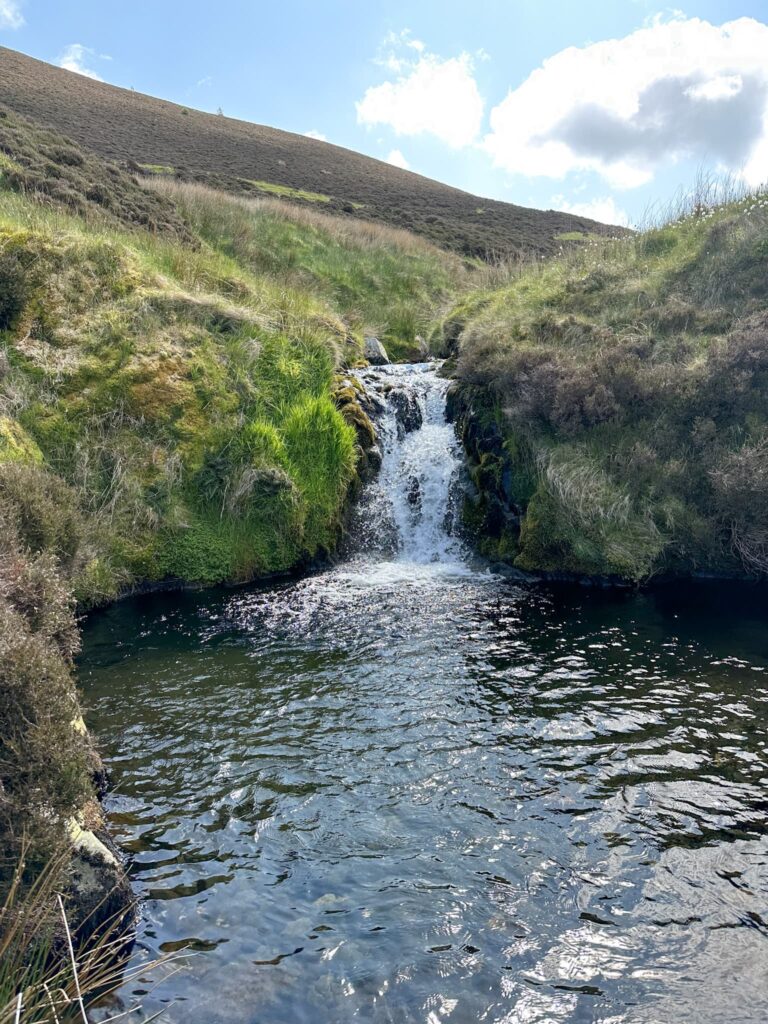 We then set off, following the fence line up to the summit of Bakestall (673m). This is a pretty unassuming summit marked by a small cairn. The path then heads south-west and climbs steeply to the summit of Skiddaw (930m). We didn't see anyone else until we reached the summit of Skiddaw, but as with Blencathra the trig point was so busy! There is also a toposcope showing which fells you can see from the summit.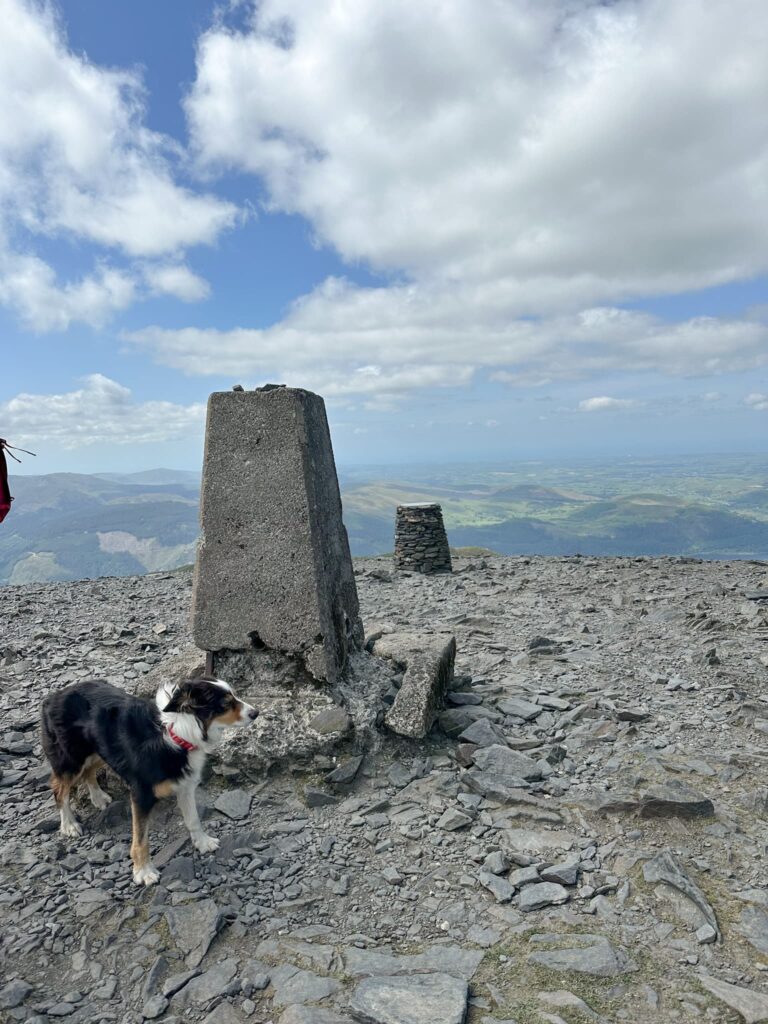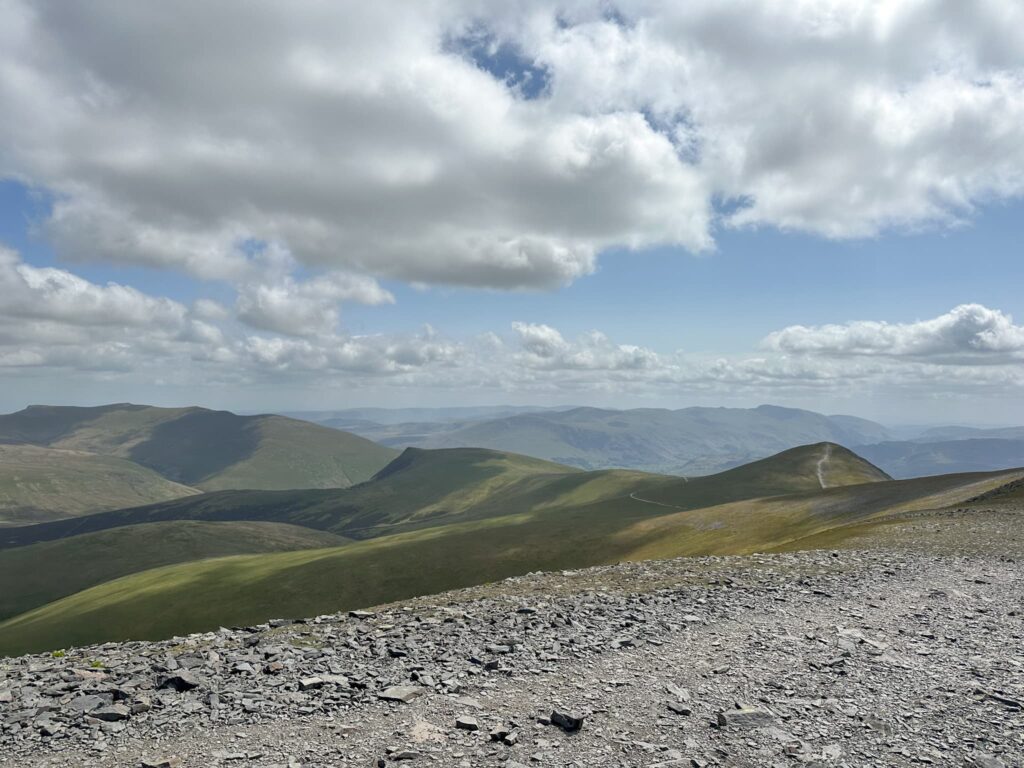 We had a quick stop off for something to eat and then carried on over the plateau to the south before picking up the south-eastern path down to Skiddaw Little Man. When we reached the summit of Little Man (865m) Hols was less than impressed to discover we needed to retrace our steps back up to almost Skiddaw summit again!
The path descends steeply through scree, which makes it quite slow going, down to Carlside Tarn which was more of a muddy puddle than a proper tarn.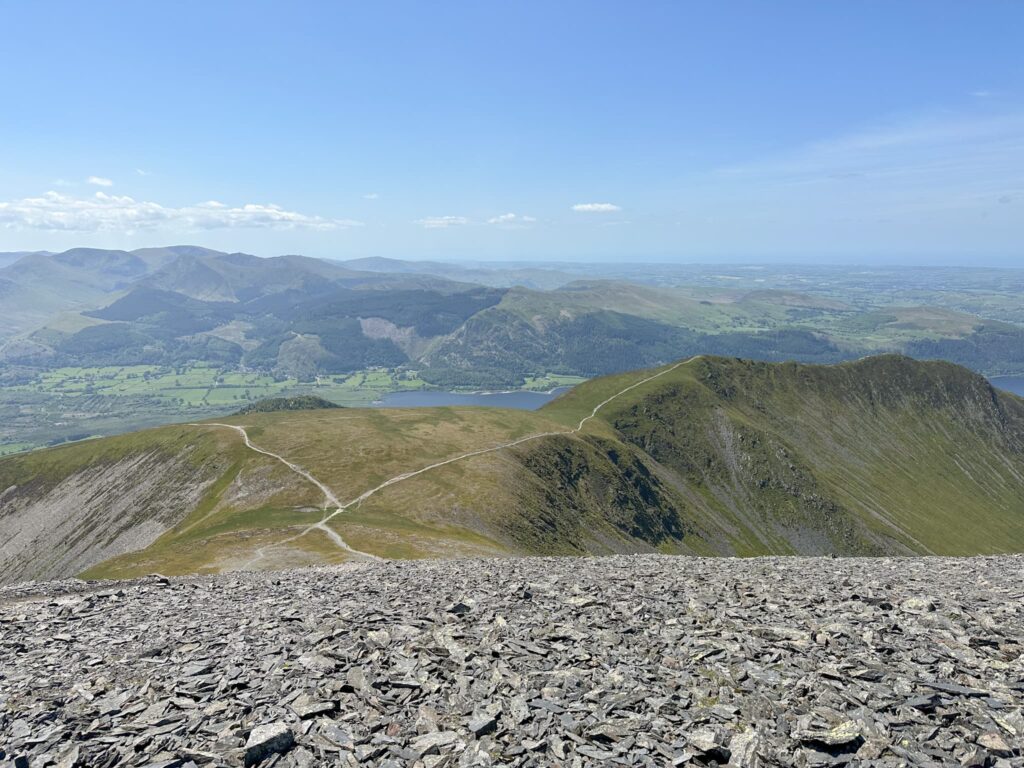 From here we visited Carl Side (747m) and then set off north-west to follow Longside Edge to  Long Side (734m) and Ullock Pike (690m) before descending over Watches to Barkbeth. This was a lovely ridge to walk along, with stunning views down over Southerndale and Bassenthwaite Common.
We then followed the road north/north-east back to the car parking layby, approximately a mile and a half away.
Here's a list of the Wainwrights by book.
Parking: Small layby near Peter House Farm, High Side, Cockermouth  W3W///encloses.shunning.diplomas
Facilities: None
Walk Time: 5-6 hours
Difficulty: ▲▲▲
Distance: 9.8 miles (15.77km)
Trig Points Bagged: Skiddaw
Wainwrights Bagged: Bakestall, Skiddaw, Skiddaw Little Man, Carl Side, Long Side, Ullock Pike
Dash Falls and Skiddaw Walk Map: 
For more Wainwright bagging walks, you might like:
Coledale Horseshoe – A Lake District Classic Walk
Fairfield Horseshoe Hiking Route
Langdale Pikes Circular via Jack's Rake
Old Man of Coniston Hike via Low Water and Brim Fell