Kinder Scout Perimeter Walk
This Kinder Scout Perimeter walk winds it's way around the edges of the plateau forming the highest mountain in the Peak District, Kinder Scout. This walk is 16.3 miles long and explores the perimeter of Kinder Scout.

It's slightly shorter than some other Kinder Scout Edge perimeter routes as it doesn't head up to Grindslow Knoll, but you can add this on really easily if you wish. We were against it timewise so chose to miss this out, especially as Grindslow Knoll is it's own separate peak.
Our Kinder Scout edge walk starts in the Edale car park and heads up the road through the pretty village of Edale, past the start of the Pennine Way, The Old Nags Head. We then followed the footpath through the wood, over the bridge and then forked right. We chose to climb up Ringing Roger and go for a short, sharp steep ascent onto the plateau.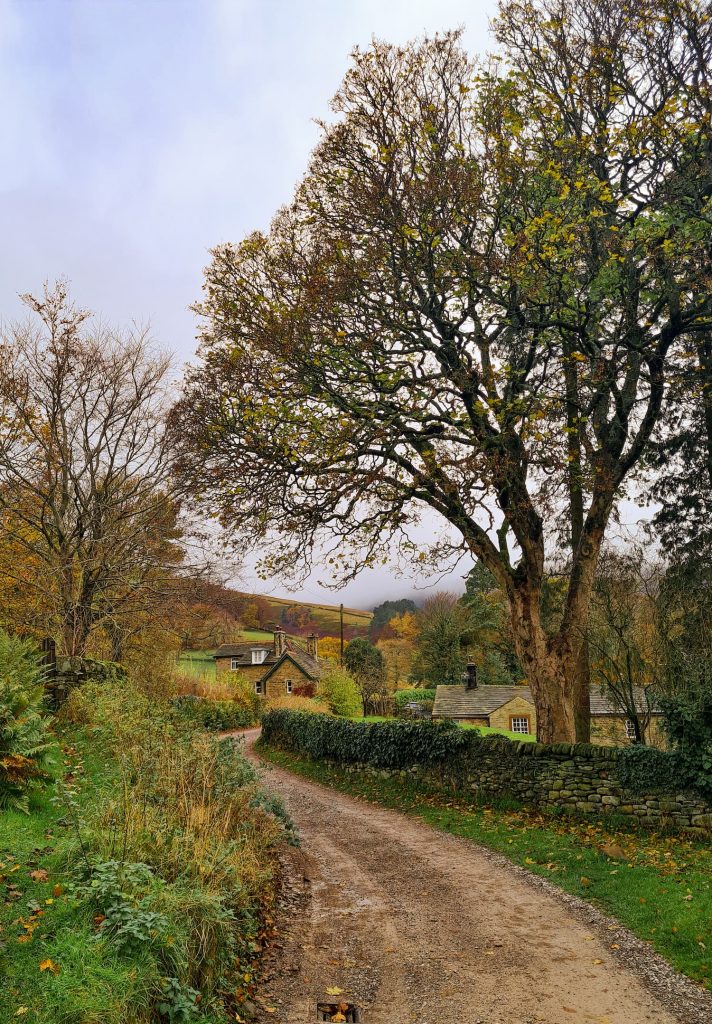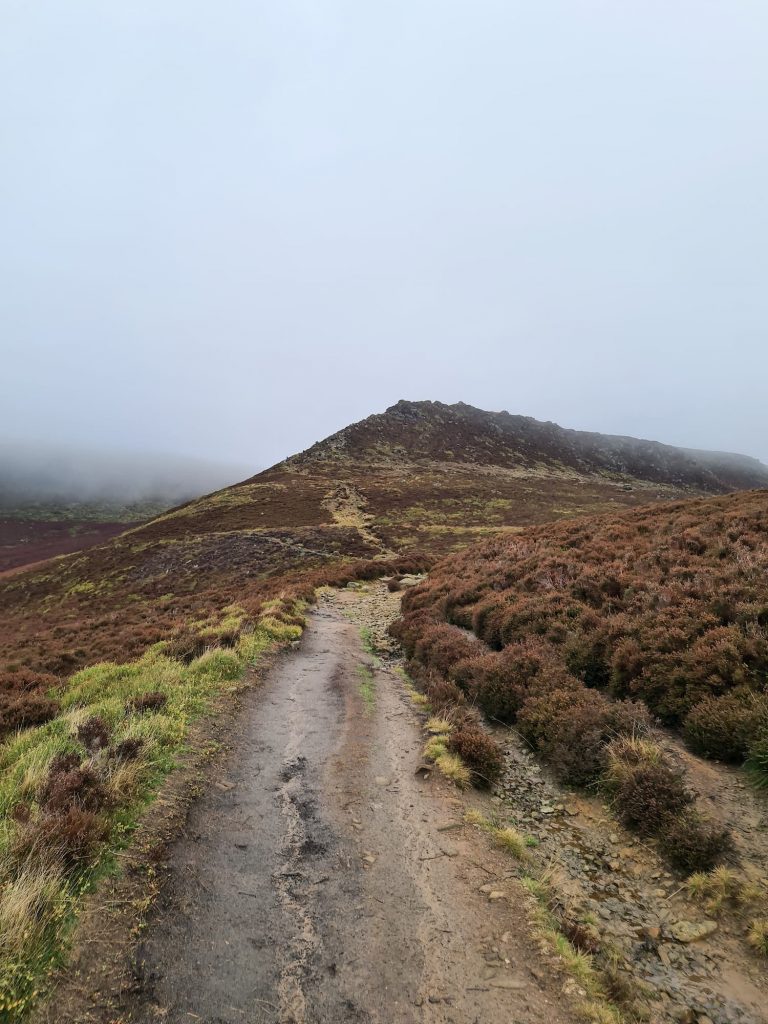 We decided to set off anti-clockwise and so headed towards Crookstone Knoll. We took the higher path which follows the contours of the plateau around to the Druid's Stone, a gritstone outcrop once believed to be the site of druid sacrifices. The marks and hollows on the surface of the stone are supposed to be holders for offerings to the gods, but they were only full of water when we visited!
From the Druid's Stone we set off roughly north-east towards Crookstone Knoll, the eastern most point of the plateau, crossing Jaggers Clough on the way. From here there are amazing views over The Great Ridge, with Win Hill and Lose Hill, as well as Derwent Reservoir and Howden Reservoir and over Alport Moor.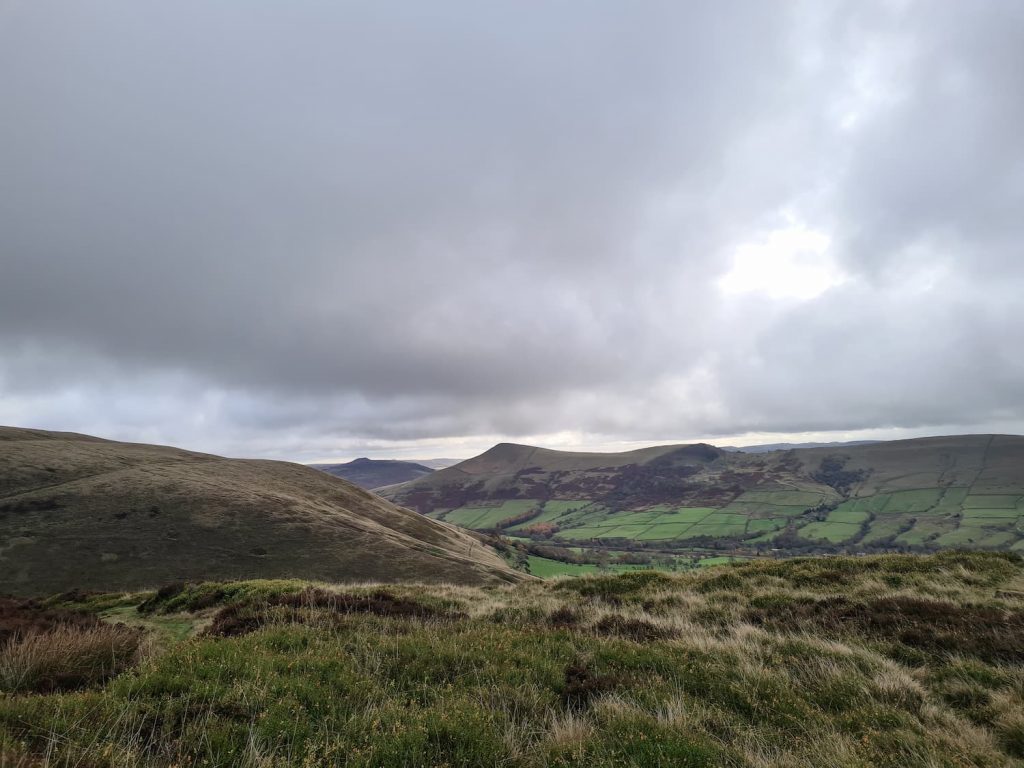 From Crookstone Knoll we turned west and set off along Blackden Edge, which again has amazing views over Alport Moor (including Oyster Clough), passing Madwoman's Stones on the horizon. A short distance after Madwoman's Stones you could add on a short yomp to the Edale Moor trig point (it was no weather for us to be doing that when we did this walk though!). We passed Blackden Brook, which is an excellent scramble, and then wound our way past the Seal Stones and onto Seal Edge. The paths on here were extremely peaty and boggy, which made the going really tough – in some parts it was like wading through treacle!
The next point to pass was Fair Brook, where we had a quick stop off for lunch, then carried on round Fairbrook Naze and it's amazing rock formations.
We wandered along The Edge, passing Nether Red Brook (another brilliant scramble), and many amazing rock formations, before eventually picking up the Pennine Way. We followed the Pennine Way to the south-east towards Sandy Heys, heading towards the River Kinder and the Kinder Downfall.
In all the times we've explored Kinder Scout I've never managed to see Kinder Downfall flowing – it's either been way too misty or the river has been dry. This time however we saw the highest waterfall in the Peak District and had it all to ourselves!
From Kinder Downfall we continued south along the Pennine Way to Red Brook (again, another scramble!) and then to Kinder Low. A lot of walkers use the trig point at Kinder Low as the summit of Kinder Scout, as it's only 3m lower than the actual summit. Trig bagged, we headed towards Edale Rocks on the way to Swine's Back, where we headed north-east towards Noe Stool.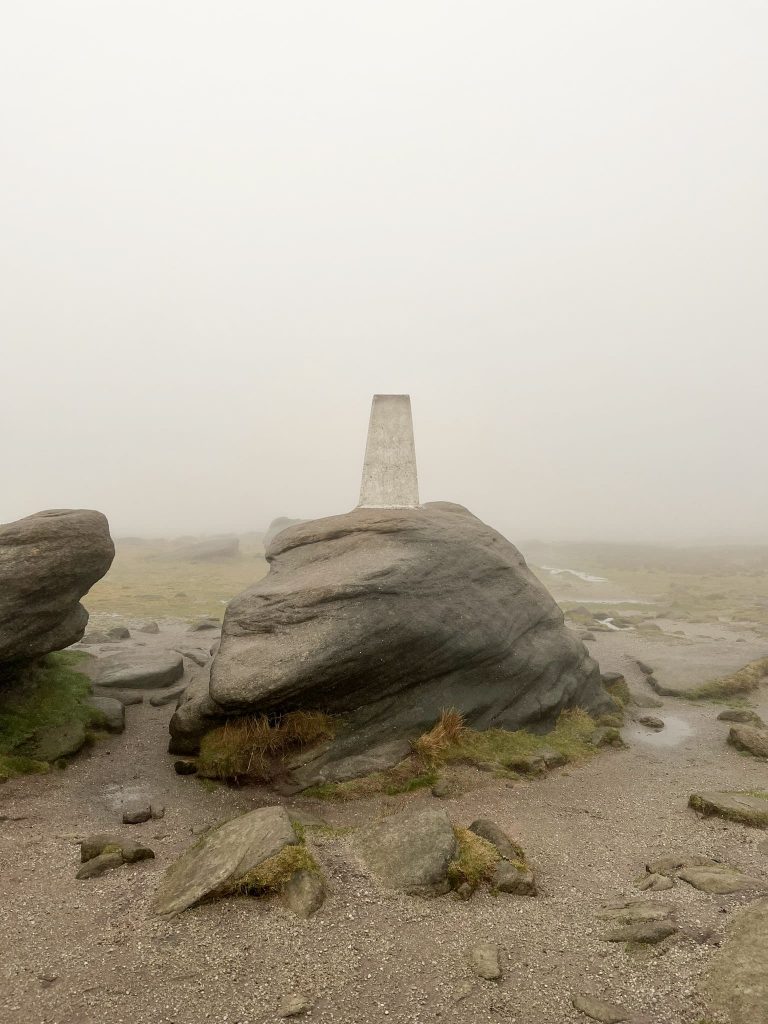 Following the path east, we followed the path past Pym Chair and The Wool Packs and which is very wet and claggy after a period of heavy rain. Picking our way through The Wool Packs, we then headed towards Crowden Tower and further east towards Fox Holes.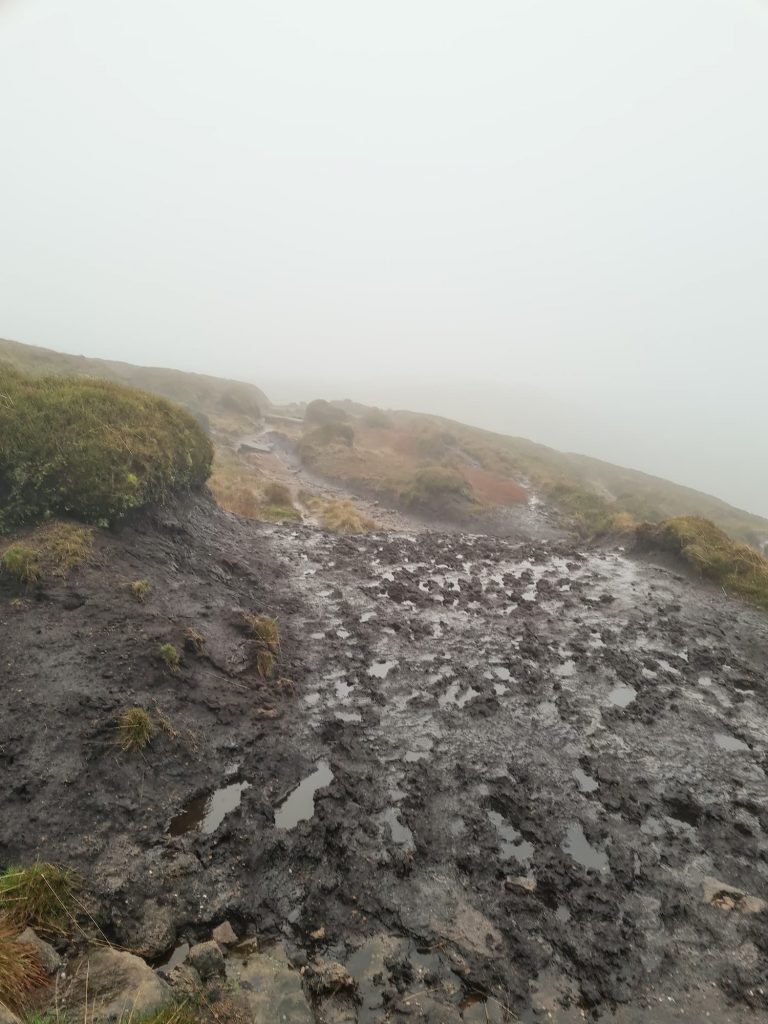 Here you can decide whether to head up Grindslow Knoll or not, but the weather wasn't on our side, we were against it timewise to get back to pick Hols up and it was coming dark so we decided not to. It's a separate Ethel anyway, so I don't mind too much. To get the 18 mile Kinder Scout perimeter walk you should probably add this on if you have time!
We skirted around the top of Grindsbrook Clough, having to head further upstream to cross Grinds Brook as it was in spate, making crossing very tricky. We then headed off along Upper Tor and Nether Tor before returning back down Ringing Roger to Edale.
I would definitely recommend a drink in The Old Nags Head pub as a reward for this challenging walk! We however didn't have time, as we had to collect Hols, so it was home to dry our boots!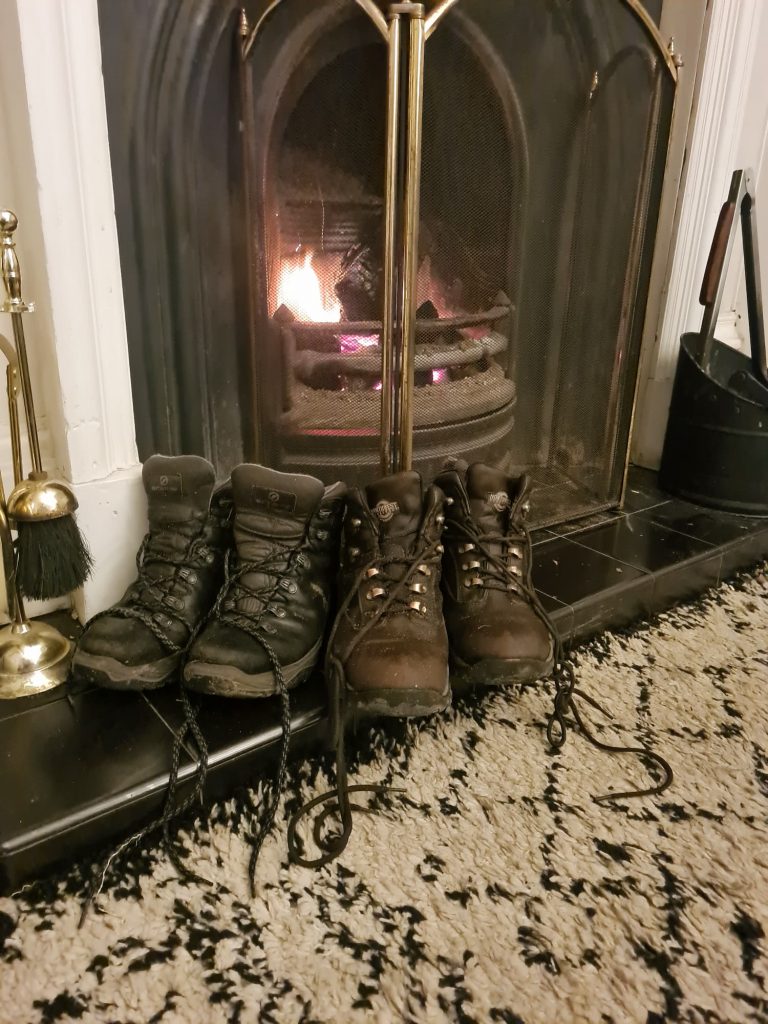 Is Kinder Scout a difficult walk?
Yes. The terrain makes it very hard going in places, and it can be a challenge navigationally as well. There are paths heading off in all directions, some heading further "inland" on the plateau, which is undulating and pretty featureless so it can be easy to get lost. The weather changes very quickly up on Kinder Scout so make sure you are prepared for all weathers. The weather forecast always lies! Because of it's gritstone centre, the Kinder plateau doesn't absorb the water and it gets very wet and boggy underfoot.
How long does it take to walk Kinder Scout?
This walk took us 6 hours but we were moving fast and only had a very quick lunch stop. I would allow a whole day for this walk as the terrain can slow you down, and winding your way through the peat bogs can add on some extra mileage! There are obviously shorter walks which take less time than walking the whole of the Kinder Scout perimeter.
Is Kinder Scout a good walk?
Yes! Whilst challenging, Kinder Scout is one of the best places for walking in the Peak District. With ever changing, far reaching views, amazing mysterious rock formations and the title of the highest mountain in the Peak District, Kinder Scout is an amazing place to explore. We've been a few times now and every time we go there is something new to see and explore. It's a place that never get boring and there are so many different walks to explore it.
Kinder Scout walk parking:
We parked in the Edale car park postcode S33 7ZL. It cost £6 for the full day to park and there are toilets and a cafe nearby.
Facilities: Toilets in the car park and the walk passes through Edale village where there are cafes, pubs and a shop.
Walk Time: 7-8 hours
Difficulty: ▲▲▲ (just for the bogs! It's very wet)
Distance: 16.3 miles (26.85km)
Trig Points Bagged: Kinder Low
Peak District Peaks Bagged: None
Peak District Ethels Bagged: None
Walk Map: 
For some more Kinder Scout walks, why not try:
Best Kinder Scout Walks | Guides and GPX Files
Hayfield to Kinder Scout Circular Walk
Grindslow Knoll and True Kinder Scout Summit
Crowden Clough to Kinder Scout Walk
Kinder Downfall Walk via Nether Red Brook Scramble