USAAF B24-H Liberator Crash Site on Twizle Head Moss, Holmfirth
This walk explores the rugged wilderness of the Dark Peak on the moors above Holmfirth, discovering the crash site of the B24-H Liberator "Sack Time" on Twizle Head Moss. This is a 4 mile walk over some challenging moorland terrain and the weather can change quickly up here (it's why the plane crashed!).
The B24-H Liberator Sack Time was flying on a training exercise to test out repairs when it crashed into the moorland on 9 October 1944, with only one survivor. It is thought that the plane was flying too low to avoid low cloud and hit the moorland, gouging a trail 200m long on the moors before bursting into flames.
We started our walk from the Holme Moss car park and headed north-east down Wilmer Hill (which is great for sledging down, by the way!). The path winds around the hillside, with some rather wet areas meaning there's a bit of bog jumping involved.
After 1.65 miles, the path turns up the gamekeepers track to climb up to Herbage Edge. From here there are views across Ramsden Clough to Snailsden and Cooks Study Hill. The path follows the edge of Ramsden Rocks over Herbage Hill, parts of which can be very wet and boggy, and then heads west over Twizle Head Moss.
After a little detour to the remains of Red Cabin, we followed the path around for 0.75 of a mile and then turned south-west to follow a peat grough to the crash site of the B24 Liberator. There are white stakes in the ground (presumably something to do with grouse management) but we followed a line of these to the crash site where there are some memorials to the crew members lost in the crash.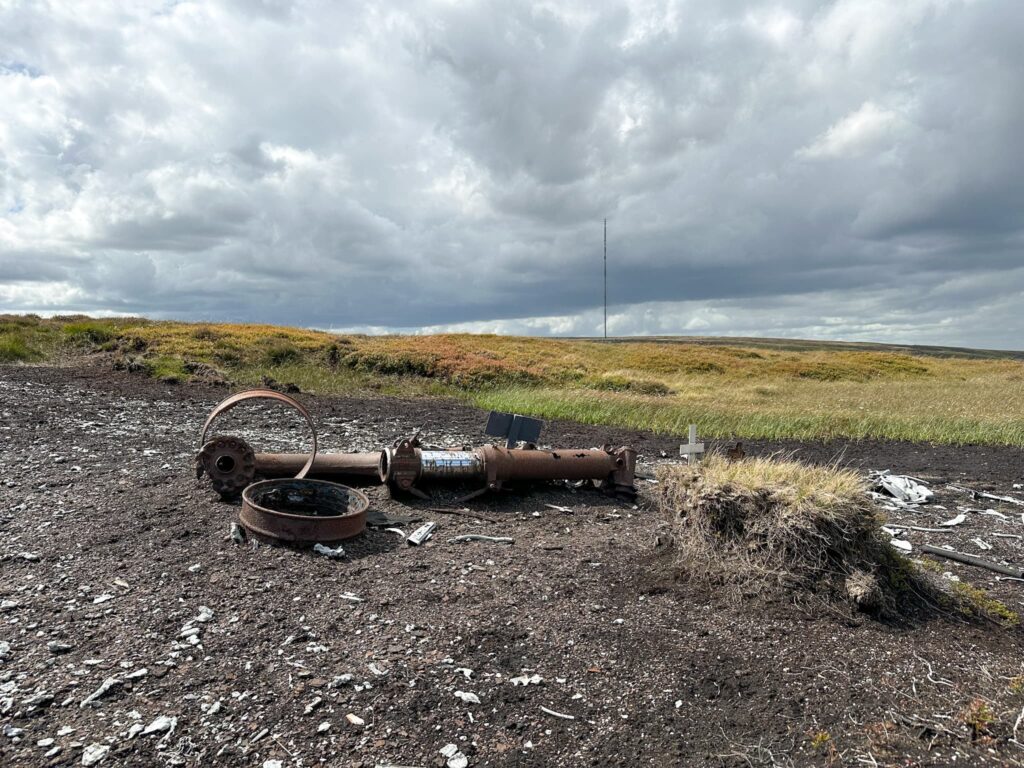 We retraced our steps back to the path, then followed it as it wound it's way around the hillside back to the car park.
Parts of this walk were very boggy and care should be taken avoiding falling in the peat bogs. This is not a white trainers bimble! As this is a grouse moor, there are signs up saying dogs aren't allowed on the moorland to protect the nesting birds.
Parking: Holme Moss Car Park, Woodhead Road, HD9 2QH
Facilities: None. Please take all your rubbish home.
Walk Time: 2-3 hours
Difficulty: ▲▲
Distance: 4 miles (6.02km)
Elevation: 906ft (276m)
Trig Points Bagged: None
Peak District Peaks Bagged: None
Peak District Ethels Bagged: None
For more Peak District plane crash walks, you might like:
Tintwistle Seven Falls and Plane Crash Sites
B29 "Overexposed" Crash Site on Bleaklow – A Guide
Shining Clough Scramble to Bleaklow