Easy Walks in the Peak District
Easy Walks in the Peak District: Exploring the National Park on Foot
The Peak District National Park is a paradise for outdoor enthusiasts and nature lovers alike. With its picturesque landscapes, bleak, rugged moorlands, incredible views and tranquil valleys, it offers a wide range of walking trails suitable for all ages and fitness levels, from challenging all day hikes to Peak District short trails. In this blog post, I'll give you some ideas of the best easy Peak District walks, allowing you to experience the beauty of this remarkable region at your own pace.
Although these walks are classed as easy, I appreciate this is relative, so these walks are those which don't involve many steep climbs and/or are relatively short in distance. What's easy to one person might not be to someone else!
Dovedale Circular Walk: 1.5 miles
The Dovedale Circular Walk is one of the most popular walks in the Peak District. Parking in the National Trust car park, this 1.5-mile route takes you up and over the iconic Thorpe Cloud before heading through the stunning limestone gorge of Dovedale, famous for its iconic stepping stones. The well-maintained trail is relatively flat and easy to navigate, making it an ideal choice for families and beginners. This trail does get VERY busy in good weather, weekends and school holidays though so I'd get there early if you want to enjoy the tranquillity!
Parking: Dovedale National Trust Car Park, Dovedale, Ilam, Ashbourne DE6 2AY (free for National Trust members, pay and display for everyone else)
Facilities: Pay to use toilets in the National Trust Car Park (20p), snack van
For a longer walk through Dovedale you might like Thorpe Cloud, Dovedale Stepping Stones, Bunster Hill and Ilam or an extended Dovedale and Thorpe Cloud Walk.
Monsal Trail: Up to 8 Miles
Whether you choose to walk the entire length or just a section, the Monsal Trail provides a gentle and enjoyable experience for walkers of all abilities. For an easy walk with stunning views, the Monsal Trail is a must-visit destination. The full length of this converted railway line spans over 8 miles and takes you through some of the Peak District's most scenic landscapes with no climbing. We started at Hasssop Station and cycled to Cressbrook for 6.5 miles, but you can walk as much or as little of this trail as you like.
Parking: Hassop Station, Hassop Road, Bakewell DE45 1NW
Facilities: There is a cafe, toilets and cycle hire at Hassop Station.
Mam Tor Short Walk: 1 Mile
The Mam Tor short walk offers a fantastic opportunity to explore the breathtaking vistas of the Peak District. Starting near Castleton, this 1 mile there are back takes you up the iconic Mam Tor, also known as the "Shivering Mountain," offering panoramic views of the surrounding hills and valleys. With its moderate ascent and well-defined paths, this is one of the best Peak District short walks, being very popular with people watching the sunrise. It's a perfect choice for those seeking a slightly more challenging yet rewarding experience.
Parking: Limited parking in the Mam Nick car park run by the National Trust S33 0WA
Facilities: None but there are plenty of pubs, shops etc in nearby Castleton
This is a great walk, but there are options to extend if you fancied a longer walk:
Castleton, Mam Tor and The Great Ridge Walk
Castleton to Mam Tor Circular Walk via Cave Dale
Bamford Edge: 2 Miles
Bamford Edge is one of the most popular places for an easy walk in the Peak District for good reason. It's a gritstone escarpment offering breathtaking views across the Dark Peak, especially Win Hill and Ladybower Reservoir. The Edge is popular with people who want to watch a spectacular sunset or sunrise and is a haven for photographers. The terrain is relatively flat, after a short sharp climb up, making it an ideal choice for a peaceful walk.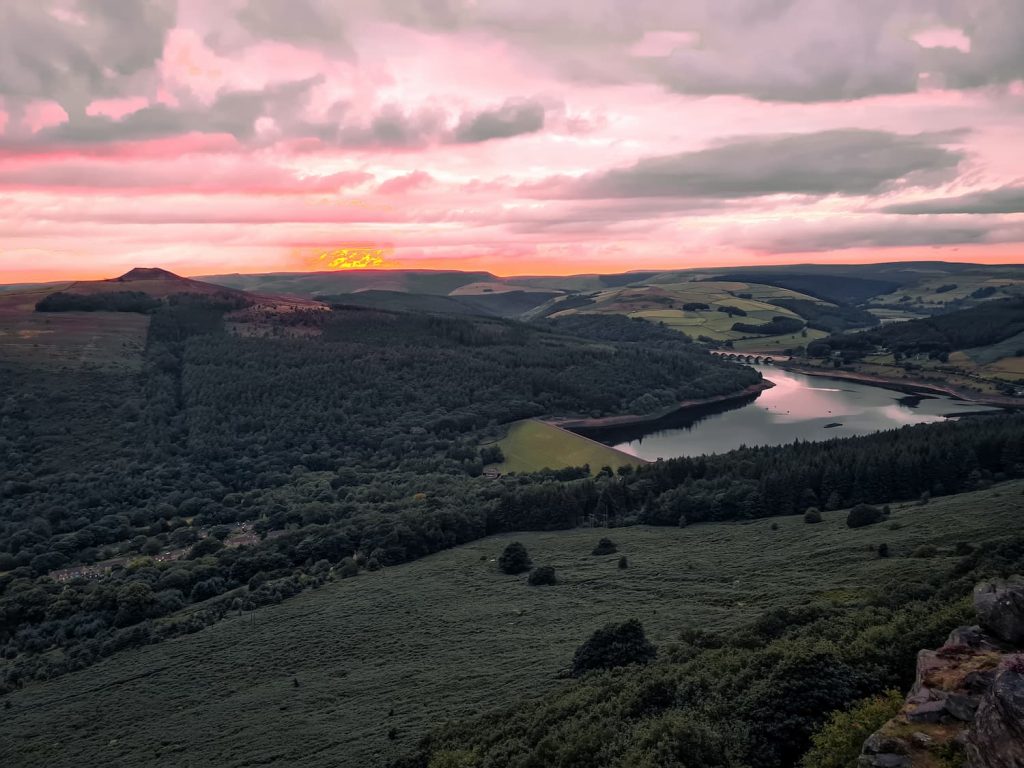 Parking for Bamford Edge: A lay-by just after the pine tree plantation on New Road, Bamford
Facilities: None
For more Bamford Edge sunset photos, check out this Bamford Edge – A Short Walk with Stunning Views
Dove Stone Reservoir Circular: 4 Miles
Dove Stone Reservoir is at the very northern edge of the Peak District and is a very popular place to go for an easy walk. Nestled in a valley between stunning moorland peaks, the Reservoir has a well defined path running all the way around it and has amazing views.
Parking for Dovestone Reservoir: Binn Green Car Park (if it's open) or Dove Stone Reservoir Car Park
Facilities: Public toilets in Dove Stone Reservoir car park
Torside to Woodhead Tunnels: 6 Miles
This is one of the flattest routes in the Peak District and certainly one of the most accessible. The Longdendale Trail runs from Torside to the former Woodhead Tunnels along the route of the former railway line. The route is very wheelchair and pram friendly, having accessible viewing platforms giving great views over the reservoirs, Heydon Moor, Pike Naze Moor and more beyond. This also makes a great 10km trail run.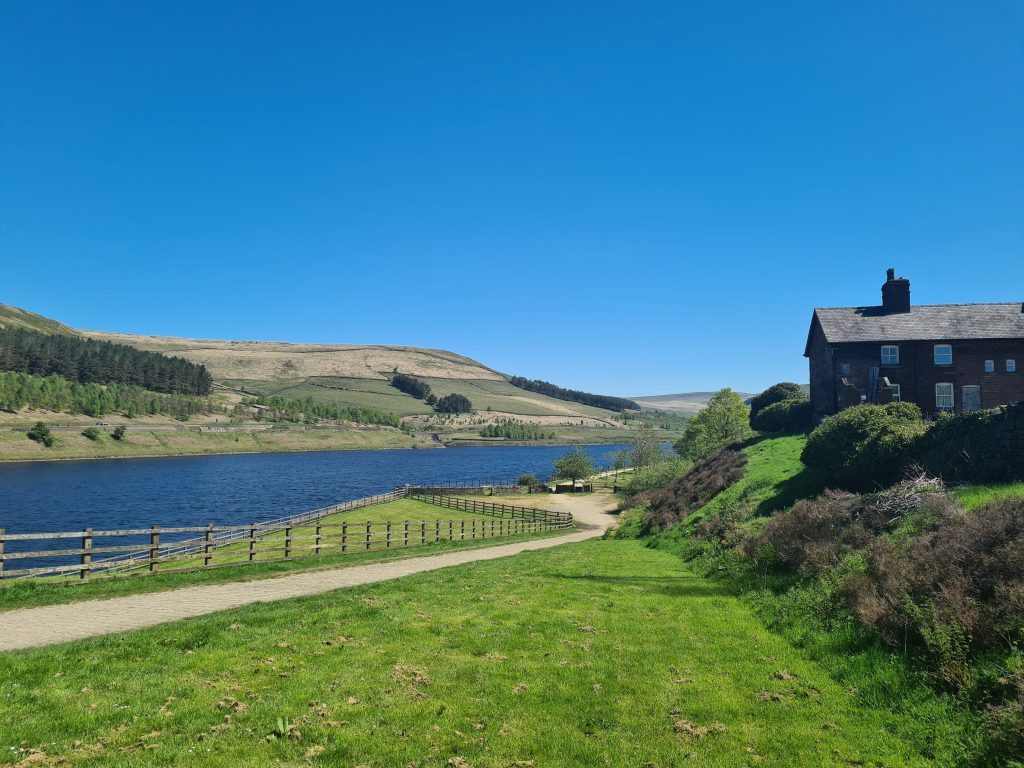 Parking: Torside Car Park
Facilities: Public toilets in Torside Car Park
Some other easy Peak District walks you may like:
A Beautiful Walk Through Wolfscote Dale & Biggin Dale
Tintwistle Seven Falls Short Walk
Holme Moss to Black Hill Trig Point
Cooks Study Hill and Snailsden Pike End
There are so many easy Peak District walks to choose from! Lace up your boots, breathe in the fresh air, and enjoy exploring the Peak District!