10 Best Peak District Sunrise Spots
The Peak District is home to many stunning places, from vast rugged moorlands to rolling fields, but where are the best Peak District sunrise spots? This quick guide will show you where to go if you want to catch a sunrise in the Peak District.
This New Year we couldn't decide whether to head out for a sunset or a sunrise (my days of being in a nightclub until 2am are long gone now!). You can't beat seeing in the New Year with a cup of coffee wrapped up in a blanket, watching a sunrise. With so many places to go to watch a sunrise in the Peak District, we're spoiled for choice! Here are a few of our favourite places for Peak District sunrises.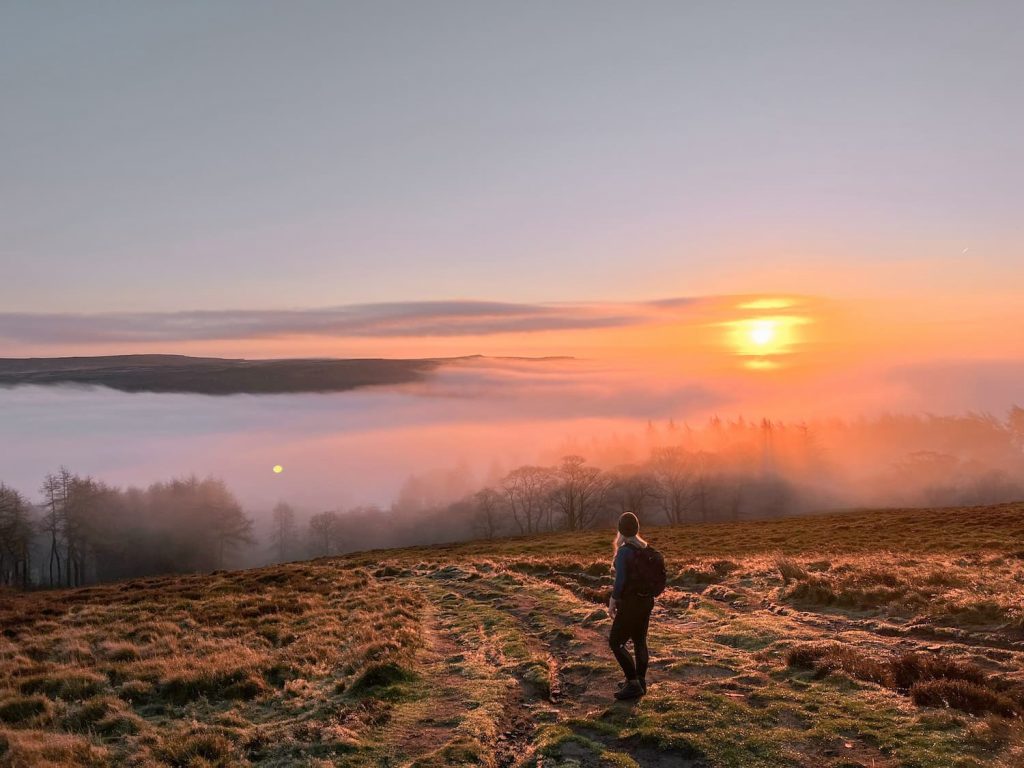 Win Hill
With stunning views down over Ladybower, Derwent and Howden Reservoirs as well as Kinder Scout and Mam Tor, Win Hill is a great place to watch a sunrise. The quickest way to the top is via Parkin Clough – park at Heatherdene or on the roadside near Ladybower Reservoir and it's a steep 25-35 minute stomp to the top. Parkin Clough is very uneven underfoot and did I mention it's steep? The views from the top are worth it though.
Win Hill walk:
Crook Hill and Win Hill Walk via Ladybower Reservoir
Bamford Edge
On the other side of Ladybower from Win Hill is Bamford Edge. The views from here down over Ladybower are some of the best views in the Peak District but it's a fabulous place to watch the sunrise over Win Hill. It's a short steep walk from the roadside parking lay-bys over the moor. It's also a fabulous place to watch a sunset over Ladybower too.
Bamford Edge walk:
Bamford Edge Walk: Peak District Sunsets
Mam Tor
If you've not had a Mam Tor sunrise, have you even walked in the Peak District? I joke of course, but this is one of the most popular places to watch a sunrise in the Peak District. Because it's really accessible and a very quick walk to the summit from Mam Nick car park, it gets really busy so don't expect to have the summit all to yourself! You can walk further along The Great Ridge to Hollins Cross where there is the photographers favourite gate – there will probably be a load of photographers setting up their tripods so you'll know where you need to be!
Mam Tor walks:
Castleton, Mam Tor and The Great Ridge Walk
Castleton to Mam Tor Circular Walk via Cave Dale
Picturesque Castleton Walks to Enjoy
Rushup Edge
Literally the next peak to Mam Tor, Rushup Edge has spectacular views down over Edale and over to Kinder Scout as well as Mam Tor itself. Whilst the Mother Hill will be busy AF, Rushup Edge is much quieter and we've been the only people there before for a sunrise. You can park in Mam Nick car park and walk up the road. Instead of going through the gate onto Mam Tor, double back on yourself and head up over Rushup Edge to Lord's Seat.
Rushup Edge walk:
Mam Tor and Rushup Edge Circular Walk
Stanage Edge
Stanage Edge is spectacular at sunrise, with the sun highlighting the old millstones lying below the Edge. Parking in Dennis Knoll car park, it's a short walk up onto the Edge itself for the amazing views down the valley.
Stanage Edge walk:
Derwent Edge
Derwent Edge is home to some amazing gritstone rock formations such as The Wheelstones, The Salt Cellar and the Cakes of Bread. These make a great place to settle down and watch a sunrise (or sunset) and you can park at Cutthroat Bridge and walk along the Edge. This is also a stunning place to walk when the heather is in full bloom.
Derwent Edge walk:
Ladybower Reservoir and Derwent Edge
Chrome Hill
Another Peak District classic, the rugged and sharp Chrome Hill and Parkhouse Hill form the Dragon's Back. Parking in nearby Hollinsclough it's a 30-40 minute walk to the base of Parkhouse Hill, and the summit of Chrome Hill is an amazing place to watch the sunrise.
Chrome Hill walks:
Chrome Hill, Parkhouse Hill, High Edge and Hollins Hill 4 Peaks
Longnor to Parkhouse Hill Circular
Winnats Pass
Yet another classic Peak District sunrise spot, Winnats Pass has an amazing view down over the Hope Valley and is a short walk from the car parking areas. We parked in a lay-by on the road and walked back down Winnats Pass then climbed up the hillside after the cattle grid. It gets very slippery though, with mud and limestone making a potentially treacherous combination in icy weather!
Winnats Pass walk:
Baslow Edge
Baslow Edge is another easily accessible edge with nearby parking and amazing views down over the Derwent Valley. If you're lucky you might see the Highland Cows!
Baslow Edge walk:
The Roaches
The Roaches is a stunning nature reserve in Staffordshire and is home to an amazing array of rock formations, pools and places to explore. It's also a fabulous place for a sunrise as the sun rises over neighbouring Hen Cloud. You can park in one of the laybys on the roadside and it's a short walk up The Roaches to the trig point.
The Roaches walks:
The Roaches and Lud's Church Walk
The Roaches and Hen Cloud Circular Walk
What Conditions Make the Best Peak District Sunrise?
Ideally you want a cloudy day followed by a clear day. Scattered cloud in the morning is a good thing as the cloud is what reflects the colours of the sun. Check your sunrise times carefully and make sure you get to your sunrise spot in enough time – the sunrise won't wait!
What Time is the Sunrise?
As this changes all year, your best bet is to check a good weather app such as MetOffice.gov.uk.