Langdale Pikes Circular via Jack's Rake
This Langdale Pikes circular walk explores the beautiful fells near Dungeon Ghyll and includes the challenging Jack's Rake scramble up Pavey Ark. You'll see some of the very best Lake District views (on a clear day) including stunning waterfalls, and tick off 7 Wainwrights along the way.
Starting with a steep hike (or scramble) up Stickle Ghyll to Stickle Tarn, we tackled the Grade 1 scramble of Jack's Rake up to Pavey Ark (700m) before heading over the fells to Sergeant Man (736m), High Raise (762m), Thuncar Knott (723m), Harrison Stickle (736m), Pike of Stickle (708m) and Loft Crag (682m). We also passed the Birkett of Thorn Crag (644m) on the way back down to Langdale.
This is the easy way up the Langdale Pikes in that it's quite easy to follow – it's very steep though!
We parked at the large car park near Sticklebarn and then headed up past the New Dungeon Ghyll pub. The public footpath heads up to the north-west and then runs alongside Stickle Ghyll, a beautiful clear Lakeland stream with waterfalls aplenty. This is a great scramble in itself as you can scramble up the stream bed if you fancy it. The path itself is very easy to follow and stone steps form a large part of it. There is a bridge to cross, and the path continues up the other side of the stream.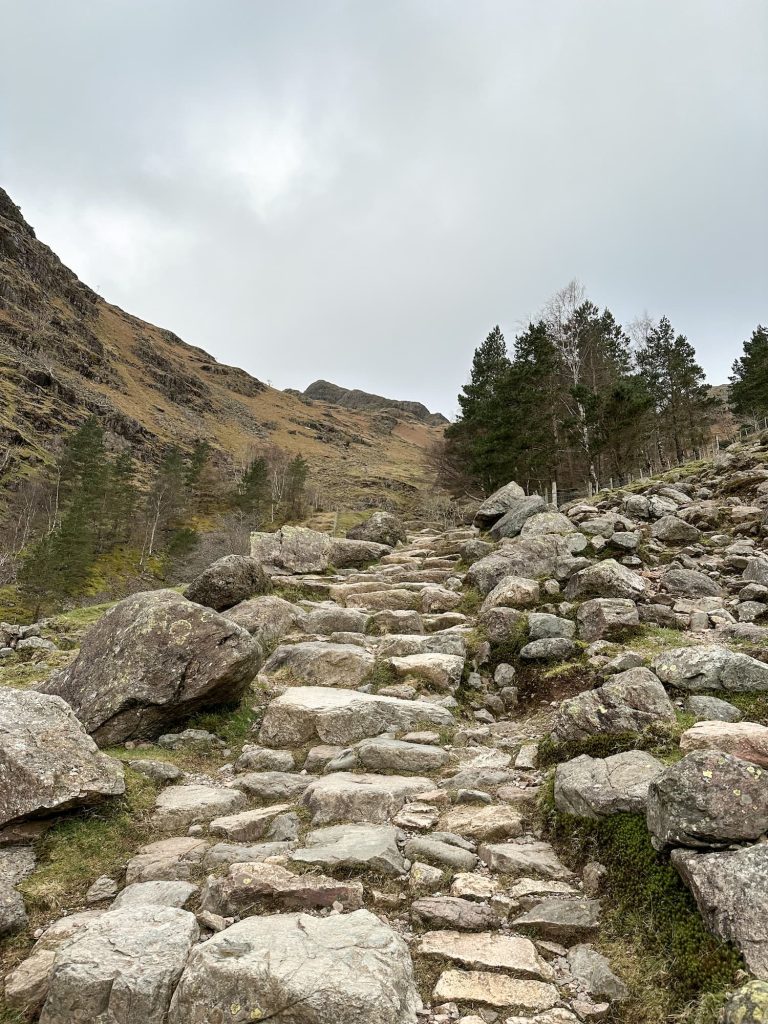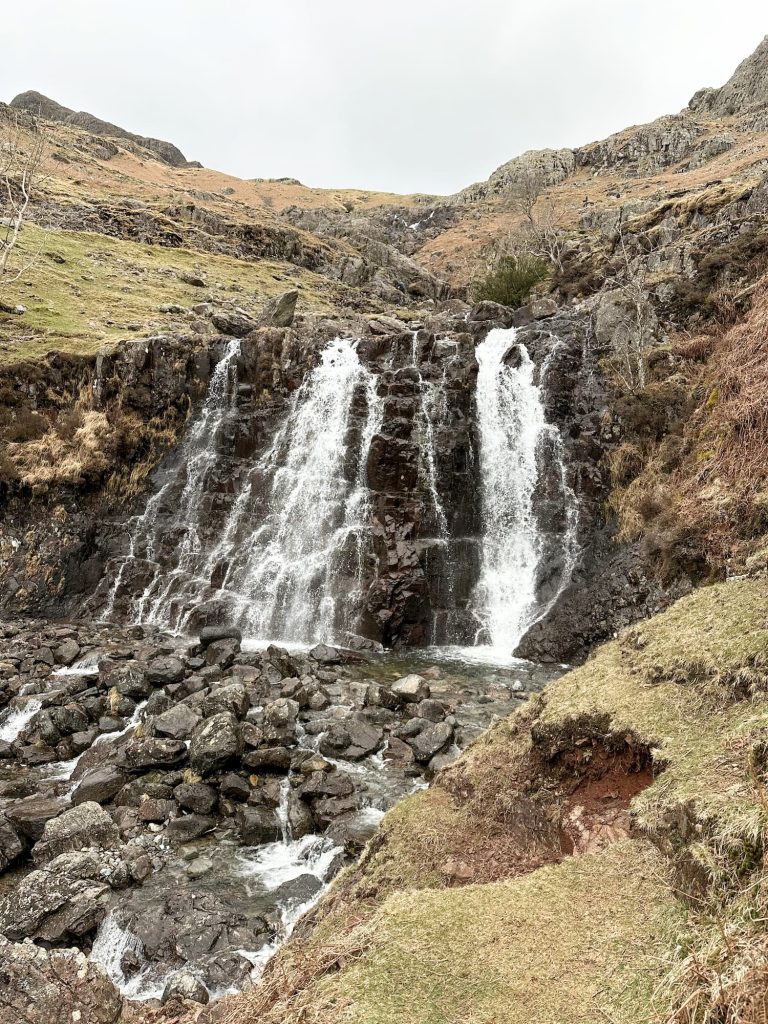 When the path ran out, we crossed the stream and headed up the hillside until we reached Stickle Tarn, where the climb levelled out. Stickle Tarn was beautiful! We had a calm, still day with actual views for a change! A lot of the other people who were hiking up Stickle Ghyll either turned back at Stickle Tarn or headed off to pick up another path. We however headed for Jack's Rake.
Jack's Rake Scramble
The Jack's Rake scramble is classed as a Grade 1 scramble – I think it should be classed as slightly harder as it's very exposed. We've done a fair bit of scrambling and this was by far the scariest! It starts out with a scree section which makes the going quite tough, then when the climb proper starts it's nice rock with lots of hand and foot holds. It's very exposed though – I didn't look down once! After the initial climb up there is an exposed ledge before another climb up, and the route is quite hard to see at times. We got to the top and I felt so relieved! Holly of course loved it.
We have been on a fair few scrambles now with Holly, and always choose a day where the weather is as perfect as it can be. We research the routes beforehand, and we have experience of scrambling. I'd only attempt this scramble if you were confident with heights and exposure. There is a footpath leading to the summit of Pavey Ark.
It was then a short hike to the summit of our first Wainwright of the day, Pavey Ark. The views from here down over the Langdale Valley and over to Scafell Pike are just amazing. This was also most of the climbing for the day done as it was only short hikes to the tops of the other summits.
From Pavey Ark we set off north-west to pick up the path which heads up to High Raise. We followed this until it forked and we took the right hand fork to curve round to Sergeant Man. The views from this little unassuming Wainwright are nothing short of spectacular!
After admiring the views and getting in someone's drone video we headed north-west again back up to High Raise. This is such a pretty trig point! The views again are amazing, and there is a wind shelter which would make a nice spot for a snack stop. It was full when we got there so we had to eat our Haribo/trig point reward on the move.
Our route took us south towards the summit of Thunacar Knott, which is a relatively unassuming fell. Next stop for us is Harrison Stickle, which involved a bit of a scramble up the rocky side of it. There is a path which is slightly further to the east than the route we took up. Harrison Stickle has amazing views again!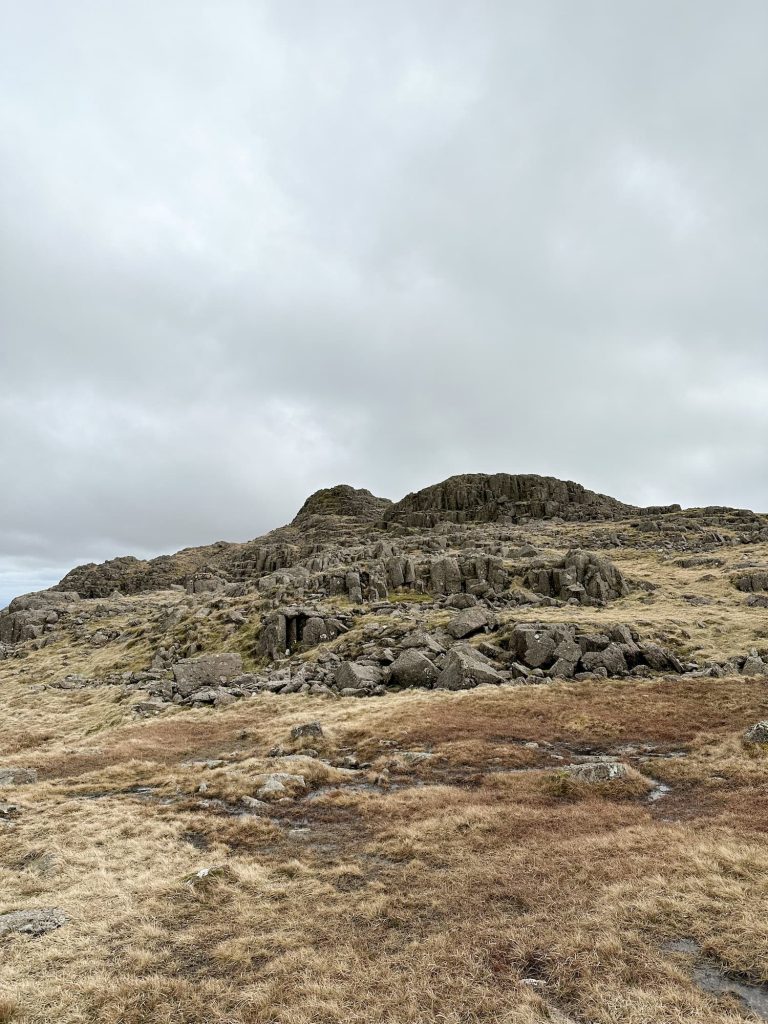 We headed down Harrison Combe to climb the fabulous-looking Pike of Stickle. There are steps leading up most of the way with a scrambly bit at the summit. The views down the steep valley side towards Mickleden are amazing, and you can see over to Blea Tarn and the Pike of Blisco among others.
After retracing our steps down the Pike of Stickle we had a short climb up Loft Crag before a quick detour to Thorn Crag. Then it was a knee-destroying hike down the hillside, passing Dungeon Ghyll Force, a spectacular 40 foot waterfall along the way. The path eventually ends up next to the New Dungeon Ghyll pub again for a well earned pint.
The Langdale Pikes are a stunning part of the Lake District. It is busier than some other areas but once you get up onto the fells there are way less people and the stunning views are worth the hike (and the crowds lower down).
Langdale Pikes Circular Walk
Parking: Sticklebarn car park on the B543 (Postcode LA22 9HJ)
Facilities: Stickle Barn is a National Trust cafe and there are toilets
Walk Time: 5-6 hours
Difficulty: ▲▲▲
Distance: 7.7 miles (12.4km)
Trig Points Bagged: High Raise
Wainwrights Bagged:  Pavey Ark, Sergeant Man, High Raise, Thunacar Knott, Harrison Stickle, Pike of Stickle, Loft Crag
Langdale Pikes Circular Walk Map: 
You can click on the map to access the route in Komoot.
You might like:
For more Wainwright walks, you might like:
Walla Crag, Bleaberry Fell and High Seat
Old Man of Coniston Hike via Low Water and Brim Fell
Coledale Horseshoe – A Lake District Classic Walk