Peak District Walks
If you're looking for 7 of the best Peak District walks, this is the blog post for you!
There is so much to explore in the Peak District, whether you want to have a wander around the pretty villages and farmland of the White Peak or the rugged moorlands of the Dark Peak. Here are some of my favourite Peak District walks – we've been exploring the Peak District for a while now so it was hard to narrow down this post to just a few. These Peak District walks are all different in terms of their length and difficulty, but if you want to find a specific walk you can use the search box to the right (or below if browsing on mobile).
Completing the Peak District Ethels Challenge and taking part in the Peak District trig bagging challenge has also meant we get to explore a lot of the Peak District we wouldn't necessarily have been to.
Walks in the Dark Peak
Black Hill Circular
I absolutely love the Dark Peak and it's bleakness – the bleaker the better for me! It might be why Black Hill is one of my favourite places to be. It's usually wet, cold and very quiet! This Holme to Black Hill Circular Walk starts outside a pub and is a circular walk, meaning you can have a pint if you fancy when you get back. At 7.5 miles, this walk up Black Hill follows the Pennine Way for part and also takes you down to Blackpool Bridge, where you can have a dip in one of the pools there if you like. Don't forget a towel!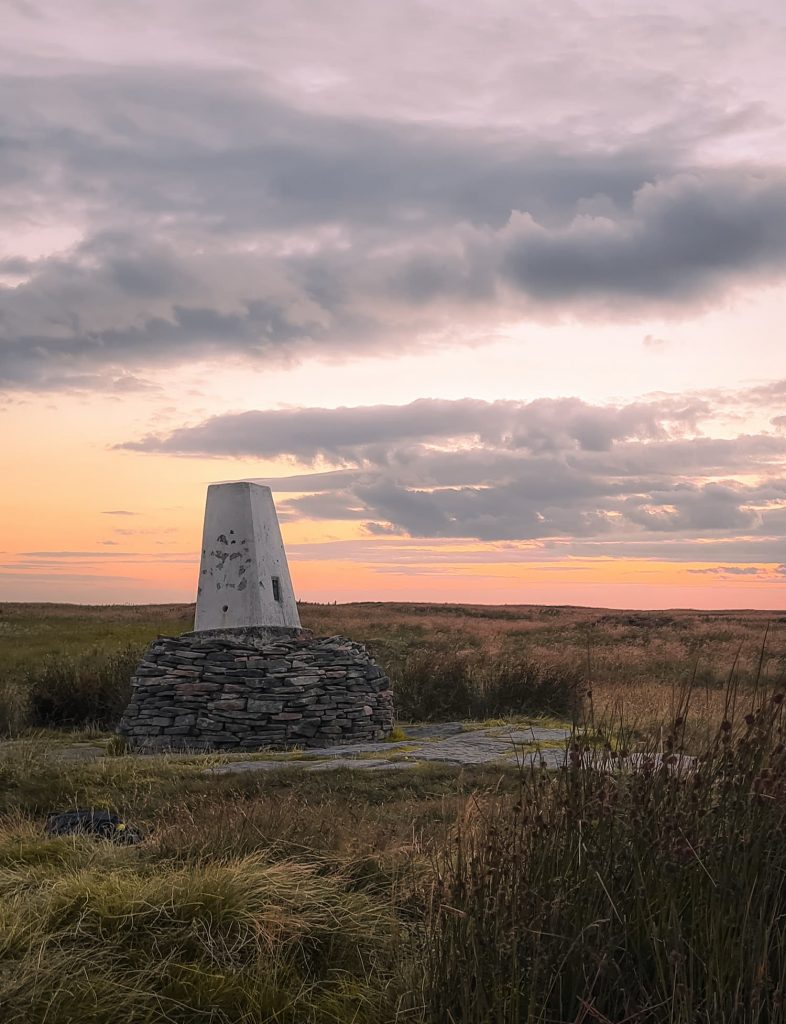 Black Hill Route Map and Walk Details
Bleaklow to Higher Shelf Stones
Another favourite walk in the Dark Peak is Bleaklow to Higher Shelf Stones Circular Hike which takes in the site of the B29 Superfortress plane crash site. This 6 mile circular walk takes in the Hern Stones, Wain Stones, Bleaklow Head and the plane crash site before heading to the Higher Shelf Stones trig point and then back to Snake Pass. There isn't much altitude to gain on this walk but the weather can make things very tricky for navigating. On a clear day the views from Higher Shelf Stones are incredible!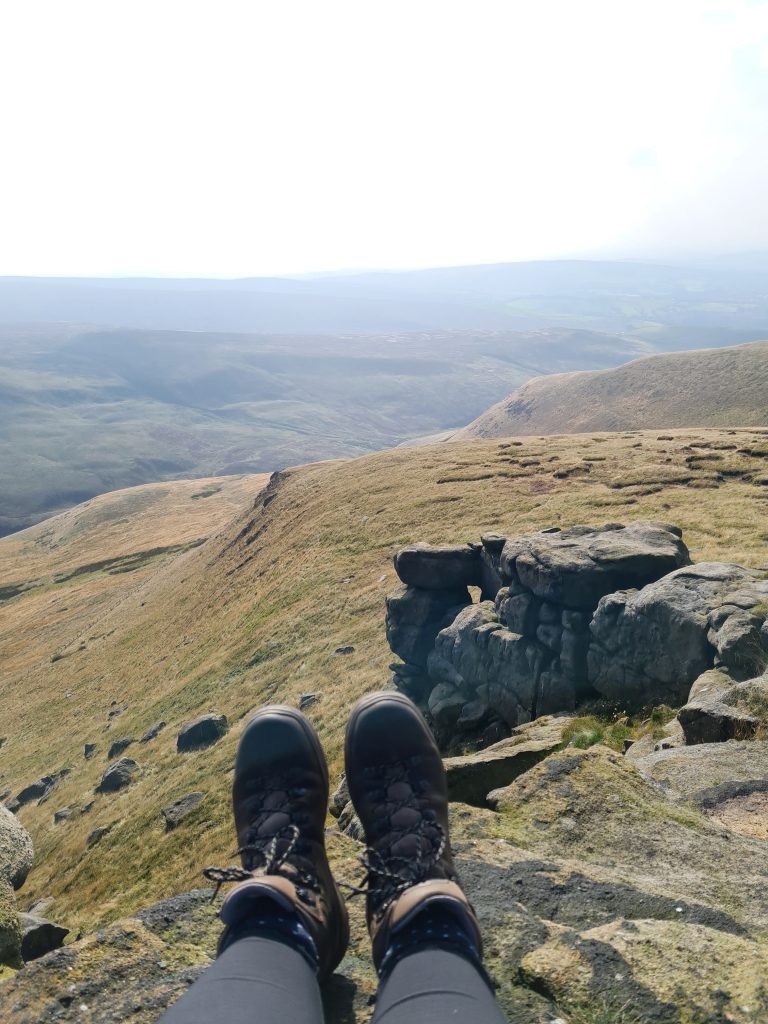 Bleaklow to Higher Shelf Stones Route Map and Walk Details
Kinder Scout Walk
I can't mention walks in the Dark Peak without a mention of Kinder Scout. We've done a fair few walks and scrambles onto Kinder now, and it's always a brilliant day out. Our first walking route for Kinder Scout was Hayfield to Kinder Scout Circular Walk, which at 10 miles was Holly's longest walk at the time. This route takes you up the beautiful William Clough before climbing up to the Kinder Scout plateau and bagging 2 of the 3 Kinder Scout trig points. This route also ends near a pub – can you spot a theme?!
Kinder Scout Route Map and Walk Details
Mam Tor Walk
Mam Tor is on the border of the Dark Peak and the White Peak, and is a really popular place with walkers and families as it's a very easy hill to climb. You can be at the summit in about 10-15 minute, depending on your speed and fitness. This Castleton, Mam Tor and The Great Ridge Walk takes you from Castleton up the Broken Road and then up over Mam Tor and The Great Ridge to Lose Hill, before heading back down into Castleton for a pub stop. It's a 7 mile walk with spectacular views down over Edale.
Mam Tor Route Map and Walk Details
Walks in the White Peak
One of the iconic walks in the Peak District has to be the Dragons Back or Chrome Hill and Parkhouse Hill walk. This is actually more of a scramble in places than a walk, as Parkhouse Hill especially is very steep. We tackled the Dragons Back walk by heading over Parkhouse Hill first (sliding down on our bums when necessary!) and then Chrome Hill, High Edge and Hollins Hill. This walk is 6 miles and is a great day out, bagging 4 Peak District Ethels in the process.
The Dragons Back Route Map and Walk Details
The Roaches Walk
The Roaches is a beautiful part of the world to explore, popular with both walkers and rock climbers due to the fabulous rock formations. With stunning, far reaching views from the summit, The Roaches should definitely be on your list to explore. We discovered The Roaches as part of a Yorkshire 3 Peaks training walk The Roaches and Hen Cloud Circular Walk but there is also a short walk The Roaches Walk if you don't fancy a 17 mile epic!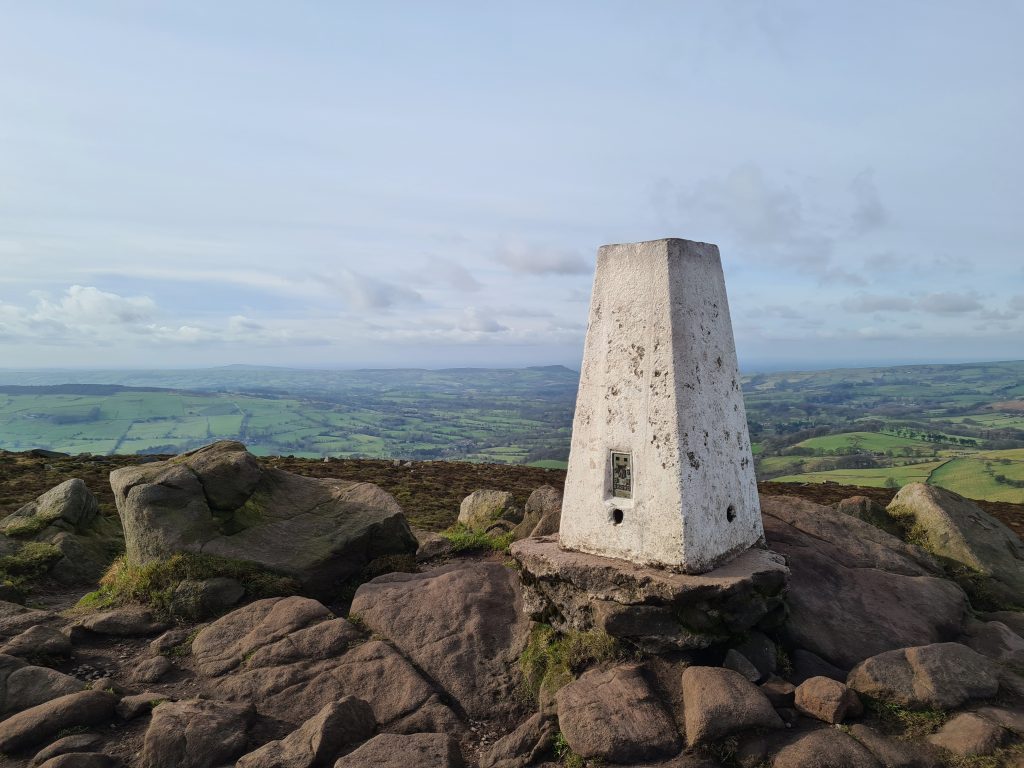 The Roaches Route Map and Walk Details
Baslow Edge Walk
Baslow Edge is home to a fabulous Facebook famous herd of Highland Cows and the Eagle Stone but is also a fabulous place to walk. We had a lovely walk around Big Moor as part of a Flask Edge and White Edge walk but you could also explore a Baslow Edge Short Walk too.
Baslow Edge Route Map and Walk Details
You might also like:
Derwent Reservoir and Slippery Stones Walk
Bamford Edge Walk: Peak District Sunsets
Alport Castles and Westend Moor Trig Point
Do any of these walks take your fancy? If you need more Peak District walks inspiration, check out our Peak District walks organised by distance:
Long Peak District Walks 10 miles+
Easy Walks in the Peak District
10 Easy Peak District Walks With Kids (Under 10km)
You can also discover Peak District walks with pubs!