Peak District Trig Point Walks
Did you know there are 88 trig points in the Peak District? Visiting all the Peak District trig points has become a popular walking challenge, so here are some Peak District trig point walks to help you tick them off your list.
The trig points (officially triangulation pillars) were originally used by the Ordnance Survey to map out the country but are now obsolete since GPS came along. Nowadays the trig points are popular with walkers and trail runners – when you see the trig point, you know you're at or near the top of the hill! These Peak District trig point walks visit the summits which have a trig point on.
There are 88 Peak District trig points scattered throughout the Peak District, with 54 of them being accessible from public land and the remaining 34 being on private land. Some of these are accessible by asking the landowners permission.
All of these trig point walks visit at least two trig points – we like a multi-trig walk! These walks all visit those trig points which are on publicly accessible land or that we've been able to ask permission to access – there is Minninglow Walk and Stanton Moor via High Peak Trail which could tick off 5 trig points but some of the trig points are on private land. The walk info will let you know where we got access permission from if you need to ask.
Peak District trig point checklist: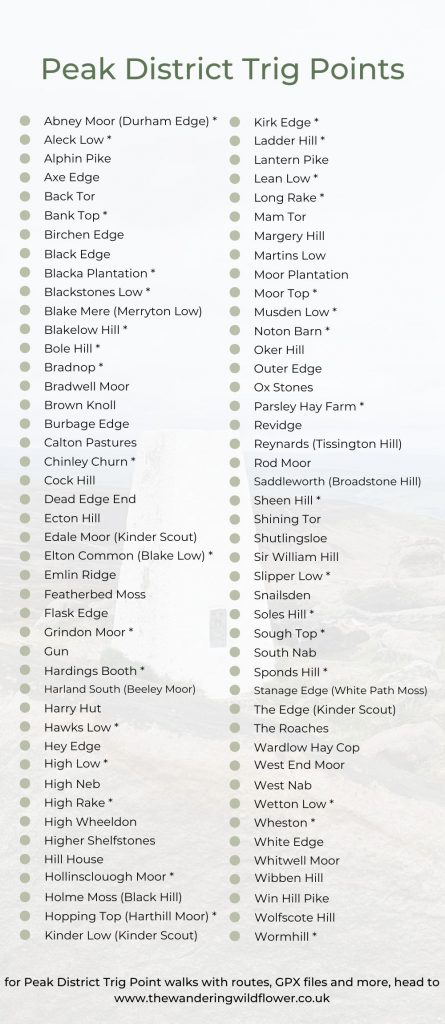 The ones marked * are on private land.
Peak District trig point map:
Walks with 2 Trig Points
Ecton Hill, Revidge and Wetton Hill Walk
Hayfield to Kinder Scout Circular Walk
Langsett to Margery Hill, High Stones and Outer Edge
Dove Stone Reservoir Skyline Walk
Red Brook Scramble to Kinder Scout
Britland Edge Hill, Dead Edge End and Snailsden
Derwent Reservoirs Circular (Dambusters Challenge Walk)
Black Hill, West Nab and Blackpool Bridge
Wibben Hill and Blackstones Low Trig Point Walk
Walks with 3 Trig Points
The Roaches and Hen Cloud Walk
Mini Edale Skyline Circular Walk
Margery Hill, Outer Edge and Crow Stones
Soles Hill, Grindon Moor and Martins Low
Walks with 4 Trig Points
If you are looking for a specific trig point to bag, you can use the search function to find a walk that goes there, or check out our Peak District Trig Point List which has loads of trig point walks on.
Happy trig hunting! I'd love to see how you get on – tag me on Instagram @wanderingwildflowerblog 🙂